There's nothing neat or polished about Xiu Xiu. Their songs aren't meant for commercial radio. They'll never end up as the #1 Summer Jam. Jamie Stewart isn't the type you'll see on People magazine anytime soon. And, quite frankly, even open-minded listeners like myself have required a little time to warm up to Stewart's uncomfortably raw and anxious voice. And that's precisely why we need them. With a drum machine and unfiltered, bare emotion, Xiu Xiu catalyzes the ugly and the painful into a beautiful and challenging form of music. And with La Forêt, the Bay Area recording collective's newest album, that includes everything you can't hear as well.
On 2004's Fabulous Muscles, Stewart & Co. thrived in peculiar, fuzzy and often mechanized pop-dirges. "I Luv The Valley ( OH)" and "Crank Heart" put a sort of warmth into a dark and eerie style of music that, quite frankly, isn't the most social of genres. Maybe that's the point, as Stewart, the sole songwriter and center of Xiu Xiu, looks deeply inward in his songs. On La Forêt, however, the group is caught in a balancing act between deeply intimate, occasionally tilting toward inaudible, ballads and louder Joy Division-style "rock" songs. If you can call them that.
Unlike Fabulous Muscles' louder opener "Crank Heart," the spare, haunting "Clover" begins this set, with quiet guitar chords and the occasional flourish of vibraphone, played beautifully by Ches Smith. But after a torrent of odd bell sounds, "Muppet Face" turns that around, reverting to a noisier method. Here, Xiu Xiu finds a dynamic balance between the quieter and louder parts without losing the overall rhythm. And when it does get louder, it's one of the album's most sublimely chaotic moments. Though, as usual, it's Stewart's vocals that seem to be the most unsettling. In a tale of perverse sexuality he sings, "this shirt clings like dander/this kiss scrapes like rust."
"Pox" is one of the album's most accessible moments, sounding like a Joy Division rarity, complete with old-school synth sounds a la Closer. But Stewart's vocal vitriol isn't toned down in the slightest, as he declares, "Jesus is wondering if even He can love you." Despite a barely-there opening, "Baby Captain" proves to be one of the most oddly beautiful songs of the set, with a pleasant, almost childlike synth melody opening up during the chorus. And yet the song that follows, "Saturn," brings the album to a complete 180º, erupting into some of the most abrasive cacophony on the album, making for a perfect pairing with Goya-inspired child-devouring lyrics, directed at George W. Bush.
The album's most serene moment comes in "Ale," a quiet song in which Stewart is accompanied by little more than a clarinet. Its spare beauty, much like that of "Clover" and "Baby Captain," harkens back to the later days of Talk Talk, when the band had all but abandoned new wave for something more experimental and far more challenging. The space between each note seems to be just as important as the notes themselves, or the tension would be all but lost. And yet, a strummy electro-pop tune like "Bog People" or a tribal space dirge like "Yellow Raspberry" only works to complement these quieter tracks.
In this great balance of noise and silence, Xiu Xiu creates an odd sort of harmony in these disparate elements. It's still every bit as violating as before, but somehow, Jamie Stewart and his band of tweaked Bay Area musicians make it all the more palatable this time around. Xiu Xiu, for all their fucked-up-ness, makes something breathtaking and real. And that's exactly why we need them.
Similar Albums:
Joy Division – Closer
Talk Talk – Spirit of Eden
Jim Yoshii Pile-Up – Picks Us Apart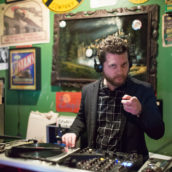 Jeff Terich
Jeff Terich is the founder and editor of Treble. He's been writing about music for 20 years and has been published at American Songwriter, Bandcamp Daily, Reverb, Spin, Stereogum, uDiscoverMusic, VinylMePlease and some others that he's forgetting right now. He's still not tired of it.