Xiu Xiu : Women As Lovers
There's a bumper sticker, often slapped on the rear end of drummers' means of transportation, that reads "drum machines have no soul." It's the ultimate statement of musical superiority, ironically (indirectly) defending the one group of musicians most frequently ridiculed—drummers. Of course it's true, drum machines are just machines; they exist for convenience, and don't have the subtlety or dynamics of a live drummer. Or so I thought. Upon first hearing Xiu Xiu, and on many subsequent listens, the drum programming caught my attention and bludgeoned it mercilessly. What usually passes as a sort of recorded metronome, most of the time, is a seething, clanging beast under the control of Jamie Stewart. Furthermore, the drum machine sound became a staple of Xiu Xiu's music, as omnipresent and important as Stewart's own twisted vocals and bi-polar exercises in volume.
After nearly a decade, the drum machine has been handed its walking papers. With the release of Women As Lovers, Xiu Xiu expands to a four-piece, Stewart and Caralee McElroy inviting new members Devin Hoff, bass, and Ches Smith, on drums of course, into their cacophonous treehouse. Keeping in mind that, even with added instrumentation from time to time, Xiu Xiu had always been primarily Stewart's gig, so the expansion into a full band means a different sort of Xiu Xiu…sort of.
Jamie Stewart is still the one at the helm, and as such, his songwriting style is still marked by unsettling silences and shrill, startling screams and bursts of noise. This is, however, the most pop Xiu Xiu has ever sounded, and the fully rounded-out sound with the newly christened four-piece band has a lot to do with that. First single "I Do What I Want, When I Want" is pretty and quite catchy by Xiu Xiu standards, not that Stewart has ever been anti-hook (see "I Luv the Valley OH!"). Distorted falsetto interjections live in harmony with distorted synth tones and squeaking saxophones, and it's a bit messy, as could be expected, but in the most wonderful way.
It only takes one track to get to the truly chaotic material, the first of it being "In Lust You Can Hear the Axe Fall." Interestingly enough, though, the melody is pretty straightforward, if ominous. It's a hard rocking tune, but what truly puts it over the top is Stewart's unhinged shouts, as he repeats the mantra "twist it, twist it, twist it" as if temporarily divorced from reason. "F.T.W." is a strummier, catchier piece of pop, selected as the second single, and far surpasses "Thnks Fr th Mmrs" as best song named with internet shorthand. The twinkles of piano in "No Friend Oh!" are gorgeous, the horns are vibrant, and the song itself makes for a worthy addition to the "Oh!" series.
On "Guantanamo Canto," the group is back to its avant garde weirdness, while "Black Keyboard" finds them going the acoustic, delicate route. Sandwiched between these two songs is a cover of Queen's "Under Pressure," done in fairly ordinary fashion, albeit with the typical distorted yelps and some guest vocals from The Angels of Light's Michael Gira, playing the part of a more unsettling Bowie. It does throw the album a tad off track, seeming out of place where it falls, yet comes as one minor setback overall.
With catchier tunes like "No Friend Oh!" and "You Are Pregnant, You Are Dead" striking a stark contrast against the darker, more dissonant tracks, Women And Lovers doesn't reveal a change in Xiu Xiu's repertoire so much as an expansion. By a few tracks in, the full band sound even started to feel natural. That might sound like a backward frame of mind, but this is Xiu Xiu we're talking about here.
Similar Albums:
Frog Eyes – Tears of the Valedictorian
The Microphones – It Was Hot We Stayed In the Water
Deerhoof – Friend Opportunity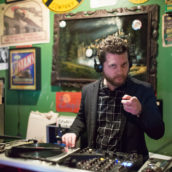 Jeff Terich
Jeff Terich is the founder and editor of Treble. He's been writing about music for 20 years and has been published at American Songwriter, Bandcamp Daily, Reverb, Spin, Stereogum, uDiscoverMusic, VinylMePlease and some others that he's forgetting right now. He's still not tired of it.