Yo La Tengo : Prisoners of Love: A Smattering of Scintillating Senescent Songs 1985-2003
It seems quite remarkable that Yo La Tengo has been a band for 20 years. In fact, it's downright startling. Take into account that I've probably only been aware of them for half the time that they've been around, and it's more understandable, but even if I had been listening all this time (which means I would have had to start listening when I was…uh…four?), that's a pretty damn good run. It's just a year or so shy of Sonic Youth and possibly even a year or so longer than Guided by Voices. But you see, what makes Yo La Tengo unique, aside from their undeniably great music, is how likeable they seem as people. They play Hannukah shows, have participated in political events, got a bunch of kids to say "motherfucker" on a Sun Ra cover and have kept the same lineup for the majority of their career. And all of this says a lot about the band, which is refreshing in a haze of rock `n' roll pretense. But on Prisoners of Love, the band's 20 year retrospective, the music more than speaks for itself.
It's great to revisit highlights from classic albums like Electr-O-Pura, I Can Hear the Heart Beating As One and And Then Nothing Turned Itself Inside Out. It's also interesting to compare the band's early work to their more recent material. And though I, personally, have been a fan of Yo La Tengo's music for the last eight years, my own personal collection is a bit small. But like contemporaries Guided by Voices, Yo La Tengo have a lot of damn records. And by gum, I haven't gotten around to all of them yet. That's exactly what makes a collection like Prisoners of Love so necessary. There are two discs worth of "best of" material on here, as well as a limited edition third disc of rarities. Should you actually attempt to listen all the way through, you could have your headphones on for several hours. Nonetheless, it'll be three hours well spent.
What's immediately striking about this album is how much of a singles band Yo La Tengo are and were, despite never actually being recognized as such. The chosen opener on the first disc is 1993's "Shaker," a loud rocker of a single, blasting the Garden State's greatest trio into your speakers with a bang. From there, we're taken on an H. G. Wells-ian journey through the band's history, back and forth from beginning to end, swirling between noisy rockers and quieter lullabies. "Sugarcube" and "Tom Courtenay" rank among the band's best fuzz-pop numbers, as "Little Eyes" and "Our Way to Fall" bring us to the band's more recent foray into quieter, groove-based singles. Then there are the noisier tracks, like the My Bloody Valentine-ish "From a Motel 6." And everything in-between sounds absolutely magnificent.
But even more fascinating than their magnificent trademark songs are the ones in which we find the band experimenting with various sounds. James McNew's acoustic pop on "Stockholm Syndrome" is charming, while the dance grooves and droning organ on "Autumn Sweater" see the band beating Stereolab at their own game. "Season of the Shark" is irresistible bossa nova and "Nuclear War (Version 1)" is a bizarre but fun and hypnotic political statement, even if they didn't actually write it. But we all know that choice in covers and excellent execution are just as admirable as great originals.
Read through the liner notes and you'll find some amusing anecdotes, particularly one about a self-cleaning latrine. Furthermore, you'll get a portrait of an admirable, beloved and truly awesome band with a rich history in spectacular songwriting. And you'll also get more than a couple hours of great music, which is why this collection exists in the first place. What's great about Yo La Tengo, however, is that they seem to keep getting better as time goes on, which leaves one to hope that this is merely one stop toward a lengthy body of work to come.
Similar albums:
Guided by Voices – Human Amusement at Hourly Rates
Superchunk – Tossing Seeds: The Singles
Sonic Youth – Screaming Fields of Sonic Love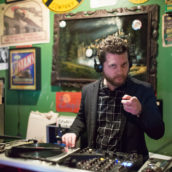 Jeff Terich
Jeff Terich is the founder and editor of Treble. He's been writing about music for 20 years and has been published at American Songwriter, Bandcamp Daily, Reverb, Spin, Stereogum, uDiscoverMusic, VinylMePlease and some others that he's forgetting right now. He's still not tired of it.