The Gaslight Anthem : Get Hurt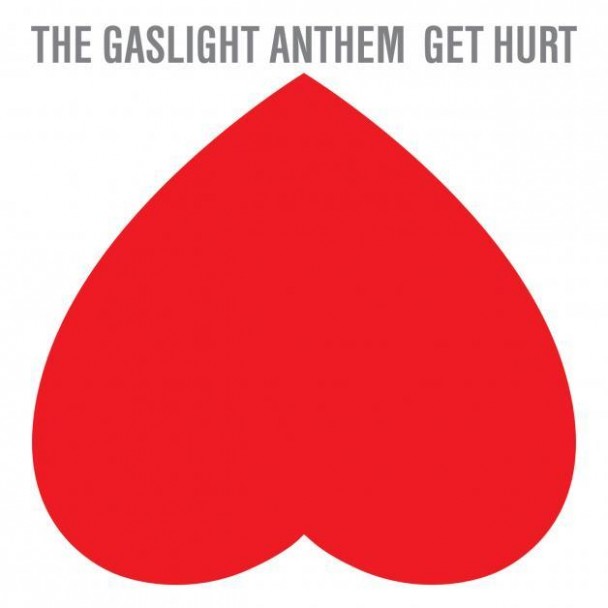 Buy at iTunes | Buy at Insound (vinyl)
For the first few years of The Gaslight Anthem's career, it seemed like they could be the next Springsteen. Song after song ached of bleeding hearts and bruised knuckles, painting a rose-tinted picture of the oft-romanticized blue collar American past from, say, the '50s and '60s. Was it game-changing? Well, no. But the execution was damn near perfect and any time a band successfully releases an old-fashioned rock and roll album without embarrassing themselves in the new millennium is always a plus. Around the time of 2012's excellent Handwritten, however, the excitement seemed to die. The songs themselves were more than good enough, but rather than hoping to revolutionize rock music, it seemed as though The Gaslight Anthem were doomed to be another 'real music' band that everyone kind of likes out of the corner of their eye.
Two years and a divorce later, The Gaslight Anthem have returned with Get Hurt, an album that the band has promised to be a game changer. It's not, but it does do something that the band really hasn't done before: cause controversy. Get Hurt is probably the band's worst album — which really isn't saying that much given how strong their discography has been — but its failures are both spectacular and interesting. Take, for example, the opening track "Stay Vicious." It's a song that starts off with a merciless riff fueled by longing and grit. It would be easy to think that the song is designed to kick your ass (and maybe make sure that you, um, get hurt), but it's not. The headbanging thunder gives way to a puzzling bridge and chorus that wouldn't sound out of place on dozens of indie-rock records. Now, I'm all for variety and bands that keep me guessing, but the pieces just don't fit here. Elsewhere, the band seems to fall into themselves on the utterly bland "Underneath the ground" and forgettable "Red Violins."
Luckily, the band's new 'throw everything at the wall and see what sticks' method does work really well in some places. The title track is exactly the kind of song that you'd never expect The Gaslight Anthem to make. Its emotionally-charged chorus is amplified by incredibly foreign-sounding synths that almost feel as if they are crying out, and the band sounds as if they are aiming for arenas rather than seedy dive bars. "1000 Years" isn't too far off the mark from the traditional Gaslight sound, but its subtle and serpentine guitars and rousing chorus are anthemic to the point where it will surely become a live staple. Lead single "Rollin' and Tumblin" pivots Gaslight into familiar territory, but its punches are almost danceable.
If there's one complaint that can certainly be leveled against Get Hurt, it's that it feels aimless. The good and the bad feel incredibly disconnected from each other, groping around in dark and distant space for purpose. Which is a damn shame because there are clearly many positives, including the incredible closer "Dark Places." Fallon is still a crafty storyteller who evokes shades of Dylan and Springsteen when he's at his best, the production is second-to-none, and every member is clearly putting their hearts and souls on the line. It just sucks that they aren't putting their stakes on more solid ground. The Gaslight Anthem probably didn't need to make this record, but it is refreshing that they did. Rather than wallow in better-than-most territory, they took to aiming for the moon. Even though gravity sends a lot of these songs crashing back to earth, it's comforting to know that Fallon and company still have the fire to experiment.
Similar Albums:


The Hold Steady – Teeth Dreams


Foo Fighters – Wasting Light


The Menzingers – Rented World