10 Essential Electroclash Tracks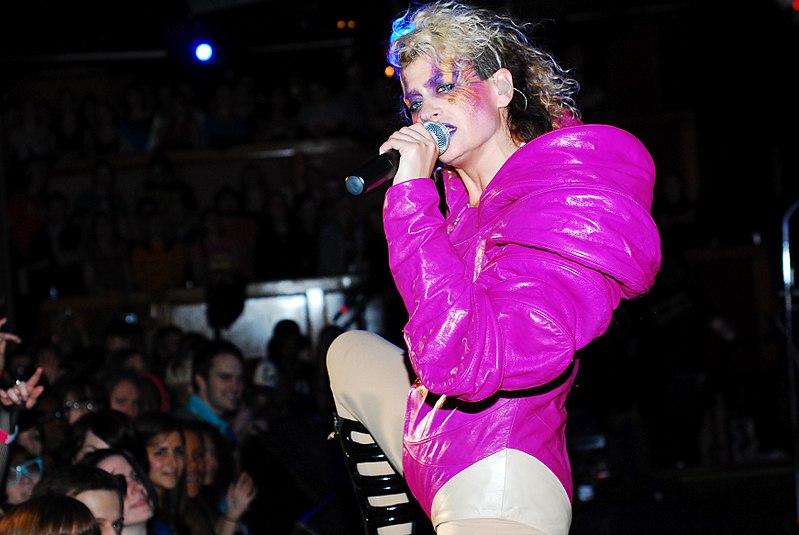 Eric Silva/Creative Commons
Electroclash's legacy, if it can be said to have one, is a brief window into electronic music at its most indulgent. Beginning in the late '90s in Europe and given a name by German producer DJ Hell, electroclash borrowed liberally from the pop music of the '80s: New Romantic makeup, neon hues and (presumably) lots of cocaine. It developed a reputation for being trash culture even before anyone really knew what, exactly, electroclash was. And in large part that was probably true. Just as synth-pop became the indulgent backdrop for the Wall Street Reagan-era '80s, electroclash was to some extent the escapist sound sought out in the age of George W. Bush. It also was dismissed outright as disposable, though in hindsight it's held up better than most chillwave. And the irony, of course, was that the greatest bands, albums and tracks to emerge from the sound were the ones that verged on other genres or transformed the trashy appeal into a higher art. Then again, some of it was just unapologetic lowbrow fun. Either way, our list of essential electroclash tracks will provide a fitting soundtrack to your next '00s-themed party.
---
I-F – "Space Invaders Are Smoking Grass"
(1997; Disko B)
This is the genesis of electroclash, as far as the lore is concerned. Dutch artist Ferenc E. Van der Sluijs created an underground club hit with "Space Invaders Are Smoking Grass," a catchy, pulsing electro-pop jam that buried some distorted, electronic vocals beneath a deep synth bassline and popping, flexing '80s-style electro beats. It sounds a little like the pixilated alien invaders from the video game touching down on the disco floor, and it's all kinds of fun, even if it kinda sorta ushered in an era of pop trash excess. Ah, who are we kidding, we loved it. Parts of it. The stuff you're reading about here, at least. – JT
---
Christopher Just – "I'm a Disco Dancer"
(1997; International DeeJay Gigolo Records)
A fortuitous linkup with Austrian producer and label head DJ Hell gave this floundering art student entreé into techno legend. The song's vocodered mantra references dancing and fucking, and the squelchy, skronky acid synths add to the sleaze. More than just a club anthem, it planted stylistic and sonic seeds for the dank, makeup-smeared subgenre to come. – AB
---
Fatboy Slim – "The Rockafeller Skank"
from You've Come A Long Way, Baby (1998; Skint)
Despite it being a little bit shinier and happier than what would follow, Norman Cook's Big Beat classic has important electroclash elements. We hear a stomping rhythm from "I Fought the Law" (among others) and a funked-up guitar line from "Peter Gunn." There's an unforgettable vocal hook courtesy of Lord Finesse, as well as Cook's own ear-bleeding electronic manipulation, looping, and glitching. Synthetic music with rockstar aspirations, Fatboy Slim made a template used deep into the electronica revival of the 21st century. – AB
---
Peaches – "Fuck the Pain Away"
from The Teaches of Peaches (2000; Kitty-Yo)
Peaches was emblematic of electroclash taken to its most absurd extremes. Well, most electroclash artists represented some absurd extremes—subtle artists don't look or sound like Fischerspooner, but Peaches was jokier, raunchier, more outlandish and on a shoestring budget at that. "Fuck the Pain Away" was the song that put her on the map, even landing in Sofia Coppola's Lost In Translation, but it's a charmingly lo-fi piece of trash-pop in the context of most of the other tracks here. Basic drum machine beats, Peaches' own foul-mouthed raps and WTF lines like, "IUD/SIS/Stay in school/'cause it's the best." The teaches of Peaches can't be found in most institutions of higher learning, but this is a good crash course. – JT
---
The Faint – "Agenda Suicide"
from Danse Macabre (2001; Saddle Creek)
The Faint started out playing guitars and collaborating with chamber pop balladeers like Lullaby for the Working Class, but ultimately it was their debut album Media that ended up the outlier. Once the Omaha band embraced synthesizers, disco beats and an all-black wardrobe, they never looked back. And it worked well for them, their peak arriving with 2001's Danse Macabre. Its leadoff track "Agenda Suicide" is over-the-top synth-goth drama for discoball vampires, a grand statement of dancepunk flash with a lyrical commentary on being a capitalist drone. In hindsight, 1999's "Worked Up More Sexual" might have been more in line with the hedonistic excess of electroclash, but this was far and away one of its best songs. – JT
---
Felix Da Housecat – "Silver Screen Shower Scene" (ft. Miss Kittin)
from Kittenz and Thee Glitz (2001; City Rockers)
The Chicago DJ's landmark single surrounds a stuttering melody lifted from early 1980s dance-pop with throbbing electronic bass, processed abstract come-ons from him and New French Touch contemporary Miss Kittin, and steam-valve noises to RELEASE THE PRESSURE. Using more traditional techno BPM than some of its more aggressive forebears, and alternating open and dense sections like The Pixies given to synthesizers, "Silver Screen Shower Scene" is a timeless slice of dirty hotness. – AB
---
Fischerspooner – "Emerge"
from #1 (2001; International DeeJay Gigolo Records)
Mercy, this slinky, artful synthpop cut has so much going on. There's a lot of hard rockin' here for a track with no obvious guitars: The gurgling primary keyboard lines hint at riffs from Nirvana's "Smells Like Teen Spirit," and the growing instrumental and vocal tension arranged by the New York duo and their guest singers makes for a song that wants to be played at twice the speed it starts at. It eventually gets there in its last minute or so, throwing away any dancefloor pretense in favor of the mosh. – AB
---
Golden Boy with Miss Kittin – "Rippin Kittin"
(2002; Illustrious)
Electroclash more often than not was about a particular aesthetic rather than a specific set of musical characteristics, though many of its best songs were rooted in the culture of European techno. "Rippin Kittin" is a case in point, a collaboration between Swiss producer Golden Boy and French singer Miss Kittin (who appears on this list twice, making her a sort of electroclash MVP). It's far more sleek and stylish than, say, Peaches, instead steeped in sleeker techno lines and sensuality over sexuality. Though it is awfully sexy in its cold, chilly detachment. But songs this sexy rarely eroticize murder. "I feel like taking a life," sings Miss Kittin in the song's refrain. It's "Warm Leatherette" for the penthouse suite. – JT
---
Goldfrapp – "Strict Machine"
from Black Cherry (2003; Mute)
Stylistic changes are rarely so jarring as the one that Goldfrapp took in the early '00s after the release of their critically acclaimed debut album Felt Mountain. With the landscape of music turning away from trip-hop and embracing and '80s-indebted kind of glam-trash, Goldfrapp did what any band of their caliber would do in just such a situation: Take the trend that everyone else is jumping on and do a much better job of it. "Strict Machine" is all glam-rock swagger with big '80s synth sheen, replacing the band's once-mysterious atmosphere with an unapologetically flashy shimmer. It was enough to suggest that Goldfrapp maybe didn't emerge from some mystical fog after all. – JT
---
Ladytron – "Destroy Everything You Touch"
from Witching Hour (2005; Rykodisc)
Ladytron helped build electroclash. They also helped destroy it. In fact, they resented being lumped in with the likes of the cocaine-sniffing trash artists that made up the bulk of the electroclash catalog, though they did offer a great handful of records that showed how retro-sounding electronic pop can be made transcendent. "Destroy Everything You Touch" was their hardest hitting single and one of their most successful ones at that, though it's also the track that essentially broke them out of the Kraftwerk/Human League-style pop gems of their first couple albums. "Destroy Everything You Touch" is more like Depeche Mode filtered through Kevin Shields' pedalboard, a dense and powerful dancefloor banger that more than lives up to its destructive promise. – JT
---
Support our Site—Subscribe to Our Patreon: Become one of our monthly patrons and help support an independent media resource while gaining access to exclusive content, shirts, playlists, mixtapes and more.