10 Essential New Romantic Albums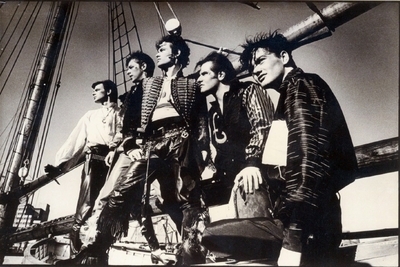 The mere mention of the term "New Romantic" is likely to force one to imagine bleached-out MTV clips, nouveau glam make up, and Simon LeBon's ubiquitous mug. A British music movement of the late '70s and early '80s, New Romanticism had everything to do with image. Spawned in large part from Bowie and Roxy Music-themed nights at Billy's and The Blitz, organized by Steve Strange and Rusty Egan, New Romantics cast off the increasingly boring fashion of punk in favor of something more dazzling and colorful. It just so happened that a lot of these fabulous young men and women were making some splendid music as well, likewise inspired by Bowie and Roxy Music, but with an increasing embrace of synthesizers and the slightest touch of disco.
New Romantic didn't last long, its last hurrah fizzling sometime in the mid-'80s. But for half a decade or so, a cluster of glamorous Brits released some outstanding music. These are ten of greatest New Romantic albums to have been born of that short-lived, but highly dramatic movement.
David Bowie – Scary Monsters
(1980; RCA)


David Bowie, technically speaking, was not part of the New Romantic movement, and his album Scary Monsters might not necessarily be considered a staple New Romantic album, but that doesn't mean it isn't one. Having been one of the primary inspirations for the movement as a whole, Bowie is essentially the patron saint of New Romantic, and in 1980, he even began to blend in with the theatrical club scene. The garish makeup on his album cover, weird clown outfit and videos from the era seem perfectly natural up against the likes of Duran Duran or Visage. But in "Ashes to Ashes," he went and made a breathtaking new wave single that stands as the most sublime moment in the movement's history, even if it wasn't necessarily created by one of its own.
---
Adam and the Ants – Kings of the Wild Frontier
(1980; CBS)


Adam and the Ants always had more of a punk streak than many of their New Romantic contemporaries, which is most blatant in their debut album Dirk Wears White Sox. But even after adopting the foppish dandy pirate look (which was my Halloween costume in 2003), the band still had a bit of a punk rock edge, made entirely fresh through their Burundi beat style. Kings of the Wild Frontier, the band's first great album, is as much about fashion as it is about attitude, but those elements don't overshadow the songwriting, which is top notch. On "Antmusic," "Killer in the Home," "Physical (You're So)" and the title track, in addition to its nine other tracks, Ant, guitarist Marco Pirroni & Co. tread an entirely undiscovered country in new wave, and one whose unique qualities still sound remarkably novel.
---
Japan – Gentlemen Take Polaroids
(1980; Virgin)


Maybe the weirdest, sleekest and most unabashedly arty band here, Japan didn't have a lot of hit singles, but they're responsible for some truly breathtaking works of atmospheric `80s pop. Having begun life as a trashy glam rock band with Adolescent Sex (a name we should all feel guilty Googling), Japan eventually dropped most of their most heavily Roxy Music-inspired techniques for something more ethereal and strange. Gentlemen Take Polaroids, while not completely abandoning that Roxy Music influence, is Japan at the peak of their powers, stretching out their songs into epic lengths and allowing them to slowly unfold and evolve in a way that Talk Talk would later take to more extreme conclusions. That their fashion was as elegantly eccentric only cemented their importance in the New Romantic canon.
---
Ultravox – Vienna
(1980; Chrysalis)


Originally fronted by John Foxx, and punctuated with an exclamation point, Ultravox had undergone a transformation of sorts following their Brian Eno-produced debut. Foxx left the band to pursue his own solo synth-pop career, and the band in turn toned town their trashier glam and punk leanings in favor of a more sleek and streamlined sound that still borrowed from the likes of Roxy Music and Kraftwerk, but in a much more sophisticated and accessible package. Based on the arty, sartorial cover photo and the chilly krautrock electronics of leadoff track "Astradyne," Vienna initially gives off an air of fashionable detachment. But the thing about Vienna is that it rocks surprisingly hard, the band's punk and glam roots showing in the faster paced numbers like "New Europeans," "Passing Strangers" and "Sleepwalk." But amidst all the harder edged, uptempo numbers is the immaculate title track, an ethereal and gorgeous island of romantic serenity.
---
Visage – Visage
(1980; Polygram)
The most important band in the New Romantic movement, if not the most famous (that one's Duran Duran, hands down), Visage has concrete ties to the movement's command center and ground zero, Blitz. It was at this London club where Steve Strange donned his flashy makeup and curated club nights, and subsequently, the iconic frontman launched Visage, a band whose members also played in Magazine, Ultravox and Siouxsie and the Banshees, among other notable acts. Their self-titled debut is a stellar mixture of Kraftwerkian iciness and glam rock style, and likewise contained "Fade to Grey," a perfectly sinister and just plain perfect electro-pop single that lived several lives on the UK charts. But there's a wide range of styles at play here, from the punky "Tar" to the disco-funk exercise "Moon Over Moscow."
---
The Human League – Dare!
(1981; Virgin)


The Human League, contrary to popular belief, were sort of terrifying in the late '70s. Their debut album Reproduction finds the halfway point between Suicide and Kraftwerk, and the single that followed, "Being Boiled," only sounded slightly more human. And then Dare! happened. The public at large, previously unaware of the band's eerie beginnings, took to its massive single "Don't You Want Me," which I'm happy to say was #1 on the UK charts the week I was born. But it just so happens the entire album is a work of pop brilliance. Using synth for good rather than evil (at least aesthetically speaking), The Human League took a more glamorous approach and splashed into a more commercial, accessible sound. They happened to be exceptional at it, and though I have a fondness for their darker material, there's no question that this is their best album.
---
ABC – Lexicon of Love
(1982; Mercury)


Just about every New Romantic band was fronted by an outsized personality of some kind, be it the puckish Adam Ant, dreamboat Simon LeBon, or the mysterious and trend-setting Steve Strange. ABC's Martin Fry opted more for the affected crooner style, becoming the dramatic loverman his band's tales of romance so fiercely demanded. He also happened to be one of the only members of the band to stick around throughout their career, which outlasted many of their peers. Still, the band got it right the first time around on Lexicon of Love, blending lush production, courtesy of Trevor Horn, with bold songwriting and just enough funk to keep the dancefloor filled. The album came loaded with hits, notably "Poison Arrow" and "The Look Of Love Pt. 1," but its deep cuts, like "Many Happy Returns" and "Show Me," offered thrills beyond its obvious attractions.
---
Duran Duran – Rio
(1982; Capitol)


Duran Duran's reputation largely stemmed from their good looks and strong use of the music video medium, which yielded the table-flipping adventure of "Hungry Like the Wolf," the sailing trip of "Rio," and even a pair of videos that were rarely aired because of their racy content. However, whether it's their headlining quality or not, the dudes had chops, and sophomore album Rio is the pinnacle of said pop skills. The style and drama are all there, even amplified from their excellent debut, but pushed to greater limits, which can be heard catalyzed through the epic sax solo on the title track or the dark and bizarre grooves in the closing masterpiece "The Chauffeur." So, while Duran Duran certainly had the looks to have young female fans lining up outside their dressing rooms, and the cinematic knowledge to impress art-house friends in posh condos, they also penned some of the best tunes of the '80s.
---
Roxy Music – Avalon
(1982; Warner Bros.)


One of the chief inspirations for the movement as a whole, along with David Bowie, Roxy Music's '70s canon can be heard seeping through the surface of just about any album here, albeit through glossier, more synth-heavy filters. So, for their final album, Roxy Music followed through on that influence by making a dreamy sophisti-pop album of their own. Avalon finds the glam rock legends abandoning their harder rocking, bombastic tendencies and embracing a sexy, streamlined approach, which yielded some great singles in "More Than This" and the smooth seduction classic title track. It's a strong album on the whole, though, and dance-heavy highlights such as "The Space Between" sound more relevant than ever, given how liberally Destroyer and Cut Copy have borrowed from them recently. Oh, and this was also on our Top 10 Sex Albums list, so cheers to Roxy Music for that.
---
Talk Talk – It's My Life
(1984; EMI)


Talk Talk ended in a very different place than where they began, their 1991 masterpiece Laughing Stock capping a career that, when viewed as a whole, reveals an impressive display of artistic evolution. Before taking the plunge into abstract post-rock art, however, Talk Talk was a damn good synth-pop band with a slight flair for the dramatic and a focus on atmospheric and ethereal compositions. It's My Life, boasting some outstanding highlights like the amazing title track, "Dum Dum Girl" and "Such a Shame," is a portrait of the band beginning to hit a stride, mastering a genre only a few years before reinventing it altogether.
---
You might also like: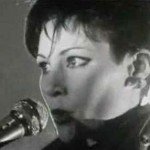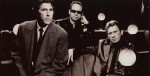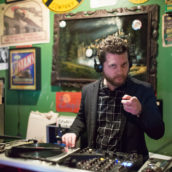 Jeff Terich
Jeff Terich is the founder and editor of Treble. He's been writing about music for 20 years and has been published at American Songwriter, Bandcamp Daily, Reverb, Spin, Stereogum, uDiscoverMusic, VinylMePlease and some others that he's forgetting right now. He's still not tired of it.