Flying Lotus : You're Dead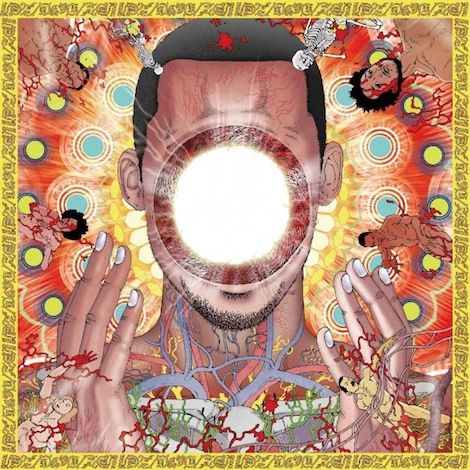 At 30 years old, Steven Ellison (a.k.a. Flying Lotus) has nothing to prove. The Los Angeles based producer/instrumentalist already has four excellent full lengths under his belt in addition to a slew of EPs. And, despite his often dissonant, abstract style, Ellison has grown into a more highly sought-after producer with each passing year, and is even rumored to have a huge presence on Kendrick Lamar's as of yet unreleased third LP (Kendrick, for his part, goes beat for beat on FlyLo's amazing new single "Never Catch Me"). It would be easy for Ellison to sit back, relax, and churn out a collection of effortless beats; there's no doubt that they'd still be better than the status quo.
If you're keeping up with Ellison, the themes of death and spirituality won't be a major surprise; the album is titled You're Dead and the song titles were announced via a series of startling, Tarot card-style images. It's the way he incorporates the theme that's unorthodox. While every FlyLo album is concept-driven, this outing finds Ellison unleashing his most intense and seamless set yet, further extending his quest to merge complexity with listenability.
Unleashing his trademark fusion of jazz, hip hop and electronica, Ellison mixes in influences from heavier and more progressive genres to provide the kick required to bring levity to such a heavy theme. The result is a dizzy epic of experimental compositions flowing into one another. It's a fast and confusing ride that only breaks for a handful of vocal cameos. It's through this mesmerizing haze that Ellison gives us his vision of what the experience of death might be like. But the vision here not quite heaven or hell; both positive and negative memories have a place in this afterlife.
On Flying Lotus' You're Dead, Ellison employs a variety of tools to get his vision across: twisted samples, Thundercat basslines and appearances by Lamar, Snoop Dogg, Kimbra, and more. He even enlists his rapping alter-ego Captain Murphy, marking the first official crossover of the two projects. But the beauty of a Flying Lotus record is that no moment or cameo is a star; all the parts merge together to form one cohesive, dizzying whole.
Similar Albums:


Thundercat – Apocalypse


Prefuse 73 – One Word Extinguisher


Badbadnotgood – III