Warp Records: 30 Essential Albums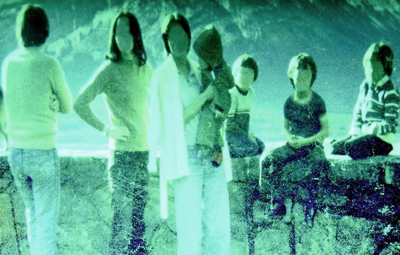 We recently celebrated the 20th anniversaries of both Sub Pop and Merge Records by compiling a list of our 20 favorite albums from each label. Well, as it turns out, yet another one of our favorites, Warp Records, is celebrating an anniversary as well.
As a pioneering label in electronic music, we saw fit to highlight a good number of Warp's IDM releases. Yet as the UK imprint progressed, it began to incorporate other sounds, from indie rock to hip-hop, and we've got those represented here as well. And while this is no means an exhaustive or comprehensive list of everything Warp has to offer, we offer what we consider the 30 best Warp Records albums.
This list was updated and expanded to 30 albums in 2022.
---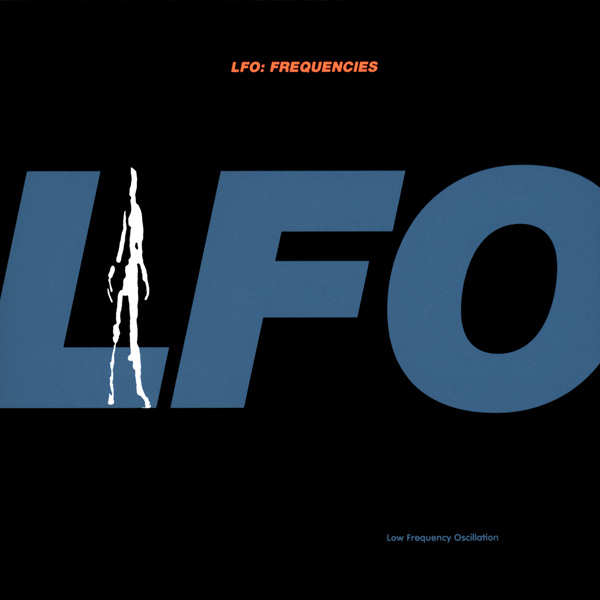 LFO – Frequencies (1991)
One of the earliest full-length releases on Warp, LFO's Frequencies embodied the label's pioneering spirit in electronic music. Mixing acid house and techno in one bass heavy monster of a record, Frequencies is a relic from the rave era that has aged much better than most. It's a dance record, certainly, dropping massive breakbeats and elements of hip-hop in all the right places (which could have been one reason why it was picked up by Tommy Boy), though one can easily hear little hints of IDM in chrysalis. – Jeff Terich
Listen/Buy: Bandcamp
---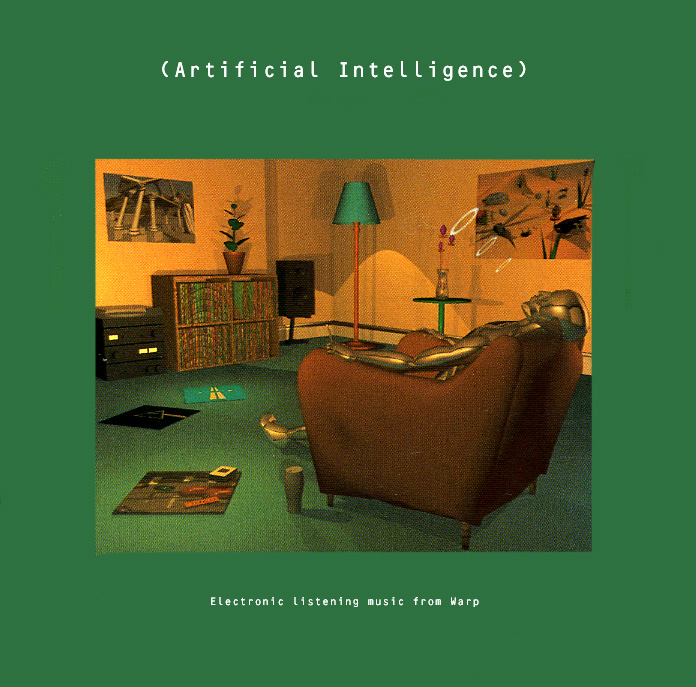 Various Artists – Artificial Intelligence (1992)
Before there was IDM there was Artificial Intelligence, a compilation released in the early days of Warp that showcased a burgeoning sound inspired by techno but given to unconventional structural arrangements and atmospheric experimentation. You'll find a lot of familiar names here, such as Autechre or Polygon Window (just one of the many aliases of Richard D. James, aka Aphex Twin), as well as actual techno innovators like Speedy J or ambient maestro Dr. Alex Paterson of The Orb. This is where the lines of electronic genres truly started to blur, a mixtape of behind-the-decks innovations that helped redefine electronic music as we know it. – JT
Listen/Buy: Bandcamp
---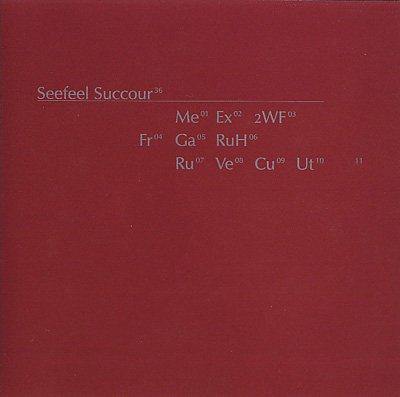 Seefeel – Succour (1995)
British group Seefeel existed in a curious middle-ground between techno and shoegaze with their debut Quique, but with the move to Warp and the release of their 1995 sophomore album Succour, the group leaned farther away from the guitars that washed over their debut in favor of something rooted in more ambient textures and minimalist techno sequences. Every bit as hauntingly atmospheric as its predecessor, Succour arrives there by means more suited to labelmates like Aphex Twin or Autechre, with frantic beats and spacious, gauzy synthesizers blanketing the landscape. Though it might have seemed an unexpected stylistic turn upon its release more than two decades ago, the transformation is seamless, a total rebuild from organic to artificial without ever crossing the uncanny valley. – JT
Listen/Buy: Bandcamp | Merchbar (vinyl)
---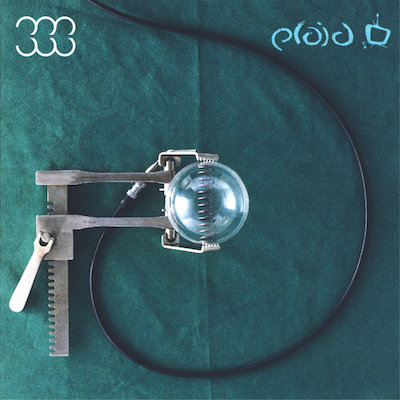 Plaid – Not for Threes (1997)
IDM's pop moment arrived, inexplicably, when Aphex Twin crashed MTV with the industrial nihilism of "Come to Daddy" in fall of 1997. That didn't end up paving the way for the Plaid's Ed Handley and Andy Turner to infiltrate the mainstream with that same year's Not for Threes (released in the U.S. in 1998), though that has nothing to do with the duo's pop sensibility. In fact, Not for Three is just silly with it. Neither as coldly intense as Autechre nor as eerily nostalgic as Boards of Canada, Plaid run wild with colorful textures and ear-catching melodies on their Warp Records debut. Their immediacy can partially be attributed to the choice to partner up with a series of vocalists—Nicolette on the seductive Aphex noir of "Extork," Björk on the gorgeously atmospheric "Lillith"—but it's also simply a result of their own limitless creative possibility. There's a juxtaposition between sinister glitch and playful innocence on "Fer," while "Ladyburst" has the bass buzz and rhythmic snap to go toe-to-toe with the era's best moments in big beat. Plaid might not have gotten the chance to have their pop moment, but based on Not for Threes, there's no reason why they couldn't have. – JT
Listen/Buy: Bandcamp
---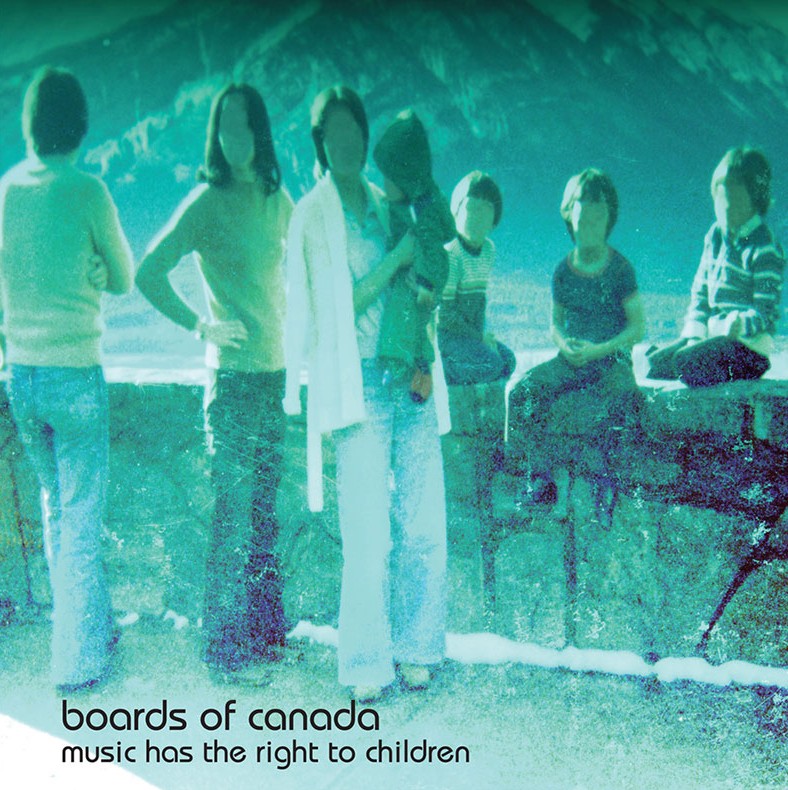 Boards of Canada – Music Has the Right to Children (1998)
Scottish brothers Michael and Marcus Eoin Sandison loosely fit under the IDM umbrella, but Boards of Canada created something altogether innovative and eye- and ear-opening with Music Has the Right to Children. A woozy and warm, static-ridden blend of Autechre-like beats and melodies seemingly plucked from 1970s educational filmstrips (which is how the group got their name), Music is an electronic album like no other. There's something distant and melancholy about it, yet at the same time, it's absolutely gorgeous, and quite inviting. Songs like "Eagle In Your Mind" phase melodies in and out between harsh beats, while "Turquoise Hexagon Sun" has a bittersweet, nostalgic tone to its soft trip-hop landscape. And then there's "Roygbiv," which, true to its name, has a full spectrum of color within its two and a half minutes. A masterpiece. – JT
Listen/Buy: Bandcamp | Turntable Lab (vinyl)
---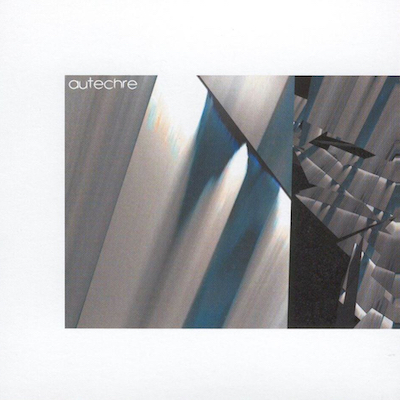 Autechre – Confield (2001)
Confield is generally not considered Autechre's finest album. The favorite of the collective masses tends to be Tri Repetae++ or LP5—highlights from the electronic group's mid-'90s foray into warmer ambient territory à la Aphex Twin. Confield is alienating and impenetrable, forgoing Autechre's previous flirtations with melody for a harsh metallic soundscape. This album is viciously dissonant, abstract, and unforgiving. With a pair of headphones and a lot of patience, however, its subtleties begin to reveal themselves. Confield is brilliant, but it will never be an album to enjoy in the way music is normally enjoyed. To fault it for that would be like criticizing a thesis on quantum electrodynamics for not being fun—entertainment was never the purpose. The joy is derived from engaging with the album's dense sonic equations, and maybe—a century or so from now—our minds will have evolved enough to enjoy the music, too. – Eric Friedman
Listen/Buy: Bandcamp
---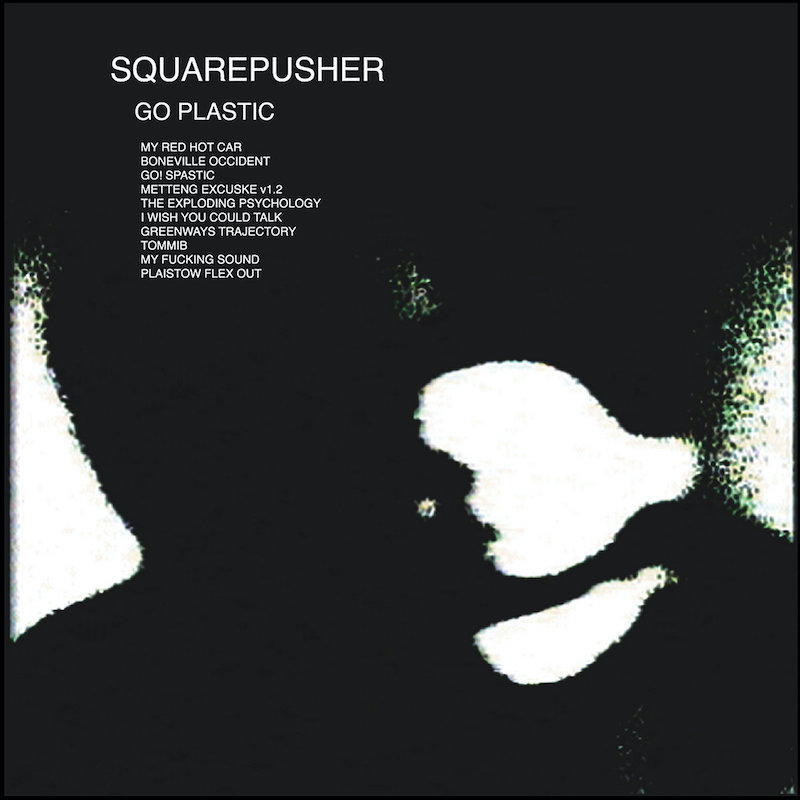 Squarepusher – Go Plastic (2001)
Squarepusher can be impressively indulgent- with free jazz in tow. Go Plastic saw Tom Jenkinson's knack for invention filtered into streamlined immediacy. Ten songs crib from frantic jungle, glitch, radiophonic garage and slanted ambience. It's a joyfully sardonic and compelling fifty minutes. "The Exploding Psychology" whirls and chimes through five genres in minutes like the work of some sort of vitamin C enhanced mad scientist. "I Wish You Could Talk" takes Autechre abstraction and creates something propulsive and immediate. "Tommib" is emotionally arresting and spares the embarrassment of saying anything. The likes of "Boneville Occident" and "Go! Spastic" brim with manic intricacy, while "My Red Hot Car" is a genuine anthem. Reviews of this sort of thing often come across as highly referential (I'm by no means an expert) or sink like embarrassing fiction. My appreciation of a lot of leftfield electronica is rather detached and akin to an aquarium bound fish looking at the interesting primates' outside- mightily impressed but unscathed. By contrast, Go Plastic plays as easily as Definitely Maybe for me. It can induce laughter, ridiculous movement and watery eyes alongside open-jawed awe. I would recommend it to anyone baffled and intrigued by Warp. – Tom Lee
Listen/Buy: Bandcamp
---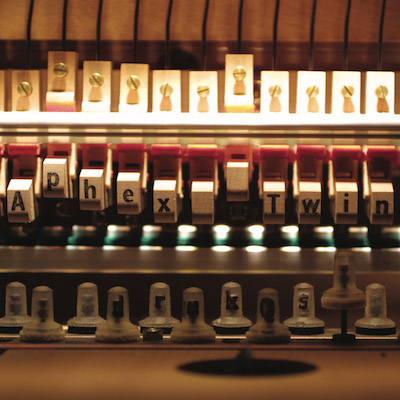 Aphex Twin – Drukqs (2001)
There's something funny about Richard D. James' last album with Warp before a lengthy hiatus. When Drukqs was released in 2001, it was met with everything from rapturous praise to indifference to disappointment. But what do you say about a sprawling thirty track double album that may or may not have been a way to finish up his contract with Warp? Double albums are tough – just ask any band that attempts to do one, hello cohesion! It didn't help that it had been five years since The Richard D. James Album, which Pitchfork extravagantly proclaimed to be "43.5 minutes of pure electronic genius." Yet Drukqs still stands as a solid Aphex Twin album. It's not a game changer the way Selected Ambient Works, Vol. II was, nor is it going to convert non-Aphex Twin fans, but what Drukqs does do is bring us some of James' stripped down piano pieces – a whole new side that were unlike anything he had produced before. Songs like "Avril 14th," "Nanou 2" and "Kesson Dalef" are simple, beautiful and reminiscent of Erik Satie. On the other side of the spectrum, "54 Cymru Beats" might be one of James' best songs: abrasive, mining drum 'n' bass yet eerily mechanical. Drukqs is not perfect – there's a lot of different styles in these 30 tracks and at times it does sound disjointed but it does remind us why Richard James is so good at what he does and why fans wait with bated breath for his next release. – Jackie Im
Listen/Buy: Bandcamp
---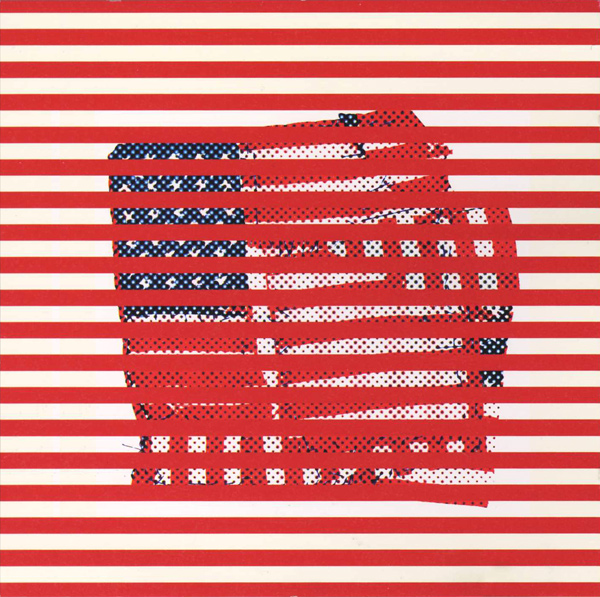 Tortoise – Standards (2001)
Released in the United States through Thrill Jockey, Tortoise's Standards was the first album the Chicago group released through Warp in the UK, and it should only make perfect sense that they should begin their relationship with Warp by issuing their most IDM-influenced album to date. Previously, Tortoise's post-rock sound owed more to jazz and improvisation (with some electronic flourishes, of course), but with Standards the group took a more dense, textured and glitchy approach, sounding more like Mouse on Mars or Aphex Twin than any of their instrumental rock peers. They've since revisited the ideas on this album a few times, but it certainly was a dramatic shift upon its release, and for that remains one of the group's most interesting albums. – JT
Listen/Buy: Bandcamp
---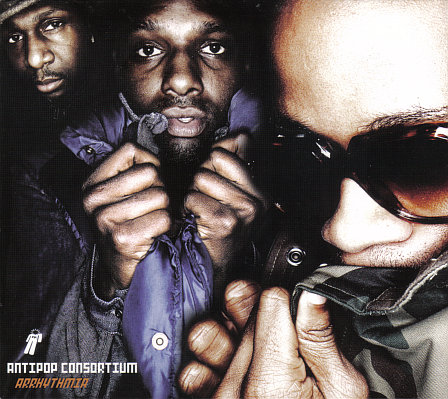 Antipop Consortium – Arrhythmia (2002)
Warp's first foray into hip-hop came with Antipop Consortium's sophomore album Arrhythmia, a set just quirky and avant garde enough to fit in with the label's futurist M.O. while still technically sounding like a hip-hop album. Sort of. On the one hand, the New York City trio dishes out playful, effects-laden throwdowns like "Ping Pong," an accessible and fun track that utilizes the sound of ping-pong balls being smacked back and forth. On the other hand, it features throbbing electronic bangers like "Ghostlawns," pulsing and flashing with epileptic weirdness. It's a sort of curious meeting place between the heads and the laptoppers and damn if it doesn't sound advanced to this day. – JT
Listen/Buy: Bandcamp
---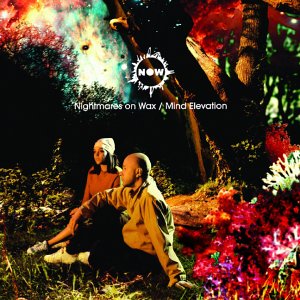 Nightmares on Wax – Mind Elevation (2002)
Smokers Delight and Carboot Soul are (justifiably) acknowledged classics, but 2002's Mind Elevation deserves as much praise as anything in George Evelyn's canon. It transplants some of the commercial clarity of long-term collaborator Robin Taylor-Firth's previous Olive project onto influences and sounds more readily associated with N.O.W. A breezy, sky blue freshness permeates the entire album-inducing contentment rather than slumber. The arrangements are exquisite vehicles, displaying the potency of Soul II Soul style elegance ("Humble"), melting-pot trip hop ("Know My Name"), sun drenched Brit-reggae ("70s 80s") and blatant pop ("A Date With Destiny"). This is easy listening in the most complimentary sense. – TL
Listen/Buy: Bandcamp
---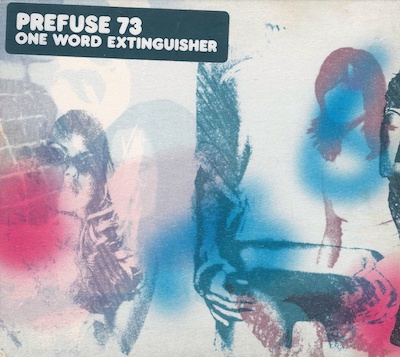 Prefuse 73 – One Word Extinguisher (2003)
The big deal surrounding One Word Extinguisher upon its release was that it was an "emotional" electronic album, which certainly comes through its complex melodic textures and sonic strata. Of course, there were certainly emotional electro albums already in Warp's catalog, but this one was different. Guillermo Scott Herren created a buzzing, clicking, sputtering instrumental hip-hop record that sounded like infatuation and heartreak, and even more than that, just sounded damn cool. Its little bits of vocal samples and dialog gave it the right old school tone, while its choppy, strange structures sounded straight out of the future. The meeting place, of course, is the present, and six years later it remains Herren's most cohesive and dazzling work. – JT
Listen/Buy: Bandcamp
---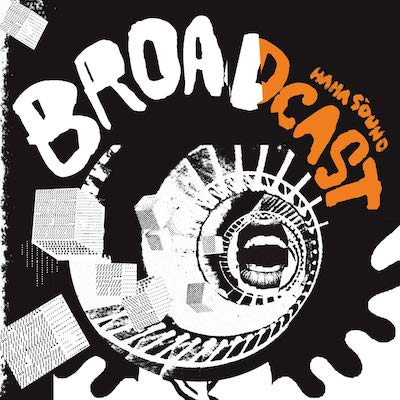 Broadcast – haha Sound (2003)
When Warp welcomed Broadcast to the roster at the end of the '90s, it signaled a new direction of sorts for the label. The Noise Made by People became the first of a long series of adventurous pop albums, many of which are found in this list. But Broadcast perfected their sound, and pretty much conquered music in general with their mind-blowing second album haha Sound. Though their influences were numerous—Neu!, Joe Meek, Françoise Hardy, Lee Hazlewood, John Barry—the sound they created was beamed from an entirely different planet. It's a big swirling collection of glorious, space-pop, seemingly bred in the '60s but ultimately coming across as something very modern. It's a record that reveals new layers with each spin, and it can't be said enough just how damn cool it is. – JT
Listen/Buy: Bandcamp | Turntable Lab (vinyl)
---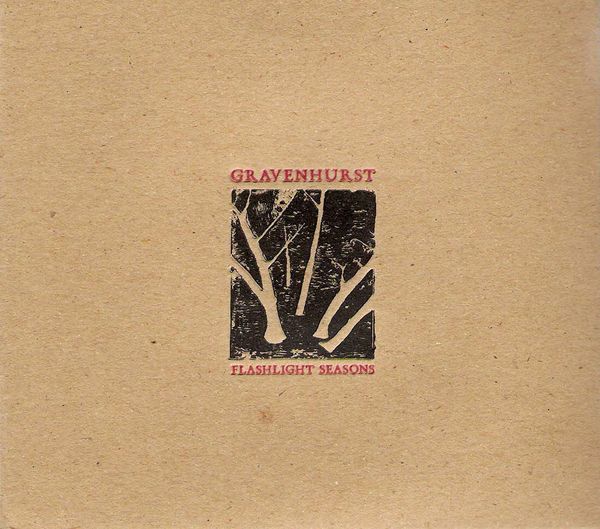 Gravenhurst – Flashlight Seasons (2004)
Gravenhurst has transformed into an atmospheric, post-rock leaning group in recent years, having expanded their sound into expansive sonic territory on albums such as Fires In Distant Buildings and The Western Lands. Yet Gravenhurst began their sonic journey with Flashlight Seasons, an album of melancholy British folk-pop that was as dark and as chilling as it was beautiful. Nick Talbot's compositions are reminiscent of Nick Drake's pastoral, finger-picked tunes on tracks like "I Turn My Face to the Forest Floor" and "Fog Round the Figurehead." All the while "Bluebeard" is a catchy single with traces of The Smiths. It only gets more haunting from there, which makes it one truly stunning debut. – JT
Listen/Buy: Bandcamp
---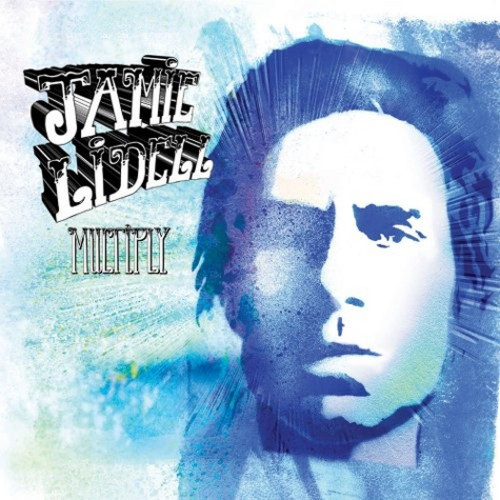 Jamie Lidell – Multiply (2005)
When Jamie Lidell joined the Warp Records roster, he was coming to the label as an artist who once specialized in electronic music. Yet once he actually released something on Warp, he had gone into another direction entirely, instead issuing an album of funky, filtered soul. Multiply was one hell of an introduction for British singer, who channeled Prince in songs like "When I Come Back Around" and "Newme," while echoing the old school sounds of Sam Cooke and Otis Redding in the title track. Jamie Lidell has since become one of the biggest acts on Warp, as a few of his songs from his follow-up album Jim found their way into department store commercials. And quite frankly I don't blame advertisers for seeking him out; with music like this you just can't help but feel good. – JT
Listen/Buy: Spotify
---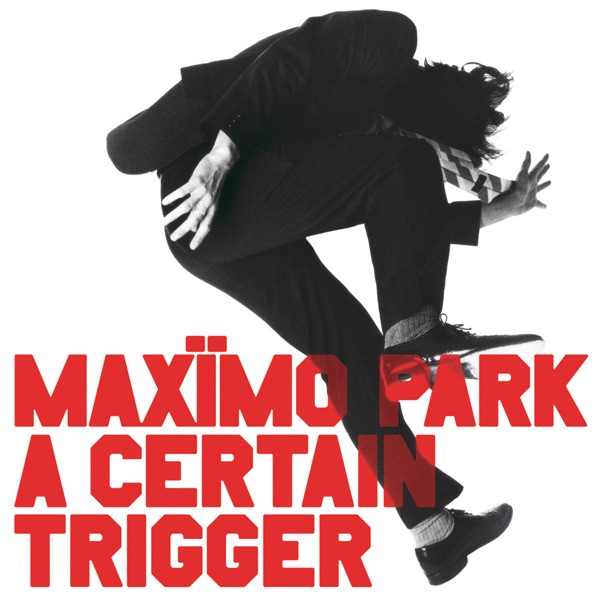 Maximo Park – A Certain Trigger (2005)
By 2005, Warp Records had spread out into a variety of directions, having embraced hip-hop, dream pop and numerous variations on dance music, but still, the weirdest thing for them to have done was put out a rock record loaded with guitars. But, as it turns out, it was far from out of bounds, as Maxïmo Park made their debut with a wiry, spunky post-punk inspired Britpop album that year. A Certain Trigger stands up strong against the debut records of The Futureheads, Kaiser Chiefs, Dogs Die In Hot Cars and The Arctic Monkeys, and had a more monstrous single than all of them with "Apply Some Pressure" (monstrous in sound, not popularity, just to clarify). That the album also came loaded with great tracks like "Limassol" and "The Coast Is Always Changing" just made it that much more of an exciting new discovery. – JT
Listen/Buy: Bandcamp
---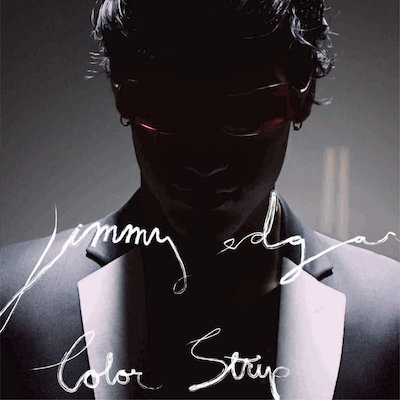 Jimmy Edgar – Colorstrip (2006)
For a label that has built its fame on avant garde music and sounds that push the limits of genre and structure, it's not said enough that Warp has been the name behind some of the decade's most salacious and pleasurable dance records. One such name in sexy, stylish beatmaking is Detroit producer Jimmy Edgar, a man whose claim to fame comes both with his sense of humor and his sleek style, which pieces together disco, Detroit techno, IDM and R&B in an irresistible package on Colorstrip. On dancefloor banger "My Beats," Edgar takes a stab at Prince-like electrofunk, while "I Wanna Be Your STD" is spacious, throbbing, stutter-step downtempo made more tantalizing with Edgar's bedroom voice narration. Like a hornier playboy cousin to Junior Boys' emotional dance pop, Jimmy Edgar is in a champagne popping class all his own. – JT
Listen/Buy: Bandcamp
---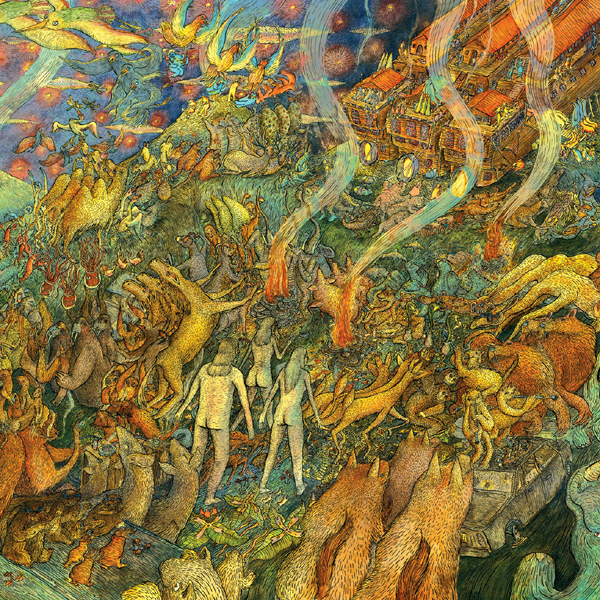 !!! – Myth Takes (2007)
Sacramento-via-New York disco-punk troupe !!! had previously made some badass funk on albums like Louden Up Now, but with the release of third album Myth Takes, the band had essentially perfected the bass-thumping post-punk-funk they had been finely honing for the better part of a decade. With Myth Takes, !!! stormed out of the gates tighter and more kickass than ever, finally capturing the intensity of their live shows in one funky motherfucker of an album. Myth Takes is certainly the band's best, not just for the bass-heavy singles such as "Must Be the Moon" or "Heart of Hearts," but for their more playful moments as well, such as the title track, which incorporated surf guitar riffs into a deeper funk jam. – JT
Listen/Buy: Bandcamp
---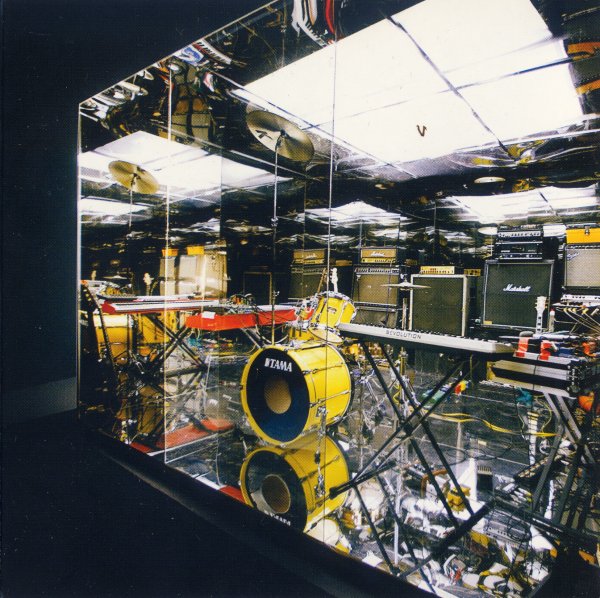 Battles – Mirrored (2007)
Battles' first few EPs were interesting on paper—complex polyrhythmic grooves, prog-rock shenanigans, glitchy electronics—but they lacked a purposeful cohesion, and for a while the band was best known for featuring ex-members of Helmet and Don Caballero. No one was ready for the monster of a debut full-length that was Mirrored. Here, the band assembled its disparate parts into an almighty sum, and the once-instrumental group found its voice (which admittedly borrows a bit from Animal Collective) in the process. Forget genres like 'math rock' and 'prog.' This album sounds like nothing else. It's courageously bizarre and yet instantly accessible. You have to be soulless to listen to it without wanting to shake your ass, even if the music itself sounds like it was crafted by machines. Organic and synthetic, funny and unfeeling, spontaneous and calculated—few albums are able to get away with such contradictions, but Mirrored makes it look like child's play. No one's even bothered trying to catch up to it yet. – EF
Listen/Buy: Bandcamp | Turntable Lab (vinyl)
---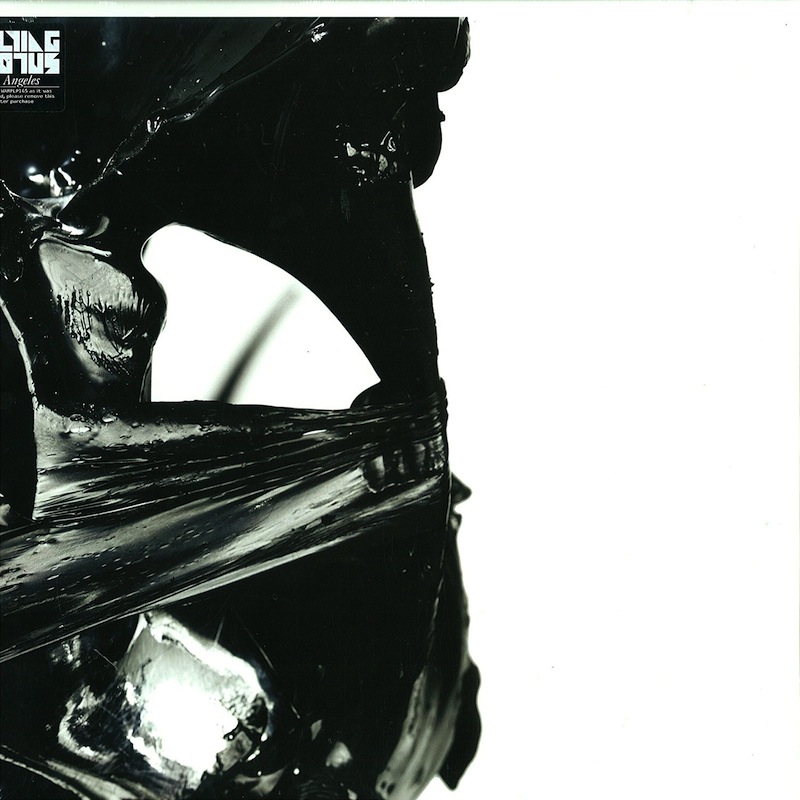 Flying Lotus – Los Angeles (2008)
Between 2005 and 2007, Los Angeles hip-hop producer Flying Lotus had turned some heads with a series of futuristic, abstract EPs that married the whimsical sonics of fellow Angeleno Daedelus to the glitchy electronics of Prefuse 73 and the static-ridden beats of J Dilla. By the time he made his way to Warp, with debut album Los Angeles, FlyLo presented a dingy and dark tribute to his hometown, one heavy with fluttering atmospheric affects and a warm crackle just barely offsetting sputters of noise. Yet for as strange and unsettling an album as Los Angeles is, it's strangely approachable. The exotic strut of "Camel" is hypnotic and funky, while "GNG BNG" bumps like '70s TV cop themes through a Nintendo filter and "Parisian Goldfish" bangs hard with spastic club appeal (and with its own disturbing, nigh-pornographic video to boot). To sum it up glibly, but truthfully, Flying Lotus is the future of hip-hop. – JT
Listen/Buy: Bandcamp | Turntable Lab (vinyl)
---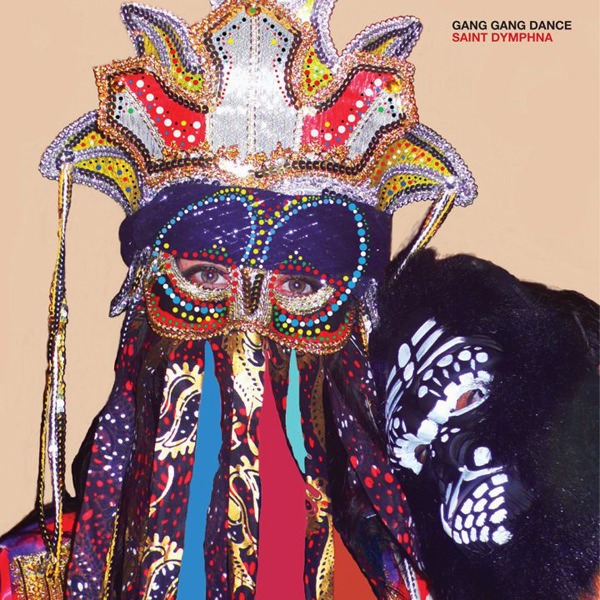 Gang Gang Dance – Saint Dymphna (2008)
One of the more unusual entries here, Gang Gang Dance doesn't really fit into any comfortable category, genre or classification. They make dance music, but it doesn't exactly sound like music. And they sort of make pop music, but without any regard for what pop music is supposed to sound like. On Saint Dymphna, the Brooklyn group best displays their odd blend of disco, ambient, art-rock, psychedelia and improvisation in their most incredible grouping of tracks to date. "First Communion," which is a single, twists and turns like !!! sideways beneath Lizzy Bougatsos' manic shrieks. And "House Jam," which isn't a single but should be, is the band's most gorgeous pop song, blending Kate Bush-style art pop with chopped-up samples and stadium synths. They may be a group of artistic misfits, but at Warp (in the U.K. at least) they seem right at home. – JT
Listen/Buy: Spotify
---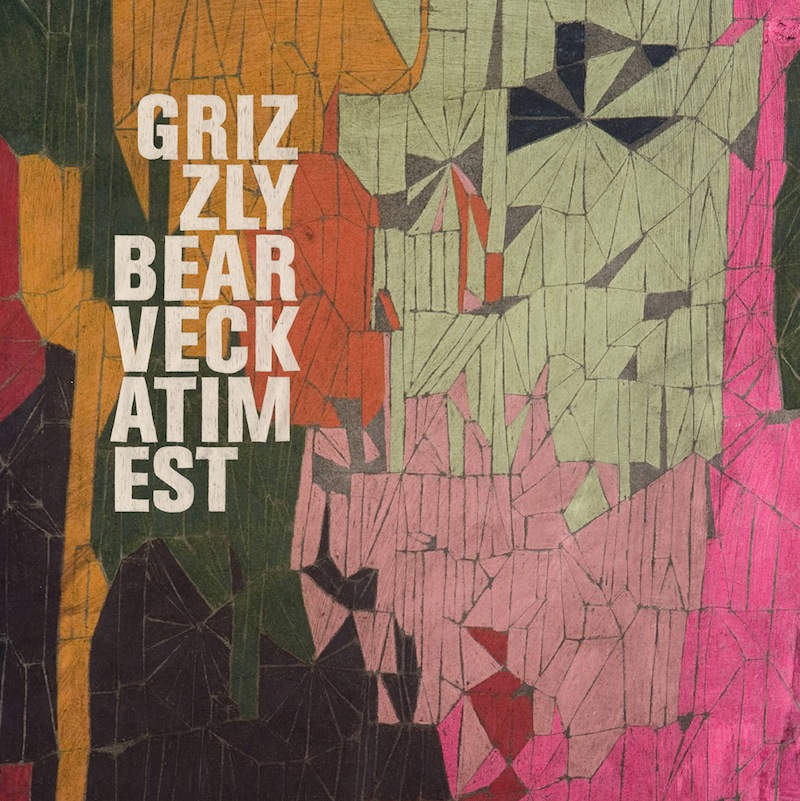 Grizzly Bear – Veckatimest (2009)
Taking the masterful, psychedelic folk sound of Yellow House and stretching it into more pop-friendly realms, Grizzly Bear's third album Veckatimest is a stunning album, showcasing an accelerated growth after starting as a lo-fi bedroom folk project. Where Ed Droste, Daniel Rossen, Chris Bear and Chris Taylor had previously crafted a work of haunting beauty and dark mood, their second album for Warp found them stepping into the sunlight a bit and turning out perfect pop songs like the bouncy single "Two Weeks," the Latin-tinged "Southern Point," baroque ballad "All We Ask" and scruffy rocker "While You Wait For the Others." As unlikely as it may have seemed for the band to make an album even better than their first as a four-piece band, that's exactly what they did. – JT
Listen/Buy: Bandcamp
---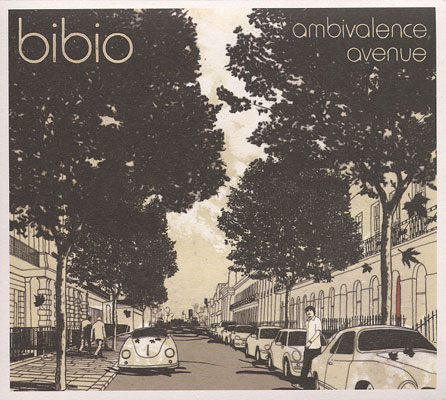 Bibio – Ambivalence Avenue (2009)
Bibio owes much of his warm, uneven style to the nostalgic electro of Boards of Canada, despite being more rooted in indie folk. Stephen Wilkinson's lap-pop flourished into a richer, more melodic and layered sound on Ambivalence Avenue, one of the best scruffy British indie folk(tronic) albums I've heard since Badly Drawn Boy first teamed up with a four-track. In just the first two tracks alone, Wilkinson creates a gorgeous and lovable sound, plucking a crackly and gorgeous anthem on the leadoff title track while he goes a bit funky on the quirky "Jealous of Roses." It's that rare album that sounds just that much better with each listen, and a strong addition to the Warp legacy. – JT
Listen/Buy: Bandcamp | Merchbar (vinyl)
---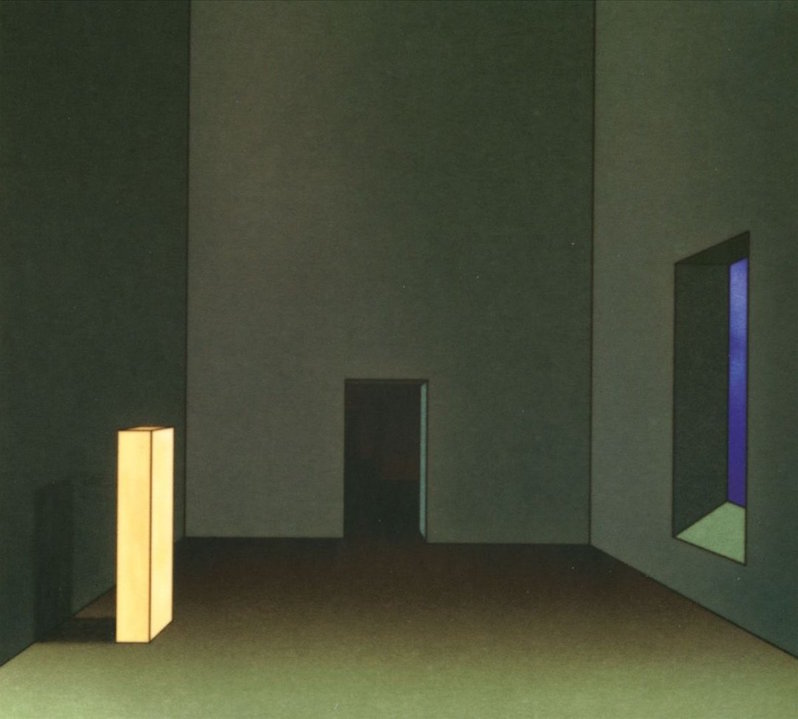 Oneohtrix Point Never – R Plus Seven (2013)
Daniel Lopatin released a number of albums, cassettes, splits and collaborations before finally partnering up with Warp Records, though as one of the most innovative electronic producers of the past decade-plus, it was bound to happen sooner or later. Exploring emotionally resonant textures and space through a kind of strangely beautiful artificiality on R Plus Seven, Oneohtrix Point Never builds virtual worlds through progressive electronic pulses, introverted raves and off-kilter new age. Interesting but by no means ignorable, R Plus Seven is too alien and amorphous to be ambient. It feels more like first contact with an AI than the wallpaper of a dream. – JT
Listen/Buy: Bandcamp | Turntable Lab (vinyl)
---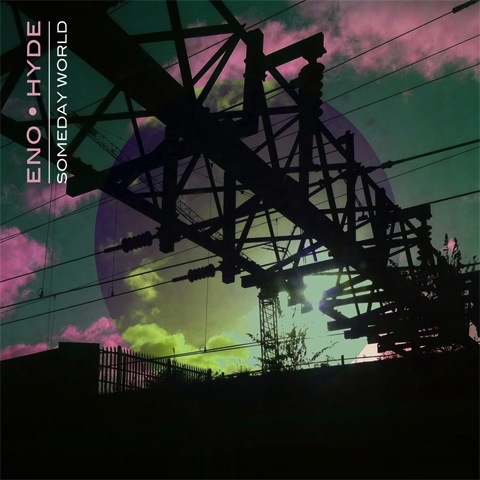 Eno/Hyde – Someday World (2014)
Brian Eno's eventual partnership with Warp was bound to happen sooner or later, and to date is still going, though it's perhaps more surprising that after all this time, Underworld never made a similar move. The closest was Underworld co-founder Karl Hyde's collaboration with Brian Eno from 2014, Someday World, which is perhaps more of an old-school beat-driven pop record than anyone would have expected from either camp at this stage. Playful, accessible, dare I say it, even fun—Someday World takes a bit of the pressure off this meeting-of-the-minds by simply letting the beats take them where they need to go. Pulsing, melodic, rife with hooks, it's as enjoyable a transmission from either artist's camp as you're likely to hear in the 21st century. – JT
Listen/Buy: Spotify
---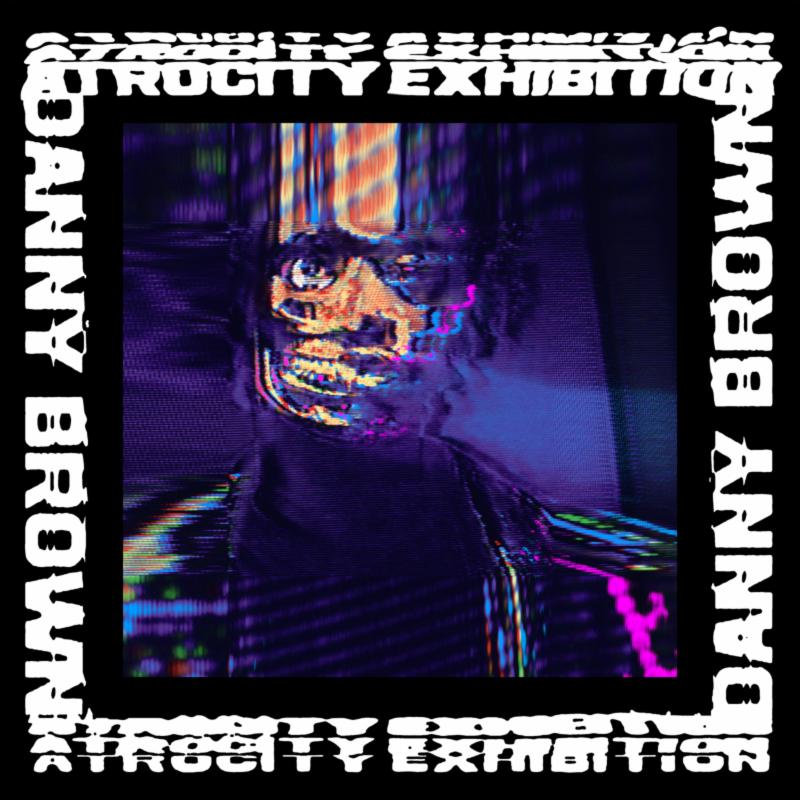 Danny Brown – Atrocity Exhibition (2016)
Danny Brown gave a glimpse of a tendency toward crossing into unexpected sonic territory early on, sampling This Heat's "Horizontal Hold" on XXX's "Adderall Admiral," but his deepest dive into post-punk and industrial influences came with the release of Atrocity Exhibition, his first for Warp. Its title nodding to both Joy Division and JG Ballard, Atrocity Exhibition is at once Brown's most urgent and harrowing album, blending his bleakest narratives with some of Paul White's most intoxicatingly unsettling productions. Though there are no doubt moments of hypercharged immediacy, like the frantic single "When It Rain," this is a harsh landscape that grows more eerily stunning the closer you examine the details. – JT
Listen/Buy: Bandcamp | Merchbar (vinyl)
---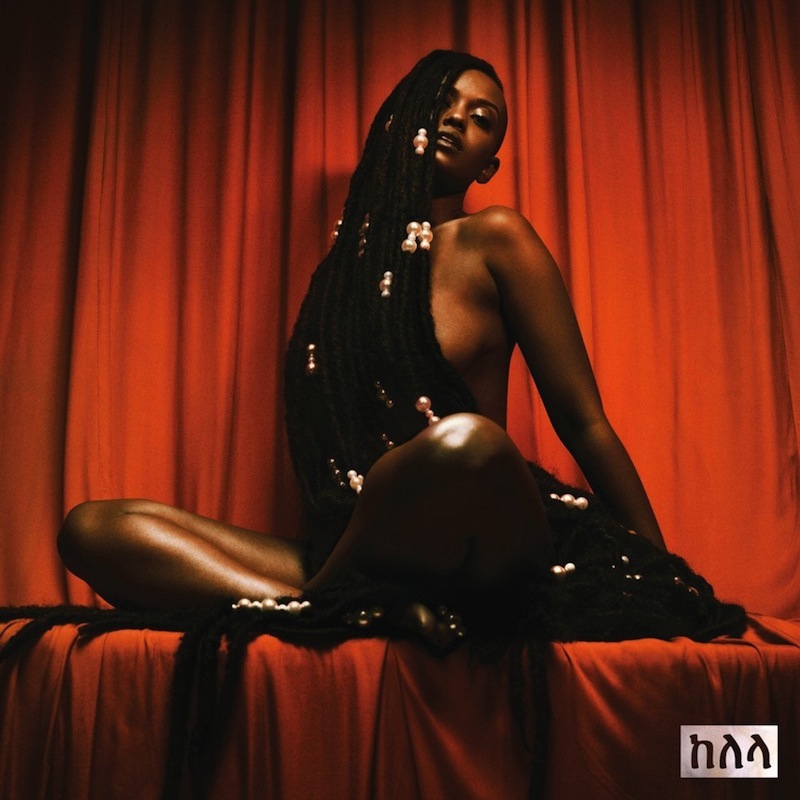 Kelela – Take Me Apart (2017)
Kelela's had been building up to her first full-length album for a long time, having made a name for herself with the auspicious Cut 4 Me mixtape back in 2013. She took her time, but four years later the arrival of Take Me Apart signaled a landmark for the young L.A. artist. Written to be an album in transition between one relationship's end and another's beginning, the LP also signals a different sort of transitional phase between R&B's past and pop's future. On the title track she invokes the pop perfection of vintage Janet Jackson, while the sumptuous atmosphere of "Frontline" feels like a misty look into dancefloors of tomorrow. Yet lead single "LMK" rides the line down the middle, revealing Kelela as one of the most crucial artists of the present day. She's a voice and a force to be reckoned with, but it's her vision that makes Take Me Apart a next-level pop album. – Jeff Terich
Listen/Buy: Bandcamp | Turntable Lab (vinyl)
---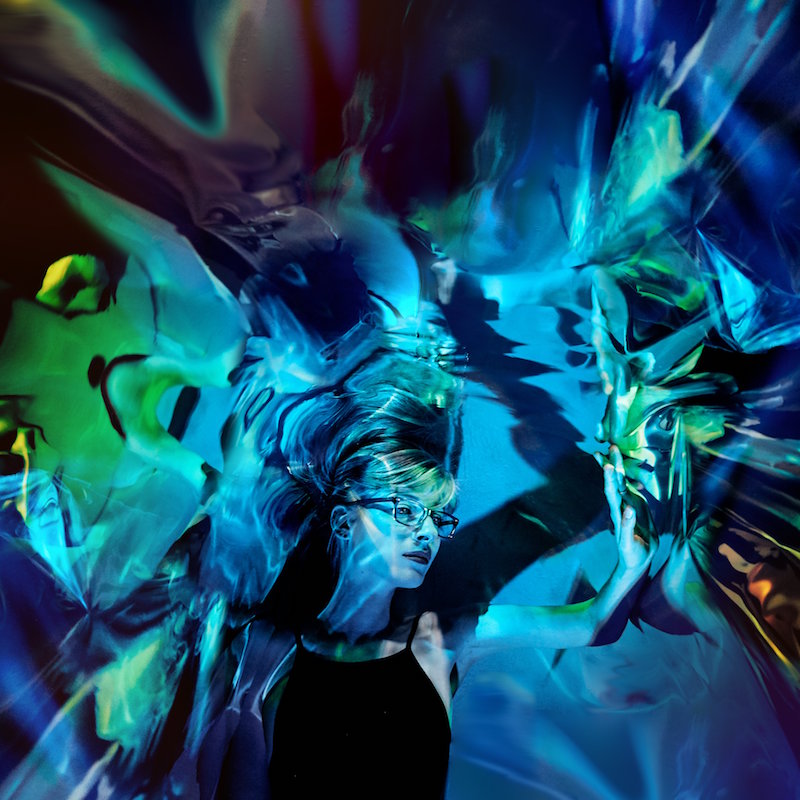 Kelly Moran – Ultraviolet (2018)
One of the rare moments in Warp's catalog that feels like an electronic album despite primarily comprising acoustic instruments, Ultraviolet is a record of modern improvisational music performed via prepared piano—an instrument Moran has dedicated herself to for years. It's also a record that finds those improvised piano pieces edited down and stitched together, then washed over with warm layers of synthesizer. The end result is somewhere between modern classical music and Aphex Twin at his most meditative or Björk at her most wintry. This is gorgeous, seemingly delicate music that conveys both a virtuoso's strength and a comfortingly chilly atmosphere. Electroacoustic or otherwise, Ultraviolet is breathtaking and alive. – JT
Listen/Buy: Bandcamp
---
Yves Tumor – Heaven to a Tortured Mind (2020)
Sean Lee Bowie's earliest recordings comprised abstract sound collage and disorienting psychedelia, industrial-adjacent sounds that didn't embrace pop but didn't necessarily entirely disavow it either. So when their 2020 album Heaven to a Tortured Mind arrived—wrapped in the avant-glitter of Roxy Music and the funk psychedelia of Prince—it felt like Yves Tumor being reborn. A perfect pop record built from both live-band instrumentals and some of their early sound-collage tools of the trade as well, Heaven traverses through theatrical rock anthems, sultry slow jams and strange, electronics-laden in-between spaces. With Heaven to a Tortured Mind, Yves Tumor embraces their status as the rock star of the future by dismantling concepts of rock, stardom and even time itself. – Jeff Terich
Listen/Buy: Bandcamp | Merchbar (vinyl)
---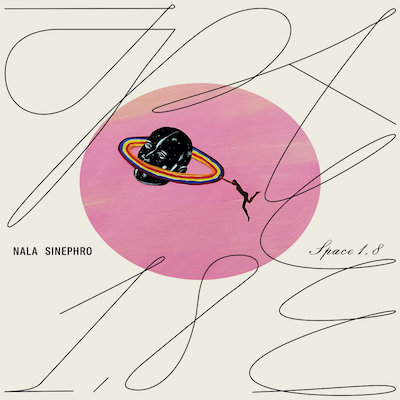 Nala Sinephro – Space 1.8
Twenty two-year-old jazz up-and-comer Nala Sinephro released her debut album via Warp Records—a curious fact that evokes the UK label's history with electronic music. It's also a perfect fit, given the Londoner's fusion between heady electro textures, a lush and immersive atmosphere, and the improvisational language of jazz itself. Sinephro plays both. harp and keys, and she guides an ensemble through deceptively gentle compositions that develop a sense of density and physicality gradually, almost subliminally. As much as electronics play a role in how these eight pieces take shape, they're driven by the hypnotic and physical chemistry of players in the same musical space all embarking on the same astral journey. Where they end up, however, is somewhere far more captivating than inside the walls of a recording studio. – Jeff Terich
Listen/Buy: Bandcamp | Merchbar (vinyl)
---
Support our Site—Subscribe to Our Patreon: Become one of our monthly patrons and help support an independent media resource while gaining access to exclusive content, shirts, playlists, mixtapes and more.