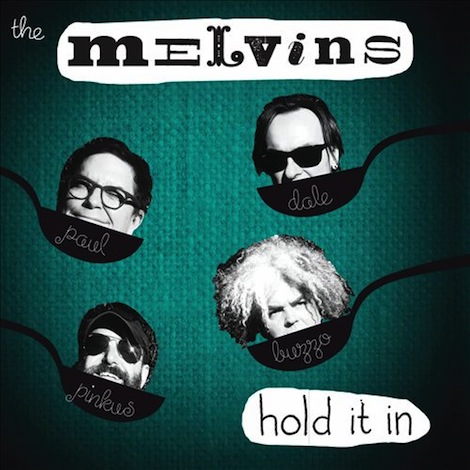 Something is different on The Melvins' 22nd studio album, Hold It In, and the change in line-up this time around likely has a lot to do with it. Buzz Osborne and Dale Crover have been the core members of the Melvins for 30 years, recycling their share of additional musicians along the way. Besides Osborne and Crover, nothing about the band's line up had been consistent until Cody Willis and Jared Warren of heavy metal sludge throwers Big Business joined forces with Melvins in 2006 for the recording of (A) Senile Animal. The relationship worked out well, with a double drum attack from Crover and Willis, and Warren's profound rhythms on bass supporting Osborne's experimental songwriting as the Melvins went on to record a few more albums in this capacity. However, for new album Hold It In, Willis and Warren are missing, replaced by guitarist Paul Leary and bassist Jeff Pinkus of psych-punk noisemakers Butthole Surfers.
It's a match made in avant-garde heaven. Both the Melvins and Butthole Surfers became legendary for their experimental rock music, and there has been hints leading up to this collaboration: A 1996 Melvins single called "GGIIBBYY," a song most likely named after B-Holes' frontman Gibby Haynes; the Butthole Surfers played an All Tomorrow's Parties festival that was co-curated by the Melvins in 2008; the two bands split a 12-inch record as the sixth installment of the Sugar Daddy Live Series in Sept. 2012; and Melvins have been known to cover "Graveyard," a track from the Surfers' 1987 album Locust Abortion Technician, during live shows. With Leary and Pinkus on board, Melvins sound rejuvenated on Hold It In, recalling the unrestricted jamming from albums like Houdini or Stag.
Hold It In could also be taken as half of a Butthole Surfers record. Leary wrote and takes lead vocals on three songs — "You Can Make Me Wait," "Eyes On You," and "I Get Along (Hollow Moon)" — while Pinkus gets lead vocals on two other tracks ("Nine Yards" and "Piss Pisstopherson"). These songs tend to pull Melvins in the direction of the Buttholes' weirdness, especially on the tracks that Leary wrote, but Melvins make sure to retain their signature sludge sound. Cohesiveness comes into question when "You Can Make Me Wait" follows "Bride of Crankenstein" to open the album; these two tracks couldn't be more different. "Bride" is a full-on wave of sludge metal with snaking guitar solos, and "You Can Make Me Wait" could best be forgotten with its garbled, vocoder-processed vocals that overwhelm an otherwise pleasant psychedelic vibe. This is probably the only misstep of Hold It In, in which The Melvins otherwise do a splendid job of ripping through and blending rock, metal, punk, and noise.
Osborne and Leary remind us that torturing a guitar can sound really awesome, but Buzzo is the lead. He's the one doing most of the ear-splitting damage as his guitar strings often sound like they are made of uranium. "The Bunk Up" is a standout track, adding on some organ, accordion, and then some xylophone as Osborne's guitar finally comes creeping back with support from Crover's delicate ride cymbal. Osborne bellows "now we know / we're living on the brain" as his guitar splits in several directions, but with a precise quality that most players could not match. "Brass Cupcake" has glam metal posture with psych rock lean; "Barcelonian Horseshoe Pit" is a blipping instrumental with drums recorded like they came rolling in from a mile away through a tunnel; "Onions Make the Milk Taste Bad" can intimidate if you let it; "Eye On You" is a fun, melodic rock song with perfectly placed cymbal crashes; "Sesame Street Meat" has a terrorizing plod; and "I Get Along (Hollow Moon)" features that stretching ability of Pinkus' fingers, a crispy high hat, and bluesy guitar.
Hold It In is the sound of The Melvins having a joyful time with two new players. The 12-minute finale "House of Gasoline" sums it up: solid jamming, haunting murk, Les Claypool-esque bass, gurgling noises, fuzz, unedited drums from another room, and sleigh bells. Melvins have never taken themselves too seriously, and after 30 years, they continue to prove how serious they are about it.
Similar Albums: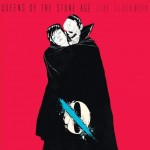 Queens of the Stone Age – …Like Clockwork


YOB – Clearing the Path to Ascend


Mudhoney – Vanishing Point