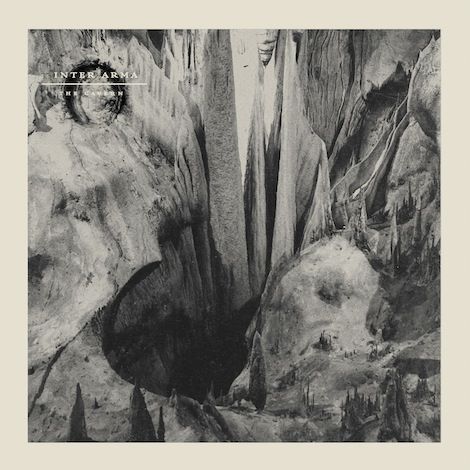 Virginia's Inter Arma made a glorious sophomore ascent and first release for Relapse in 2013 with the bold, idiosyncratic, and intense Sky Burial. In contrast to the sound of San Francisco's Deafheaven, whose Sunbather was released in the same year and similarly attempted to reinvent black metal, Inter Arma is notable for moving in an earthier direction, incorporating strains of Americana and folk into their otherwise monolithic onslaught. As evinced by our writers' 2013 metal rankings, we were sufficiently impressed by Sky Burial to identify Inter Arma as one of the most promising emergent artists in the genre. With that said, one excellent album does not make a career, and it has indeed been an anxious process to guess at what direction Inter Arma may go in on their next album: whether they will fall back on the sound of Sky Burial or continue to aggressively push boundaries.
Although the one-track, 45-minute Inter Arma The Cavern EP is not technically their follow-up to Sky Burial, it likely provides a good sample of what to expect in the future – and that sample is an encouraging one. The band makes it clear that they have no intention of repeating themselves within the opening seconds of the EP, which — in sharp contrast to the jarring opening chords of "The Survival Fires" – utilize an evocative acoustic guitar. This passage (which is more reminiscent of the instrumental "The Long Road Home (Iron Gate)") is a short prologue, however, and soon gives way to slow-burn sludge riffing, which slowly builds throughout the first fourth of the EP.
Though this section showcases an increased engagement with doom and sludge metal, Inter Arma displays their more experimental intentions approximately thirteen minutes in, as they abruptly drop their massive riffing and transition into impressive thrash metal soloing a la Mercyful Fate or Slayer. Radical experiments in song structure are not foreign to Inter Arma by any means, but here they execute them with coherence in spite of a wider stylistic palette, and achieve a solid seven minutes of extraordinary shredding. Aside from displaying their technical ability and stylistic flexibility yet again, the extensive soloing that occurs throughout "The Cavern" almost certainly indicates a foregrounding of lead guitar on the next album.
There are very few points where Inter Arma loses steam over the course of these 45 minutes, but almost all of them fall in the middle, around the down-tempo vocal parts. Bookended by significant portions of intense metal, the central ten minutes of the EP attempt to relent somewhat and establish an ethereal atmosphere. This strategy has also been successful for Inter Arma in the past — influencing their unique style of vocal production and helping to create the dark, echoing acoustics that make their music so striking — but here it falls slightly flat, seemingly deployed primarily or contrast as opposed to the organic progression of the track. Whether this issue is a product of the extreme length of the song or the beginning of a tendency is unclear, but overall the strengths that the band shows on "The Cavern" far outweigh their weaknesses, and that alone is enough to make the anticipation for their second album more fervent.
Similar Albums:


Inter Arma – Sky Burial


Agalloch – The Serpent and The Sphere


Windhand – Soma
Find it at: iTunes