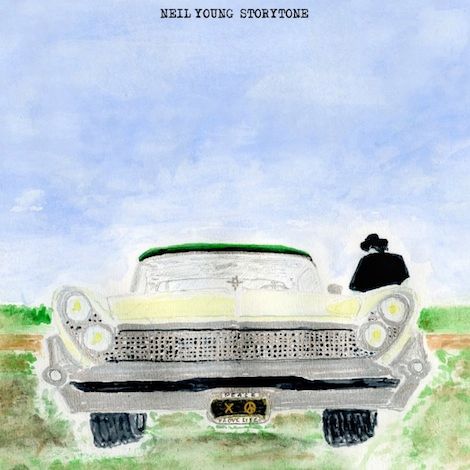 Leave it to Neil Young, the mercurial treasure whose art and work projects of the last decade often questioned the structure of music and the music business, to come up with the idea of the album that remakes itself. Storytone's deluxe edition pairs solo recordings of 10 new Young compositions with 10 large-scale rearrangements of those same songs, complete with an orchestra nearly a hundred in number and a slick big jazz and blues band. It's a simple enough concept that, in classic Neil tradition, provides for a conflicting experience on a lot of levels and says a lot about how music travels between storytellers. Remember that summer when every band had its own version of Gnarls Barkley's "Crazy"? Same experience, just with a big budget and someone wielding a baton.
What makes Storytone a tricky proposal, though, is the songwriting. The 10 songs without extensive adornment are some of the most personal Young has ever penned. There are moments of such disquieting intimacy that the listener almost feels like an intruder, even given Young's expertise at finding the emotional heart of his audience throughout his career. They belong to him, a fiercely independent spirit who's just now starting to sum up his mortal experience, and through his generosity he develops a real relationship between his listeners and these songs when it's just you and him in the room. But when they come out the other end with violas and choirs in tow, the effect is uneven.
The narrative is great. Young the writer weaves a very compelling plot merging his passion for naturalism and environmental concerns with lean expressions of renewed love, distant memories and a bittersweet knowledge that the road's getting shorter. The opening "Plastic Flowers" throws all of them at you in one song, where two people come together and find each other's personalities through mutual work: "We met to see a threat that came to harm something we both loved." The experience uncorks a set of memories and realizations that don't always go where you think they will. The countryesque "Glimmer" contends with a ghost love that conjoins herself with Neil ("I can still see you sittin' there right by my side") but also reminds him why he's in transit ("Tough love can leave you almost alone/But new love brings everything back to you"). Surely there's some elements of Young's recent divorce and his new publicized Hollywood romance, but the songs work with either party in place, and I frankly don't do the gossip thing.
"When I Watch You Sleeping" is as close as listeners can get to Young's most private moments, and its innocent wonder is more empathetic than mawkish: "When I watch you sleeping, there's nothing that you hide/When I smell you breathing there's a sweetness from inside." The rest of his admissions cut away any artifice he has, which wasn't much. The dimensions of his emotions are so certain and specific they triumph our nervousness with their directness.
Young's reflections of himself through a half-century are from a sound but restless mind. "Say Hello To Chicago" re-enacts his elliptical introduction to the world as a performer, and it's a boozy but lovingly crafted life lesson: "Friendship is everything if love is to last/And I have my guard down and love passes fast." "I Want To Drive My Car" handles his wanderlust with brevity and the need to keep going "further and further." "Tumbleweed" and "I'm Glad I Found You" are touching and fragile, and even the pedantic how-to lyrics of the environmental protest "Who's Gonna Stand Up" work okay in their stripped form.
Then Young starts the whole song cycle again, this time with a 92-piece orchestra conducted by Michael Bearden and Chris Walden that blasts the intimacy into Cinemascope with Aaron Copland flair – and it's not necessarily the best strategy. Now that Young transfers ownership of the songs to a large setting, moments of lost translation are almost inevitable. "Plastic Flowers" and "I'm Glad I Found You" suffer the most fidelity loss; Young's sweet moments of spark and realization get swallowed up by the spiral of swelling strings. "Glimmer" straight up sounds like a Gordon Jenkins arrangement for Frank Sinatra: There are jazzy modulations and melodic variances that, while mathematically acceptable, just don't adhere to Young's center. Technically speaking the broad visions of strings and choir make atmospheric sense in "Who's Gonna Stand Up" – the world's a big place despite what Walt Disney told you – but they can't overcome the lyrics' didacticism.
The band arrangements are over-polished and over-written. The blues treatment of "Say Hello to Chicago" sacrifice the lyric's freewheeling remembrance for an overly slick horn chart, and take the vinegar out of "Like You Used To Do." Neil's fighting to be heard above the pristine clarity and Vegas professionalism of the players. The Bluenotes of Young's This Note's For You album sound almost gritty by comparison.
Two of the orchestral versions work. Ironically one of them's "When I Watch You Sleeping," where the steady gait and restrained sound give the sunrise confession a gentle sense of rhythm, similar to Fred Neil's "Everybody's Talkin'." And the closing "All These Dreams" creates a legitimately dreamlike surrounding, keeping in proportion with the inexact resolutions and the recollections of snowmen and nesting geese. The orchestra's not fighting too much with the songs.
The truce of Storytone's two distinct sides is, finally, not an easy one. Rather than joining the personal with the grandiose it sounds like a record made for two different audiences, not one, and even the most eclectic artist doesn't want to do that. But the test is noble, even if one part sounds like populist compromise, and the study in contrast provides for interesting tangents. If that's not what Neil Young had in mind, still it says something, even if one opts for the simplicity of the solo side over the over-busy orchestra side. That's what Young's maverick side lives for, and he can't be anything less. We couldn't and wouldn't have it any other way.
Similar Albums:


Neil Young – Harvest


Bruce Springsteen – High Hopes


Leonard Cohen – Popular Problems
Paul Pearson
Paul Pearson is a writer, journalist, and interviewer who has written for Treble since 2013. His music writing has also appeared in The Seattle Times, The Stranger, The Olympian, and MSN Music.