Marianne Faithfull : Give My Love to London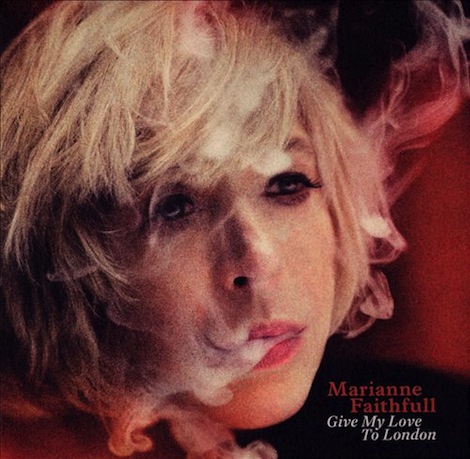 Somewhere between breaking her sacrum in four parts, and being on narcotics for 7 months, Marianne Faithfull found the time to make a record that was true to herself. That record, Give My Love to London, is a far cry from the '60s pop music that catapulted her to fame, and finds Faithfull revealing a more mature sound: theatrical, dramatic, and Victorian. Featuring songs written and co-written by Roger Waters, Nick Cave and Anna Calvi, among many others, Faithfull's new set — released 50 years into her career — provides a repertoire of powerful and intimate ballads.
Songs like "Sparrows Will Sing" (written by Roger Waters), "True Lies," and "Falling Back" (co-written by Anna Calvi) give us flutters of hope in the midst of overwhelming doses of sorrow; vibrant guitar riffs and lively percussion lines, provide a counter-balance to her grim lyrics, somber piano, and haunting harmonizing vocals. Brooding ballads like "Deep Water," "Love More or Less," "I Get Along Without you Very Well," and "Late Victorian Holocaust," feature a more intimate and vulnerable side of Faithfull, with croaking vocals dancing naked on metallic keys. "Late Victorian Holocaust," written by Nick Cave — a song she says she would sell her soul to have written — is particularly personal and stirring as it depicts the ghost of a life she once knew as a junkie in the streets of London. The final track "I Get Along Without You Very Well" is impossibly eerie, featuring a whaling and dark violin, co-starring piercing guitar lines.
Conversely, she offers an uplifting complexity with folk-pop tracks like the title track and "The Price of Love," with its catchy hooks, full band, and bluesy harmonica. Unlike the rest, however, "Mother Wolf" — co-written by Patrick Leonard — is a high-strung number of a woman scorned. There's no mistaking her contempt with lyrics like, "the filth that comes out of your mouth/ I will not listen to/ you treat your dogs better than you treat each other/ the words that come out of your mouth disgust me." Someone (or something) pissed her off, and she's not keeping mum about it. Which is something to appreciate from an artist of her stature — it just feels more genuine.
Give My Love to London plays out like the soundtrack of a musical theatre production, with all its highs and lows, and ballads upon ballads stringing it along. It's evocative, dramatic, and, as mentioned before, Victorian — maybe a tad too much for my taste. But it's got a lot of talent behind it, some brutal honesty, and a legendary voice at that.
Similar Albums:


Leonard Cohen – Popular Problems


Patti Smith – Twelve


Tom Waits – Bad As Me