John Carpenter : Lost Themes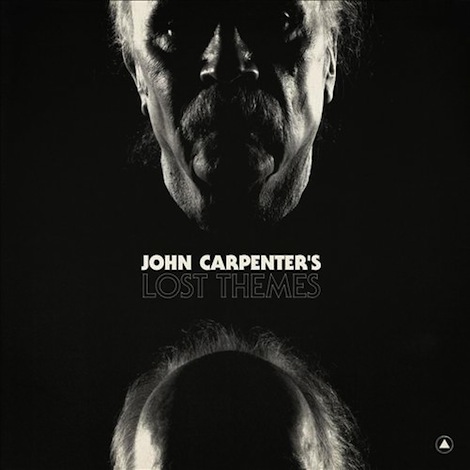 Three years ago, Sacred Bones Records released the soundtrack to David Lynch's film debut, Eraserhead — a movie best described as disturbing and surreal, and one that has to be seen multiple times to develop an opinion on it. However, the soundtrack is quite the opposite, worthy of praise for its dark textures in ambiance and the ability to synchronize perfectly with such a ominous piece of work. This year, Sacred Bones continues the tradition of releasing soundtracks from cult directors, this time with famed horror and low-budget icon behind films like Halloween and The Thing, John Carpenter. Following the Lynch reissue, Carpenter's album, Lost Themes, shouldn't be a surprise for the cult label, considering how much his work in film has influenced and transcended modern horror — and by extension industrial and post-punk music.
Lost Themes is described by Carpenter as "A soundtrack for the movies you have in your mind." Well, it really depends what type of movie happens to be on the cranial projector. Lost Themes definitely has the signature touches of what makes his music so distinguishable — the predominant piano, the eerie textures and haunting production. However, music has grown to change and adapt to new styles and for all his talents, Carpenter's music mostly sounds trapped in a bygone era. There are some moments where he still retains his virtuoso piano playing skills, like in the excellent tracks, "Vortex," "Night" and "Abyss," which are songs that probably came ou tof some earlier music compositions made for one of his films. The problem with Lost Themes is that many of the tracks are inconsistent, which makes for a sloppy finished product. The ideas presented here by Carpenter are interesting and appear to be heading on one course, but end up going another. It demonstrates an assemblage of thoughts aren't fully fleshed out, which makes Lost Themes a bit disappointing. Nothing composed here is catchy or memorable (Like this), and instead, most of the musical arrangements, while familiar, are too repetitive.
Part of the time, it sounds like Carpenter attempts to establish a creepy atmosphere, but ends up going new age with tracks like "Obsidian" and "Domain." It's a little hard to take some of these compositions seriously. Too many textures are repeated as Carpenter uses too much of the same imprints throughout the album. "Mystery" and "Obsidian" sound almost too identical because of the same synth patterns. Even after repeated listens, only a few standout tracks sound distinct from the rest of the album. What made Carpenter an interesting figure in the first place was his ability to produce, edit and direct outstanding films on a small budget, in addition to composing music that meshes perfectly with the tone and mood of them. Very rarely are directors allowed heavy artistic control to create the films they want from a screenplay. With Lost Themes, it's clear Carpenter is not limited by any studio or label, but rather his ideas are and his musicianship is put to poor use. Should Carpenter return with another album, we can only hope that he expands his palette next time.
Similar Albums:


Zombi – Escape Velocity


Wolves in the Throne Room – Celestite


David Lynch – Eraserhead