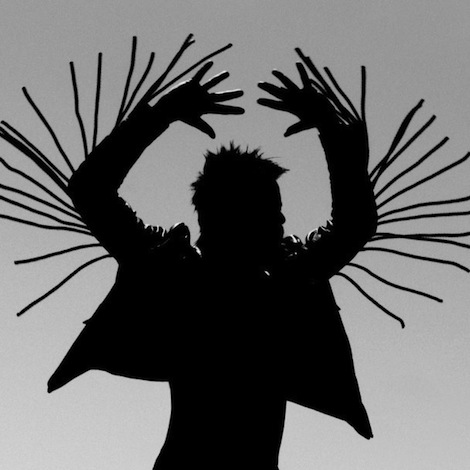 George Lewis, Jr., the singer and songwriter behind Twin Shadow, doesn't want to be trapped under the weight of genre. This is obvious from his flat-out admissions in interviews about the direction of his third full length release, Eclipse, but it's even more clear from the radio-friendly lineup of tracks that made the final cut after months generating material in his new hometown of L.A. This, coupled with the sudden move away from heavyweight independent label 4AD to media-giant Warner Bros., tells us that if Lewis wants to make pop music, he'll make pop music, pigeon-holes be damned.
It's been quite the journey from 2010's Forget, a layered, sun-drenched new wave work with veiled lyrics and obscure intent that was well-received by the indie crowd and critics alike. For Confess, Lewis went glossier, but still maintained that highlight-stacked, plush sound. Eclipse revels in its focused drive, built on bigger sounds but fewer instruments. While loops and programming still abound, the fog that softened tones and permeated both previous records is gone in favor of sharp lines and razor-like cuts that would sound equally comfortable on top 40 stations, in a club, or straddling a montage on primetime TV dramas.
The singles "Turn Me Up" and "To the Top" exemplify the direction Lewis has taken on this foray. Recorded fully in the City of Angels, some of which was done in an empty chapel in a cemetery, Eclipse has, well, eclipsed earlier sounds—chillwave, glo-fi, summer music—in favor of anthems that radiate power, redemption, and a certain hopeful vibrancy that pairs well with a twilight drive through a warm night (in fact, "Old Love / New Love" is used in precisely that way, as a radio-station track in Grand Theft Auto V). "Do you know why I stumble / why am I way down on my knees / I've been racing through a half-life / and it's taken its toll on me," Lewis sings on "Half Life," a track that comes nearest the former sounds associated with Twin Shadow, a slower grind, sparse at times, but puffed up with a chorus swollen like a river at flood, bottomed out with distorted synth bass. The difference? There is less obscurity here. It's catchy, hooky, and all about love. Right? Love?
So. It can still be difficult to interpret the exact meaning, but the lyrics happen to be less wordy this time around. There are fewer "And this is how the cleft was born inside the silent ground" (from "When We're Dancing") and more "I'm trying, I'm ready, I need this love" (from "I'm Ready"). Concise. To the point.
Eclipse isn't devoured entirely by anthemic pop. There are quieter tracks, such as the muted "Alone," a duet featuring Bay Area R&B artist Lily Elise. She does well against Lewis' croon, their breathless vocals meeting over stuttering, programmed drums and plinky keys that switch into chords before vanishing amidst a wash of sound. It's very dramatic, yet gorgeous, and it builds toward the layered tracks we've come to expect from Lewis, before the tidal wave of sound rips back, leaving silence surrounding a single voice, hushed drums and a few subdued chords, barely audible after that onslaught. This is what Lewis' evolution is: rather than relying solely on those former wall-of-sound techniques, they're used almost as an instrument specifically, drawn and scabbarded at will, when the moment calls for that particular sword.
Lewis claims he doesn't want to be forced into a box, designated some kind of '80s throwback, and so he's attempted to depart from his earlier techniques in favor of a broader, bigger sound. He's done that to some extent. The earlier Twin Shadow is visible if only in signature methodologies, perhaps he's unable to abandon them completely. However, there's a new confidence about his particular artistry. He knows what he's about and he's unafraid of the ramifications that might come from the path he chooses. It's exactly that confidence that makes his work so appealing.
Similar Albums:


Future Islands – Singles


Blood Orange – Cupid Deluxe


Toro y Moi – Anything in Return