The Go! Team : The Scene Between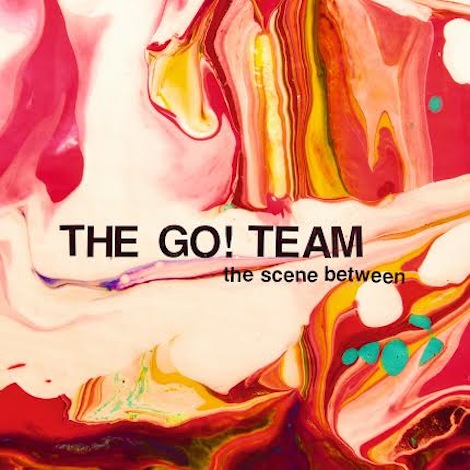 It has almost become cliché to talk about a band being "at a crossroads" when they reach a point in their career that pushes them beyond three studio albums. And yet, here we are — Ian Parton standing in the ruins of the band he created, with several longtime members darting to pursue side projects and other non-music endeavors since 2011's stunning album Rolling Blackouts. That leaves this album to do a lot of hard work, both ushering in a new era of The Go! Team and working through the always awkward transitional phase that the band finds itself in. To further kick in the door for such an undertaking, Parton wrote everything on new album The Scene Between himself, for the first time since 2004's Thunder, Lightning, Strike.
With that in mind, it becomes a bit easier to forgive the lack of originality in many of the songs, or the way the album has moments where it seems like it's lurching toward the finish line, giving up on the idea of playing to win, and instead settling on playing not to lose. But there are delightful hooks, and a feast of complex and engaging melodies. The opening track "What D'You Say?" is a clear standout, setting the table for a stellar first half of the album. "Waking The Jetstream" is a gentle surf rock jam that sounds like something Brian Wilson would churn out for a band like Tennis. There are the usual frantic moments and dramatic hooks that Parton and The Go! Team have made themselves known for. The noise on the album, while overwhelming, is textured and has depth. Parton's new songwriting efforts still lean on working as much catchy power-pop into the mix as possible, so there are more than enough songs to sing along to. It has all of the bones of an iconic summer album, a drum-soaked song like "The Art of Getting By" built to be played with the windows down on a warm day with endless hours.
But even with all of that, it feels like a somewhat hollow effort. I say this not longing for The Go! Team of old (though you may be heartbroken to find that rapper Ninja, a figurehead on past efforts, is nowhere to be heard on the album), but longing for a portrait of a band in transition that doesn't stumble over its own feet. Toward the middle of the album, and almost all the way through the end, mostly after the toned-down and surprisingly mellow "Blowtorch," the songs become hard to separate from each other. The sounds remain frantic and fun, but it all begins to sound like one long and uneven track, finally breaking up with the aforementioned "The Art Of Getting By."
For any artist who arrives at a point in their career where they have to push up against the edge of whatever box their discography has forced them into, a certain urgency arrives. Rarely does it translate well to albums. There are enough delightful hooks and fun melodies here to forgive Parton's dearth of new ideas and diversity in songwriting. Likewise, there is enough frenzied excitement to remind us what he and his band are still capable of, even if he didn't hit the mark here as cleanly as he's shown us he can do in the past.
Similar Albums:


Sleigh Bells – Bitter Rivals


Dan Deacon – Gliss Riffer


The Avalanches – Since I Left You