Laura Marling : Short Movie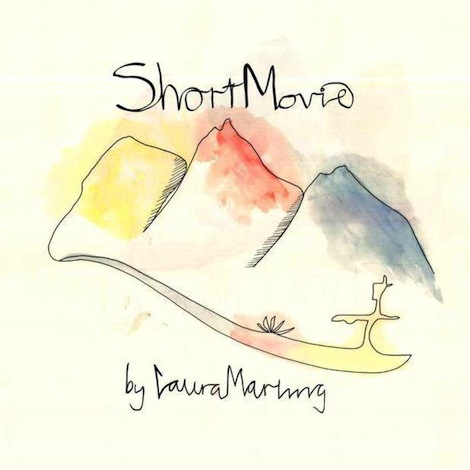 "I'm just a horse with no name/Where are my other beasts who think the same?"
Laura Marling, arriving at the release of her fifth full-length record at the age of 25, uses classic rock allusions not for the first time on Short Movie opener, "Warrior" (let's not forget her interpolation of "It Ain't Me Babe" on "Master Hunter"). Here it acts not merely as a throwback, but as a raison d'etre for the album. Having decamped from England to Los Angeles after finishing up with previous album Once I Was an Eagle, she deliberately sought isolation and anonymity, in an effort to develop a fresh approach to songwriting. A failed application to a New York poetry course and a loss of the naïve romantic joys of nights spent under the Mojave Desert stars followed, and she was confronted with what she now says she understands as the "fear of loneliness."
Some of the eternal desert wisdom does appear to have penetrated Marling's consciousness, not that she was running short in that department; as her career continues to unfold, her songs move further and further from literal interpretations or situation-specific relatability. And while the tracks here, other than the heightened war horse metaphor that runs through "Warrior," fall into the familiar formula of the defiant lover dispensing with her infantile male partner, the residual bitterness that had come to define her finally takes a back seat to a mellowed acceptance of our futile ways. This maturity is most clearly expressed on "Gurdjieff's Daughter" – a reference to early 20th Century spiritual teacher George Gurdjieff, who taught of the Fourth Way, a method to arouse oneself from the waking sleep that consumes our everyday lives. For the first time in the eight years since Marling set out on this path, she has taken stock of where it has led her, and sings of her distrust of the vagaries of success and the folks that remind her of it.
The other key development in Marling's music is her embrace of the electric guitar. The full Judas moment occurs in "False Hope," the album's true calling card. For the only time, we are taken out of California and into a steamy, claustrophobic New York City apartment in the throes of Hurricane Sandy. It's easy to imagine her as a Barton Fink figure, growing increasingly irritable at the woman downstairs who has lost her mind. The track hurtles with a direct, propulsive energy, reminiscent less of Joni Mitchell than PJ Harvey, as Marling channels her closeted frustration into one of the standout moments of her career so far.
To add to the progression, this is the first time Marling has taken on production duties, and again she shows no hesitation in shaking things up. Most of the 13 songs are couched in a string-laden ambient cloud, never threatening to dominate the mix, instead embellishing the music with a sense of time-trodden experience. The one instance of a song's arrangement taking center stage arises in the raging finale to the title track – as Marling repeats her mantra of "It's a short fucking movie, man," a taut, cacophonous, John Cale-style siren of strings builds alongside her, until all comes crashing down, and she somberly signs off, "I know/I'm gonna try and take it slow."
Not every tracks soars – the strum-along, half-spoken "Strange" is flimsy by comparison, and "Walk Alone" is a slow-build to a climax that never arrives. But they are handsomely outnumbered: the excellent "Don't Let Me Bring You Down" is another showcase for her new Gibson, and – believe it or not – even contains a few lines where her delivery has the distant echo of Amy Winehouse. On Short Movie, her streak remains intact, and for the fourth time the prodigious Laura Marling has somehow found a way to develop in maturity.
Similar Albums:


PJ Harvey – To Bring You My Love


Feist – Metals


Angel Olsen – Burn Your Fire For No Witness