The Top 50 Albums of 2017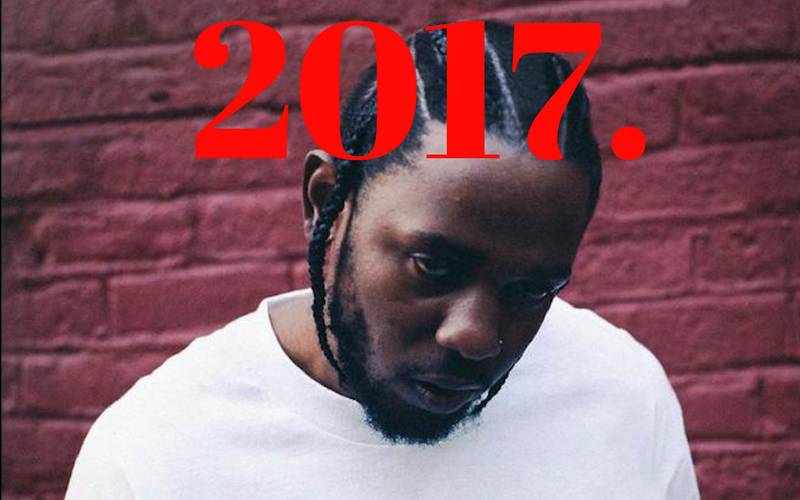 Is anyone else exhausted? As frustrating, tragic, sad and bewildering as 2016 was, 2017 just ended up being a surreal continuation of every lousy thing that was already happening. Politically and culturally, we're in a weird place. People are more divided than ever, but there's also a clearer line between who's on the right side of history and who isn't. And music has reflected that in a lot of ways, whether through overt protest or through more subtle means. It was a good year for political music, but it was also just a good year for catharsis—for getting ideas out in the open and letting those thoughts, negative or positive, out into the world. It's a terrifying time to be alive, but it's an exciting time for music—if not necessarily for the industry itself.
In the middle of working on this list, The Weinstein Effect began to take over all corners of media, and it actually ended up affecting our results. Brand New's Science Fiction had originally made it into the top 20, though once the accusations of Jesse Lacey's sexually inappropriate behavior had surfaced, it seemed necessary to make a change. It might not mean much, a music website removing an album from a list on account of one person's shitty behavior, but our responses to sexual harassment and assault—all of us—are important and add up to how we as a culture move forward. And that means changing our own perspective and approach. It seemed only right after removing the album to replace it with one made by a woman. (Sorry Beach Fossils, maybe next time.)
So yeah, this year wore us out, but at least there was a lot of good music to listen to. Here are our Top 50 Albums of 2017.
---
50. Phoebe Bridgers
Stranger in the Alps
(Dead Oceans)
On Phoebe Bridgers' debut LP, Stranger in the Alps, the Los Angeles singer-songwriter crafts a breed of nuclear-folk similar to other 2017 folkies such as This Is the Kit, Julien Baker and Julia Jacklin. Stranger in the Alps is gripping and intimate, full of descriptive wordplay, it's an album best listened to in solitude. It captures the little things, the ins and outs and bits of somewhat meaningless conversation. Alongside being a breathtaking debut, Phoebe Bridgers guides the listener through the pain of playing sets at funerals, dealing with the deaths of Bowie and Lemmy, as well as the strange feeling of waking up in your childhood bed. On Stranger in the Alps, simplicity and realism are Bridgers' best friends. – Timothy Michalik
---
(Gilead)
Like any great supergroup, Less Art buries the lede and lets the music speak for itself. Their debut Strangled Light is a post-hardcore record delivered with the maturity of adulthood, the unmatchable intensity of youth replaced with the depth and nuance of age. The lyrical barbs sting no less; if anything, they gain an intractability, an unsolvable nature that can only come from sitting and working on problems for years and years. But Less Art also offers the kind of work-oriented optimism that too only comes from age. As cathartic as it is painful, but a necessary pain. – Langdon Hickman
---
(Dead Oceans)
Kevin Morby's latest is from the perspective of a wanderer, a lover; seeing the city for what it is, an entity worthy of reverence. His is not immersed in the city itself (as he recorded the record in L.A.), but looking at it from afar. Idealizing it, flaws and all. Although the arrangements on City Music are all fairly laid-back, the music is more wide-eyed than melancholy; it's refreshing. The easy highlight here is the gospel-tinged folk of "Dry Your Eyes," a breathtakingly intimate ballad where he depicts the loneliness of walking into a city square hoping to find a single soul he knows; at first, there are tears in his eyes, but he tells himself to keep going—to dry his eyes, as it were. In that sense, it's not a depressing sort of loneliness at all; it's beautiful. – Ben Braunstein
---
(Jagjaguwar)
With his debut studio album, Moses Sumney has crafted a gorgeous, 30-minute rebuke to the love song, a kiss-off to the often obligatory presence of romance in music. In a culture that often values finding love above all else, Sumney sings from the perspective of an outsider. "Am I still vital if my heart is idle?" he sings on "Doomed," the album's beautiful lead single. Most of the album features tracks that keep others at arm's length, with songs like "Don't Bother Calling" rejecting the idea that isolation has to be involuntary. When Sumney pushes those themes into political territory—as he does on the slow-burning "Quarrel"—the album starts to ask much larger, complex questions about how love might not be catch-all solution to our problems, as it's often presented. Aromanticism is a sonically gentle album, but its impact is anything but. – Sam Prickett
---
(Sacred Bones)
World Eater clocks in at just over 45 minutes but is jam-packed with substance, creating noise representative of 2017's confused, chaotic energy. Blanck Mass conveys this insular chaos through the grueling crunch of drone interspersed with chipper bells, like songbirds caught in a maelstrom. It never drags, even though every track but the intro is over six minutes long—"Rhesus Negative" on its own is a veritable ecosystem, all the implied intricacies and moving parts present. World Eater cares not for genre, or lyrical clarity, or linear anything, and that's why it works so well here and now. – Paula Chew
---
(More Alarming)
It may be a backhanded compliment, but one of Laura Marling's best skills is being consistent. Each album she's released has met expectations if not exceeded them, and Semper Femina is no different. For being her sixth album in nine years, Semper Femina contains the same genuine and introspective touch despite the rapid release schedule and scope of Marling's output. Each track feels emotionally detailed, lyrical expansive, and the album on a whole is full of standout songs. This may be the best Marling has been since she burst on the scene as a folksy, fun 18-year-old with potential that outstretched her age. She's reached beyond that high ceiling with Semper Femina.- Chris Willis
---
(Secretly Canadian)
There's an edge to Cherry Glazerr that's as refreshing as it is crucial to their sound. Primarily the project of 20-year-old frontwoman Clementine Creevy, Apocalipstick contains song written as far back as 2015 when Creevy was 17 . Songs such as "Trash People" and "Instagratification" possess the cocksure lyrical stylings of what one would expect from a teenage musician. Through Creevy's deft hand however (her guitar work is the album's greatest strength) these tracks transform into blistering, post-adolescent one-liners that pack a bruising punch. Come for the mass appeal of "Told You I'd Be with the Guys" but stay for one of 2017's most complete and invigorating rock albums. – Chris Willis
---
(Young Turks)
2017 has been a landmark year for jazz. ECM, the third most-important jazz label in history behind only Blue Note and Columbia, just added its entire work to streaming services, setting the jazz world ablaze. But it is Kamasi Washington that makes jazz matter in 2017, and arguably is the cause of ECM's decision. Harmony of Difference is a compact slice of music compared to The Epic, but in around 30 minutes it touches on all the bases that its predecessor spent three hours exploring. The breadth and ambition of these tracks is matched only by their masterful execution; while it's still too early in Washington's career to peg where he'll wind up, his path to greatness continues apace. – Langdon Hickman
---
(Ninja Tune)
Matthew Barnes is an English graphic designer hailing from the outskirts of Liverpool. Compassion, the second studio release from his ambient project Forest Swords, directly parallels the walled off introversion of his debut Engravings. Written on the road instead of in isolation, Compassion expands and breathes life into winding loops, atmospheric arrangements and reverberating vocal stems. Barnes' work interprets the visual, yielding a dense, yet sprawling arrangement, as vast as the English moors. The producer's constructive instinct allows patterns and layers to form in a synesthetic arrangement—a result of spending hours inside museums and galleries. – Patrick Pilch
---
(Profound Lore)
Mirror Reaper, a followup to Bell Witch's 2015 masterpiece Four Phantoms, was intended to tell a story of the duality of life and death. However, the backdrop of loss was an all-too-real one for the Seattle doom innovators. Drummer Adrian Guerra, a founding member of what has been a duo since the beginning, died suddenly in 2016. As such, Mirror Reaper's funeral doom took on an atypical weight, even in a mournful subgenre. The recomposed band, which paired founding member Dylan Desmond with Jesse Shreibman as part of the permanent lineup, created a recording that does Guerra's memory justice. As audacious as it is—a one-track, 82-plus-minute release is incredibly risky and rare—Mirror Reaper succeeds by using the heaviness of its sound not as an instrument of foreboding, but introspection. As such, Bell Witch speaks to a universal experience of grief and creates a work not to be forgotten. – Ernesto Aguilar