There's always been something special about the sound of a solitary singer with an acoustic guitar and a story to tell. It's been that way for centuries, folk songs sung in England and North America between troubadours in local communities, the same songs often being transformed lyrically, melodically and with a change in the narrative. Sometimes a protagonist becomes a villain, and sometimes the details are given more or less clarity, but the performance itself remains captivating, no instrumental backing necessary.
The definition of folk has been stretched over time, sometimes merely shorthand for acoustic music, though that's an oversimplification of a much larger and richer universe of music. But once a group of artful if frugal singer/songwriters in the '80s and '90s began picking up Martins and hitting record on their four-track recorders, folk then entered its "indie" phase, which reached a Renaissance era in the '90s, as singer/songwriters from all stripes and all corners of, well, mostly North America drawing inspiration from the likes of Nick Drake and Bob Dylan and giving them new life, stranger arrangements and melodic complexities.
For this exercise, setting definitions and parameters proved a bit more complicated, if only because both "indie" and "folk" themselves are too nebulous. Some artists were vetoed out of a feeling that they didn't quite fit into one category or the other, or both, and the further an artist delved into psychedelia or American primitivist instrumentals, the farther from the central idea we seemed to stray. One consideration would be that each album was released on an independent label—and it's worth noting, from the start, that Island Records was indeed independent in the '70s before becoming a part of Universal Music later on. (Admittedly, one or two albums here stray from that definition, we'll freely admit.) From there it became a matter of determining how we define folk—both as a humble form of expression often performed on stripped down instruments (acoustic guitar not mandatory, though often included) and with some element tying back to the more universal definition of folk as music of the people. And really, what else is lo-fi recorded, homemade music made of relatively simple means than music of the people?
This month in particular is rife with notable anniversaries of music made by some of the greatest singer/songwriters of the past 50 years: Songs: Ohia's Didn't It Rain, Elliott Smith's either/or, The Mountain Goats' All Hail West Texas and Nick Drake's Pink Moon. So we really didn't see any better course of action than to dive into 50 years of indie folk history. As with previous, similar lists of this nature, this isn't exclusively a list of the best indie folk albums. And having recently done a History of Alt-Country, we made our best effort not to include too much crossover, but we trace the tricky-to-define genre's evolution from the patron saint of its sound to its modern interpretations.
---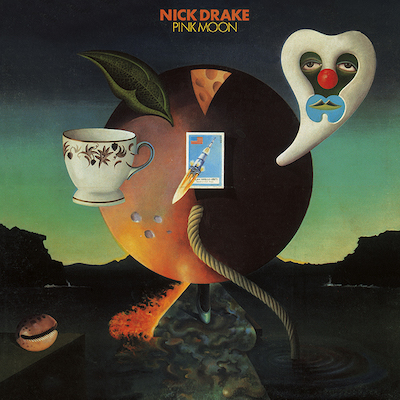 Nick Drake – Pink Moon (1972)
Nick Drake's final album is also his simplest and most grave. Describing this album as "solo acoustic" overlooks the painful extreme to which he stretched the limits of the guitar: string noise and hard plucking on tracks like "Road" and "Know" create a droning, dirge-like atmosphere. His arresting approach to the guitar, paired with his somber and minimalist exploration of melancholy, set a tone for the indie folk revival. People were not ready for what Drake had to offer in 1972, he never reached commercial success in his lifetime. But we can clearly see the effect he had decades later, reflected in the softly wrenching work of Sufjan Stevens or Elliott Smith. – Forrest James
---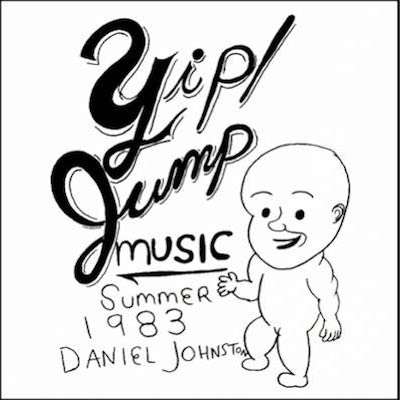 Daniel Johnston – Yip/Jump Music (1983)
Plenty of narratives—some fair, some unbelievably cynical—have been spun about Daniel Johnston's short life. His fifth album, recorded in a Texas garage with just a chord organ and Johnston's lonesome voice, is the gold standard for "outsider" music, but that label now seems inaccurate. If anything comes through on Yip/Jump Music, it's that Johnston was neither a rube nor maladroit: He utterly understood song craft to the extent that it was all he believed in. He got how it could make the most innocent, innocuous sentiments compelling. Hits have come from ideas less worthy than "Speeding Motorcycle" or "I Live for Love," but with far less immediacy than Johnston's pumping organ chords and matter-of-fact voice supply. Yip/Jump Music was popularly known as the vehicle for Johnston's novelties "Casper the Friendly Ghost" and "King Kong," but it should also be regarded for unequivocally moving songs like "Don't Let the Sun Go Down On Your Grievances" and "Worried Shoes." – Paul Pearson
---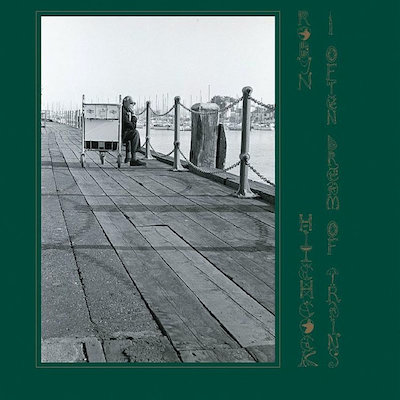 Robyn Hitchcock – I Often Dream of Trains (1984)
Robyn Hitchcock curries a fascination with the origin of all living organisms and a few dead ones. For many of his most ardent fans, the origin of his mythology is his third, mostly acoustic solo album. I Often Dream of Trains laid his perspective in plain musical language. Soft Boys followers had already encountered the psychological wit of "Sometimes I Wish I Was a Pretty Girl" and "Sounds Great When You're Dead," but they'd never experienced the barbershop quartet Freudianism of "Uncorrected Personality Traits" until this. But more importantly, the spare backdrop revealed a pure emotional element to Hitchcock that most hadn't noticed before, one that fit neatly inside his literary framework. You'll come for "Ye Sleeping Knights of Jesus," but you'll really be consecrated by stunning visions like "Flavour of Night" and the now-classic title track. – Paul Pearson
---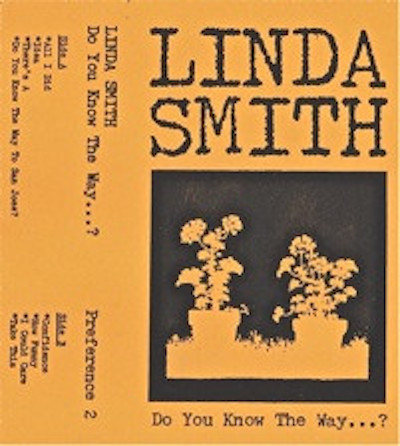 Linda Smith – Do You Know The Way…? (1988)
Last year, Captured Tracks released a compilation of rare, early self-released material from Baltimore singer/songwriter Linda Smith, bringing to the surface highlights from a scarcely heard but nonetheless stunning, mostly cassette-released catalog. A handful of the songs could be found on this 1988 release, named for its cover of the Burt Bacharach standard, "Do You Know the Way to San Jose"? (Incidentally, that song isn't on the Captured Tracks comp.) But while mostly recorded with acoustic guitar, Smith's compositions are awash in dreamy atmosphere and psychedelic swirl, her steel-string strums informed as much by Syd Barrett and the Cocteau Twins as Dylan or Drake. It feels like harnessing a kind of magic, using simple and straightforward tools to make music that suggests something so rich and dense. It's an application of folk aesthetics in the service of blurring lines of genre altogether. – Jeff Terich
---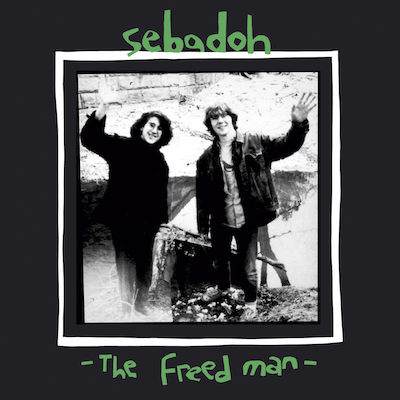 Sebadoh – The Freed Man (1989)
Sebadoh is synonymous with indie rock, their classic albums like 1993's Bubble and Scrape and 1994's Bakesale juxtaposing punky, jangly songwriting with fuzzy lo-fi recording quality, though even those relatively modest records sound like downright glossy affairs next to Lou Barlow and Eric Gaffney's earliest recordings under the Sebadoh name. Founded while Barlow was still a member of Dinosaur Jr. and eventually becoming his full-time gig, the four-track collaboration found the two musicians balancing weed-fueled tape experiments with crude samples and strange effects with tuneful and strangely magic folk songs like "Healthy Sick" and "Crumbs." Barlow and Gaffney crammed a lot of material on The Freed Man, 52 tracks in 78 minutes—besting even The Minutemen's Double Nickels on the Dime. Naturally, some of it is quite weird, and some of these tracks barely qualify as songs, but the duo took the template of lo-fi homemade sounds set forth by the likes of Daniel Johnston and ran with it, helping to establish a lo-fi sound as one with staying power. – Jeff Terich
---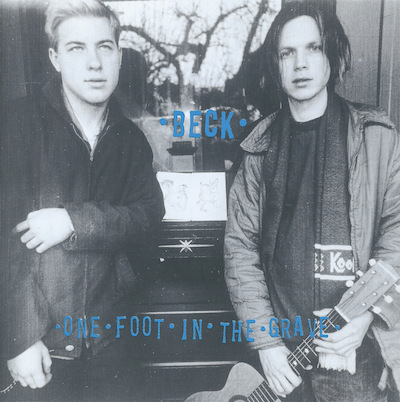 Beck – One Foot in the Grave (1994)
It's been a long time since Beck did anything this left-field, or for that matter, since any artist on a major label had a side hustle making weird lo-fi records on indies without breaching contract (in fact, such a clause was explicitly written into Beck's). One Foot in the Grave dropped just months after Beck's Geffen debut Mellow Gold, and without anything as radio ready as his smash single "Loser." And yet the two albums aren't all that far apart, this version of Beck just a few samples short of the one that went platinum. One Foot in the Grave is primarily solo and acoustic, with a few key exceptions, notably Beat Happening's Calvin Johnson lending his bass vocals to "I Get Lonesome." But Beck's winningly fuzzy folk showcases the strength of his songwriting when stripped to its barest (and most dadaist), from the finger-picked sing-along of "He's a Mighty Good Leader" to the disgruntled beauty of "Asshole." – Jeff Terich
---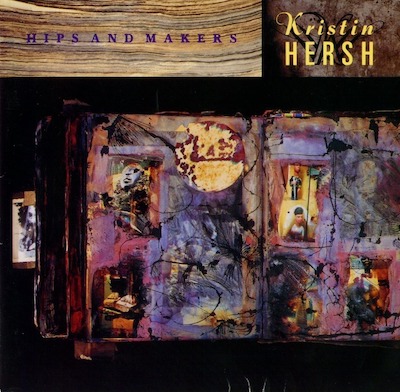 Kristin Hersh – Hips and Makers (1994)
The Vaughn Oliver artwork of Kristin Hersh's debut would seem to suggest a work of post-punk or college rock that defined the 4AD label's catalog for a decade and a half, and that's partially true. As songwriter and vocalist for Throwing Muses, Hersh had already helped write part of the label's story, but given the opportunity to release her first record as a solo artist, Hersh strips away the more traditional rock instrumentation of her band in favor of a more stark yet intricate work of tension and beauty. Yet, remarkably, the drive and intensity of Throwing Muses at their most urgent is still palpable in songs such as "A Loon" and the string-laden "Sundrops," showcasing Hersh as a vocal force of nature, while quieter moments like "Velvet Days" offer something more gorgeously arranged and hypnotic. The album's leadoff track and college radio hit "Your Ghost," featuring R.E.M.'s Michael Stipe, is the song that still ranks among the most memorable of Hersh's body of work, and with good reason—you simply can't beat those harmonies. – Jeff Terich
---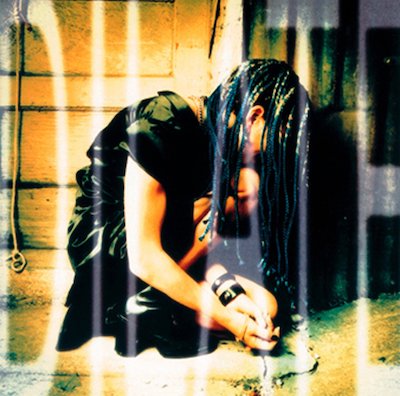 Ani DiFranco – Dilate (1996)
Seven albums into her career, Ani DiFranco stepped out of her cult status playing coffee shops and into a larger spotlight. Dilate retained her punk-inspired backbone and lyrical edge, while her songwriting hit the sweet spot in terms of hooky melodies balanced with emotional vulnerability. The album is powered by songs like "Napoleon," where her unique chord phrasing left room for her to sing her angsty heart out. Even when taking a more upbeat vibe to question her status as a superhero, a raw honesty was retained that was a breath of fresh air compared to the more contrived alternative artists populating MTV's programming in 1996. – Wil Lewellyn
---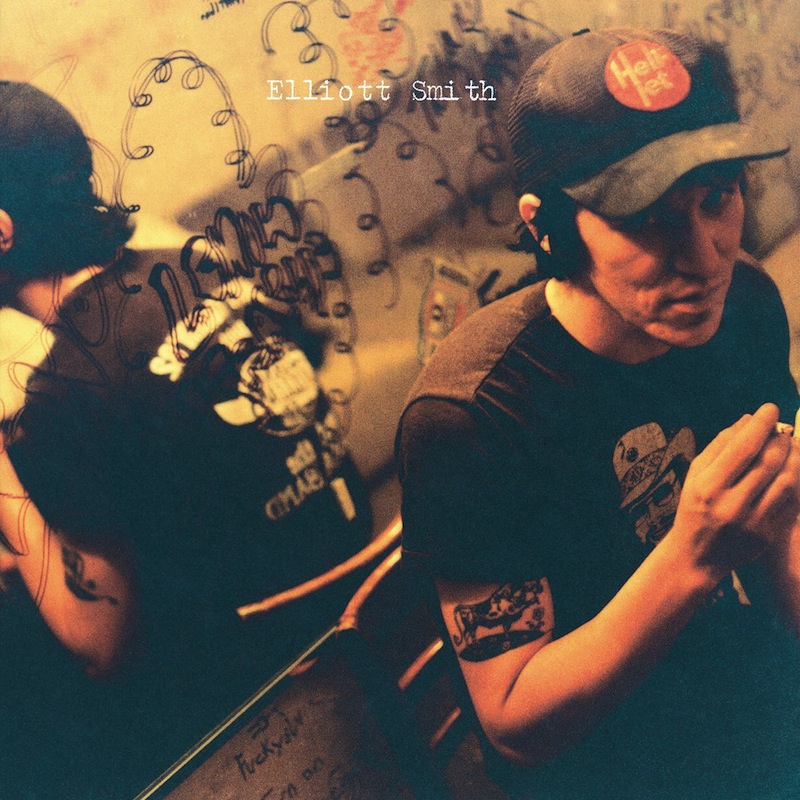 Elliott Smith – either/or (1997)
Elliott Smith had already begun his solo career before his band Heatmiser had broken up, but 1997's either/or—an album that benefited from having several of its songs featured in the film Good Will Hunting—felt like the start of something new. A set of songs both solitary and with full-band arrangements (but performed mostly by just one man), either/or is a stellar showcase of the capabilities of solo acoustic music, hushed and gentle in the alcoholic lullaby "Between the Bars," hypnotic and raga-like in the open-tuned strum of "No Name No. 5," and aggressive and agitated in "Cupid's Trick." There remain traces of the grungier band of which Smith was once part of, but left to his own devices, Smith built a world more kaleidoscopic and deeply affecting through tape hiss and subtly virtuosic guitar playing, taking the familiar terrain of weighing his own participation in a problematic music industry in "Angeles" and making it feel like something more heartaching and deeply personal. – Jeff Terich
---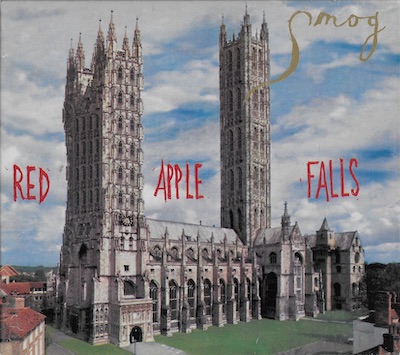 Smog – Red Apple Falls (1997)
The divide between Smog as lo-fi bedroom project and Smog as Bill Callahan as we now know him takes place in 1996 with The Doctor Came at Dawn, a slow and sad record that feels almost like a second debut for the singer/songwriter. (Woke on a Whaleheart from 2007 would then be his third, as that's when he dropped Smog as a stage name.) Red Apple Falls isn't an introduction or reintroduction, then, but a refinement. Opening with gorgeous plucks of acoustic guitar and a bright flash of trumpet, "The Morning Paper" reveals a more stately and elegant version of Callahan, one whose fidelity has caught up with his songwriting, and whose baritone begins to sound more like the shadows of Johnny Cash and Leonard Cohen that have followed his records ever since. There's a grace to Red Apple Falls that's wrapped up in its playful approach, with pin-drop quiet ballads like the breathtaking "To Be of Use" and the lush, pedal steel-laden title track up against more upbeat moments like the alt-country twang of "I Was a Stranger." Callahan's made more poignant records since, and albums with richer production, but he's yet to make one as heartachingly pretty. – Jeff Terich
---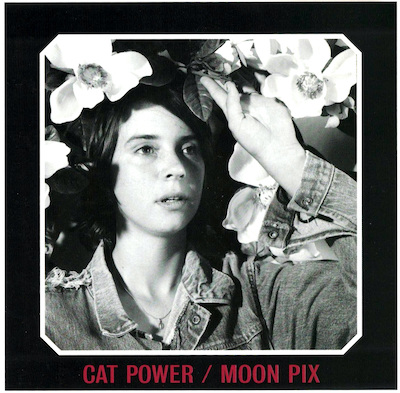 Cat Power – Moon Pix (1998)
It's hard to know what, exactly, Chan Marshall experienced that led her to create the most gorgeously haunting record in her catalog. In 1997, while living in a farmhouse in South Carolina, the Georgia-born singer/songwriter had a nightmarish experience that involved intruders, dark spirits and tremors, which drove her to pick up her guitar as a means of exorcising these hallucinatory demons. In the same night, she wrote five of the songs that appear on Moon Pix, including the breathtaking "Metal Heart" and hypnotic "Cross Bones Style." The music on Moon Pix is eerie but not menacing, anguished but not hopeless, populated with ghosts both literal and metaphorical. It's by no means Marshall's most stark set of songs, many of them featuring the elegantly loose backing of The Dirty Three's Mick Turner and Jim White, as well as a backwards Beastie Boys drum loop on "American Flag." Add to that an update on traditional folk number "Moonshiner," based on Bob Dylan's own recording, and a night of terror and disorientation translates into a modern folk classic. – Jeff Terich
---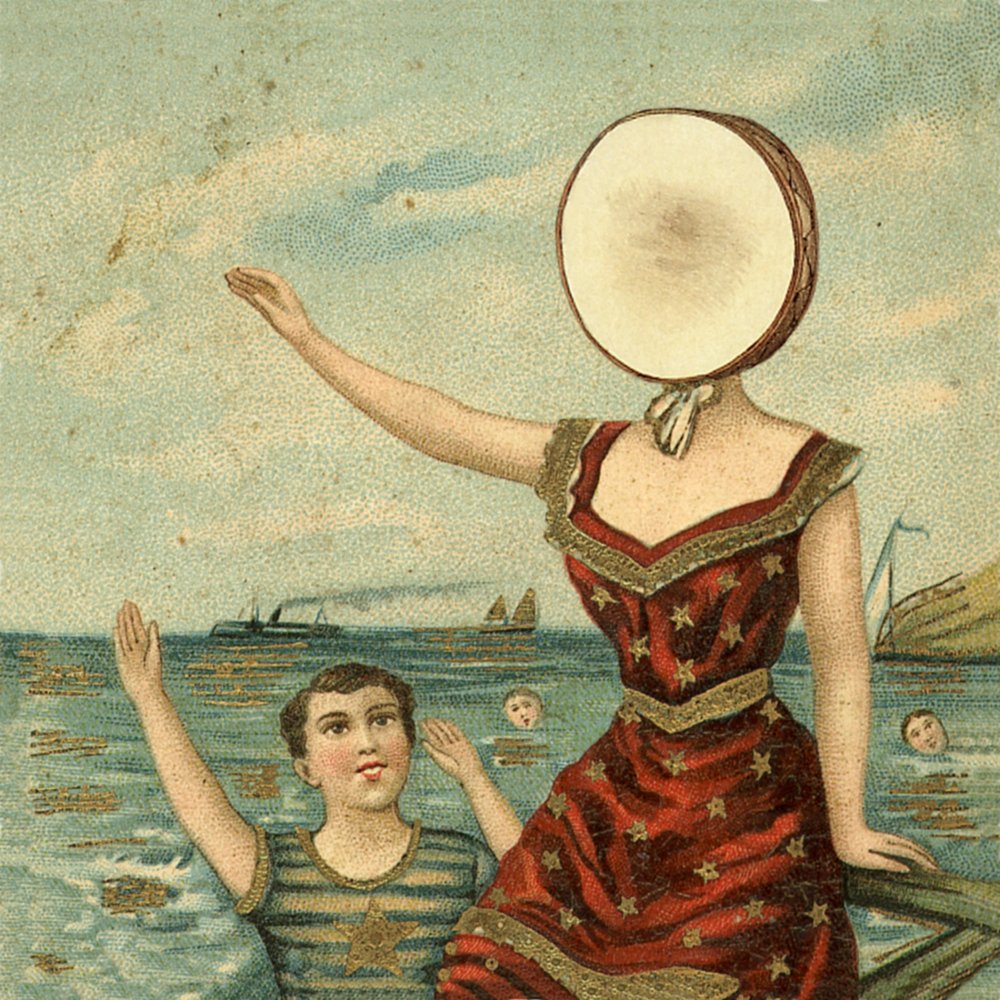 Neutral Milk Hotel – In the Aeroplane Over the Sea (1998)
In 1998, when In the Aeroplane Over the Sea was released, no frame of reference available proved adequate to contextualize just what kind of music, exactly, Jeff Mangum created. Ostensibly a folk record whose lineage connected to the likes of Dylan and Barrett in the '60s and '70s, Aeroplane felt like something not of its own time, definitely not of any time before it, and somehow too anachronistic in its use of weatherbeaten brass, fuzzy three-chord strums and singing saw to seem aesthetically ahead of its time. A deceptively simple masterpiece of surrealist psychedelia, Aeroplane's song-cycle intertwines broken homes and two-headed boys, Anne Frank and Jesus Christ in songs that sound too familiar to have been new at the time, and yet truly too strange to have already been canonized. There's a magic to these songs that chord charts can't explain, nor that any other artist can replicate—it's no wonder that, after its release, Mangum himself became subject of myth, his relative absence only adding to the outsized legend of the album. Yet when he resurfaced for a reunion tour some 15 years later, the mystery may have dissipated but the magic remained. – Jeff Terich
---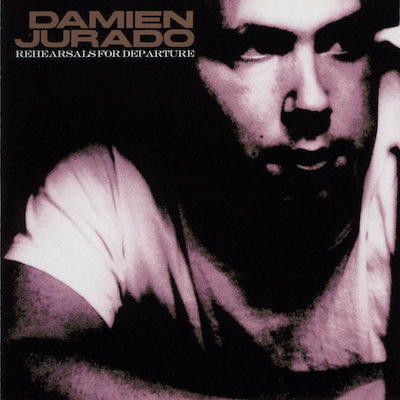 Damien Jurado – Rehearsals for Departure (1999)
The '90s proved to be a Renaissance for indie folk, spurred in part by lo-fi pioneers like Lou Barlow and perfected by singer/songwriters like Elliott Smith. Seattle artist Damien Jurado initially found himself mentioned in the same breath as Smith, due perhaps to both proximity and his hushed acoustic sound. In reality, Jurado's sophomore album is more like a fluid hybrid of Bob Dylan and Nick Drake, with strains of harmonica blowing against gentle guitar melodies and occasional arrangements of baroque strings. But it's in the richer, full-band moments like the Built to Spill-like "Letters and Drawings" or the hard driving "Tornado" where Jurado reveals his ambitions outside of solitary strums. – Jeff Terich
---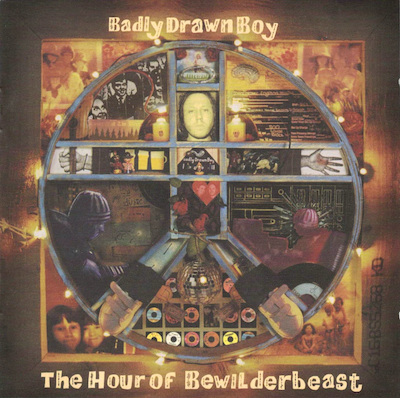 Badly Drawn Boy – The Hour of Bewilderbeast (2000)
British singer/songwriter Damon Gough's introduction to most American audiences came through an unlikely avenue, on the track "Nursery Rhyme," featured on UNKLE's psychedelic trip-hop genre-collage album Psyence Fiction. Yet Gough's actual full-length debut provided an entirely different kind of listening experience, one that quietly rises into being with the gorgeous, string-laden "The Shining" and spirals through moments of Super Furry Animals-like psychedelia, silly beatbox experiments and a handful of beefy rock numbers backed by members of Doves. But mostly it's a showcase for the warmly endearing folk songwriting of Gough, whose gentle strums and soothing croon comprise the few constants on an album full of playful experimentation. – Jeff Terich
---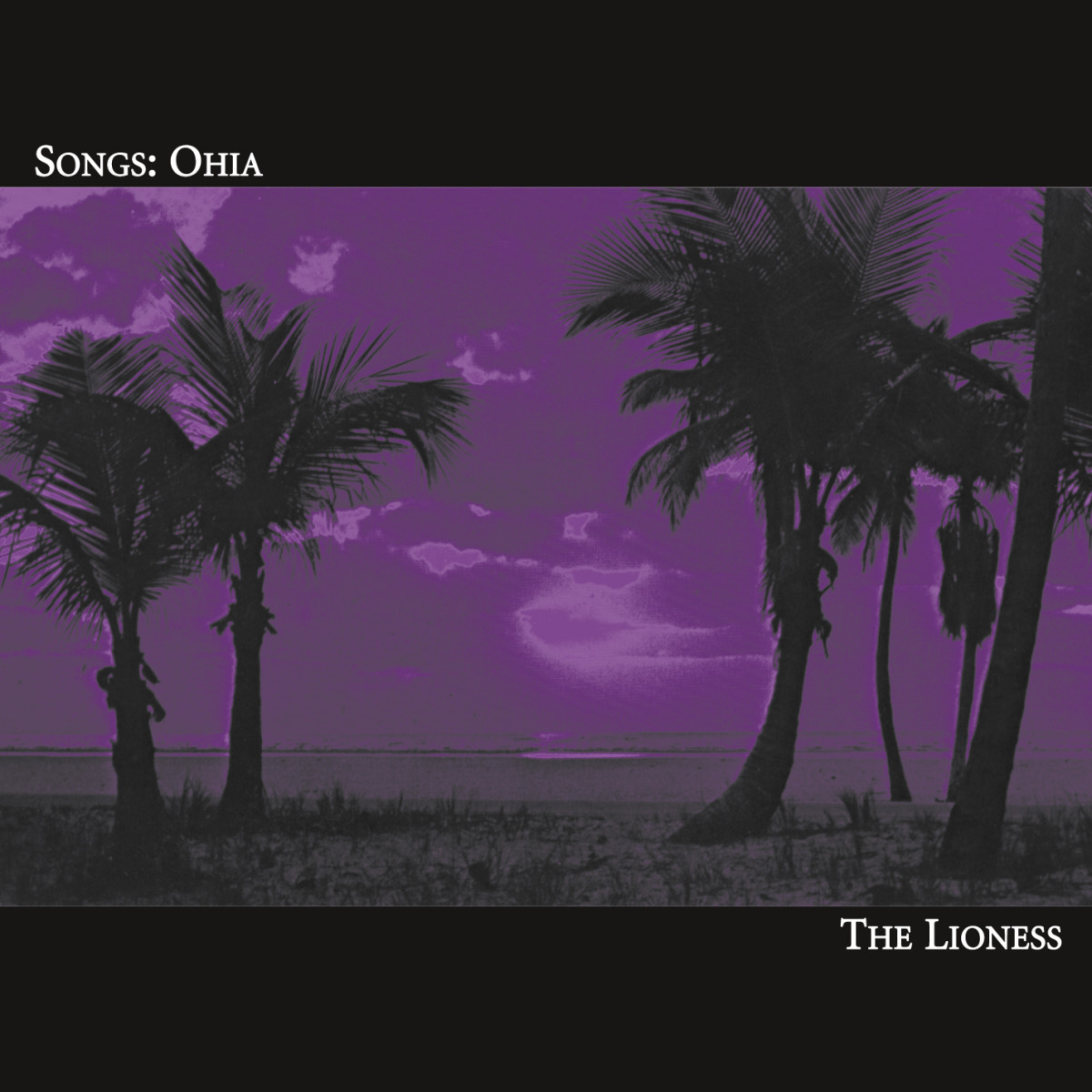 Songs: Ohia – The Lioness (2000)
Jason Molina's career arc curved from stark, lo-fi recordings of sparse ballads to full-band rockers with Crazy Horse in their veins, though some of his most deeply powerful music fell somewhere in between. Songs: Ohia released two albums in 2000, one of them the atmospheric and eerie chill of Ghost Tropic. The other is this, an extended meditation on love, heartbreak and animal savagery backed by Scottish slowcore icons Arab Strap. Molina plays his guitar not with aggressive strums or nimble fingerstyle plucks but with spacious, ringing chords, leaving as much room as necessary for the anguish to echo between the notes. Whether this was Songs: Ohia's first great album is perhaps debatable, but it's most certainly their first great album that was more widely recognized, and with good reason. There's no forgetting an experience like hearing "The Black Crow" for the first time. – Jeff Terich
---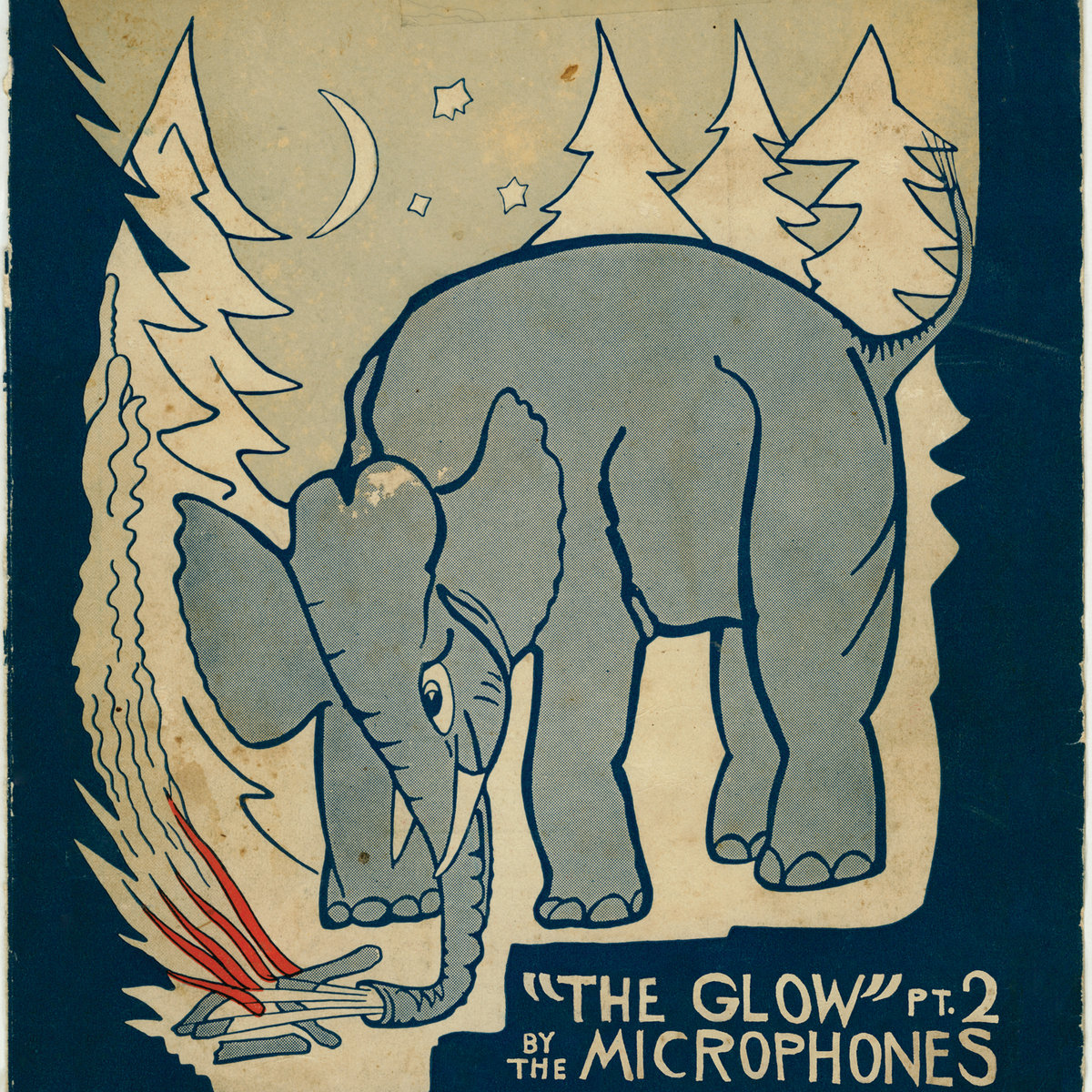 The Microphones – The Glow Pt. 2 (2001)
The Glow Pt. 2 is a self-sustaining universe of an album (from the band whose next album would feature not one, but two songs called "Universe"), one of those records you don't so much listen to as live in. It's not just that Phil Elverum's evocative song titles and lyrics invite us to visit a variety of wide-ranging places ("The Moon," "The Mansion," "Map"). The spatiality and expansiveness of The Glow Pt. 2 is also a result of the right combination of consistency and variety. The consistency of the low fidelity production and Elverum's tactile guitar is balanced by sudden shifts in tone, volume, and density. The leap from the spare, wrenching, thoughtful "I Felt Your Shape" to the crashing, thundering "Samurai Sword" is just one particularly jarring example. – Tyler Dunston
---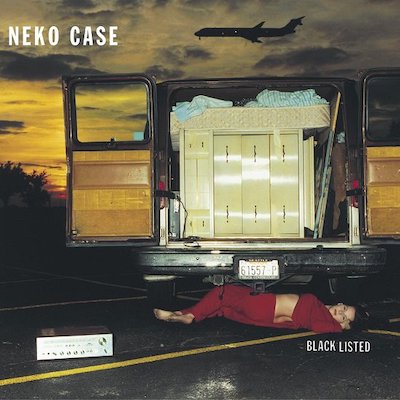 Neko Case – Blacklisted (2002)
Neko Case has my favorite voice in contemporary rock music. With her powerful alto, she employs deliciously oblique references to sing about both her actual experiences, fictional characters she crafts, and the occasional true-life tale. While her entire oeuvre drinks richly and deeply from classic country, '70s folk, and '80s balladeers, Blacklisted deserves special attention as a master class on songwriting perspectives. She subtly reinvents the idea of murder ballads, especially on tunes like "Deep Red Bells," which draws from her memories of growing up in Tacoma, Washington when the Green River Killer was active. By putting herself in the shoes of the victims, women whom were from less fortunate socioeconomic circumstances, Case imbues them with a tenderness they probably never received in life and certainly didn't in death.
Throughout Blacklisted, she views the subject of each song from the most curious angle imaginable, not because she's being intentionally obtuse, but because it's the lyrical road less traveled. That's what sets her apart from your average indie singer-songwriter type: her capacity for finding the least likely voice, sitting inside that character, inhabiting their worldview, and then speaking to listeners from that reality. – Adam P. Newton
---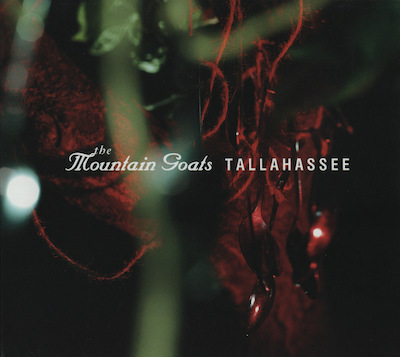 The Mountain Goats – Tallahassee (2002)
John Darnielle had already made one classic album in 2002 with All Hail West Texas, a sad and beautiful album of songs recorded on a boombox that signified the close of an era of strictly lo-fi releases. That same year, Tallahassee came to fruition after Darnielle and company signed with 4AD, offering a newfound clarity in The Mountain Goats' music, along with a storyline that depicts the dissolution of a marriage in the most poetically grotesque of ways. Darnielle's Alpha Couple boils over in spectacular manner, sometimes in quiet despair ("Game Shows Touch Our Lives") and sometimes in artfully bleak fashion ("No Children"). That the latter became an unlikely TikTok sensation with Zoomers speaks to the timelessness of the album's examination of an intimate kind of cruelty, skeleton-suit guys with broadswords and the shrieking of innumerable gibbons. -Jeff Terich
---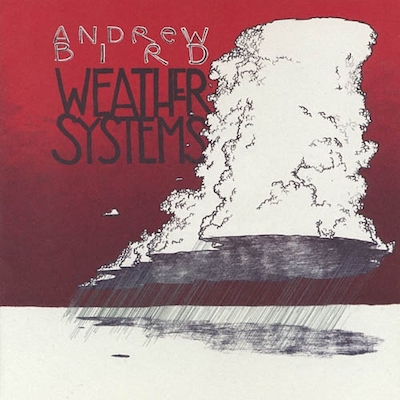 Andrew Bird – Weather Systems (2003)
Andrew Bird's Weather Systems begins with a musical rendering of a poem by Galway Kinnell, one which is remarkably fitting for an artist like Bird. It's not just that Kinnell writes about the "Illinois twilight" (Bird's home state and the site of the recording of the album). The poem is also deeply concerned with the power of music. Kinnell describes not only the "pond frogs" calling on the boy's ear but also the "cornstalk violins," (the kind of surreal imagery Bird loves in his own lyrics) lingering for some time on this image of Bird's favored instrument. The croaking of the frogs and the scraping of the violins are sources of sadness and joy (the sadness of joy, as Kinnell puts it) to the boy tired after the day's toil. This opening vignette sets the tone for an album that marked a major shift in Bird's music—finalizing the break, from throwback swing to eclectic and alchemical indie folk/rock that he's now known for, from his work with various other bands to his solo career. – Tyler Dunston
---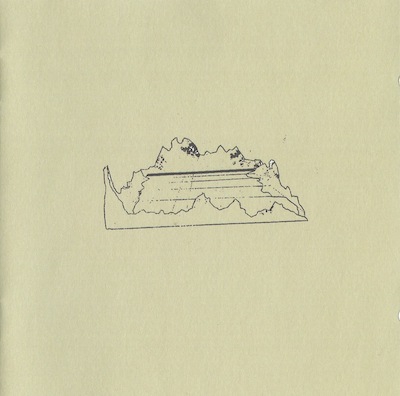 José González – Veneer (2003)
José González's 2003 debut with the Swedish label Imperial Recordings, Veneer, didn't make it officially to the U.S. for two years, but when it did it exploded. His cover of The Knife's "Heartbeats" was immediately picked up by Hollywood, appearing across movies and TV shows for years. His delicate balance of percussive and melodic solo guitar playing creates the perfectly cinematic backdrop for his sweetly understated vocal delivery. The result is highly emotive and just evocative enough to provide the dramatic soundtrack to just about anything, including (most importantly) our own dreamy inner monologues. – Forrest James
---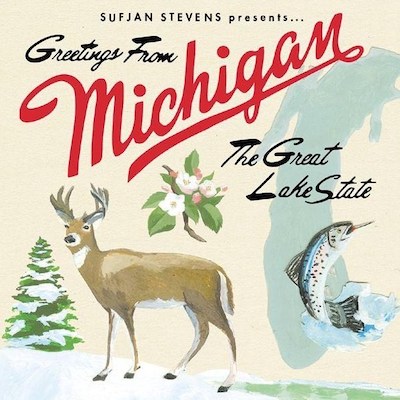 Sufjan Stevens – Greetings from Michigan (2003)
Not Sufjan Stevens' debut but rather the album that most likely introduced the singer/songwriter to many listeners, Greetings from Michigan also introduced a fairly absurd conceit, that being Stevens would write 50 albums for all 50 states. That didn't happen—Stevens never really intended to go through with it (though he did at least make it to Illinois). But Michigan is a marvelous album in spite of its built-to-fail concept, using the Great Lakes State as a backdrop for songs about family, love, faith and melancholy Americana. It's also not a particularly genre-specific album as a whole, introducing Steve Reich-ian minimalist interludes and jazzier Stereolab-like lounge-pop songs. Yet Stevens is often at his best when his songs are left their starkest, like on the haunting "Holland" or the slow build of "For the Widows in Paradise, For the Fatherless in Ypsilanti." – Jeff Terich
---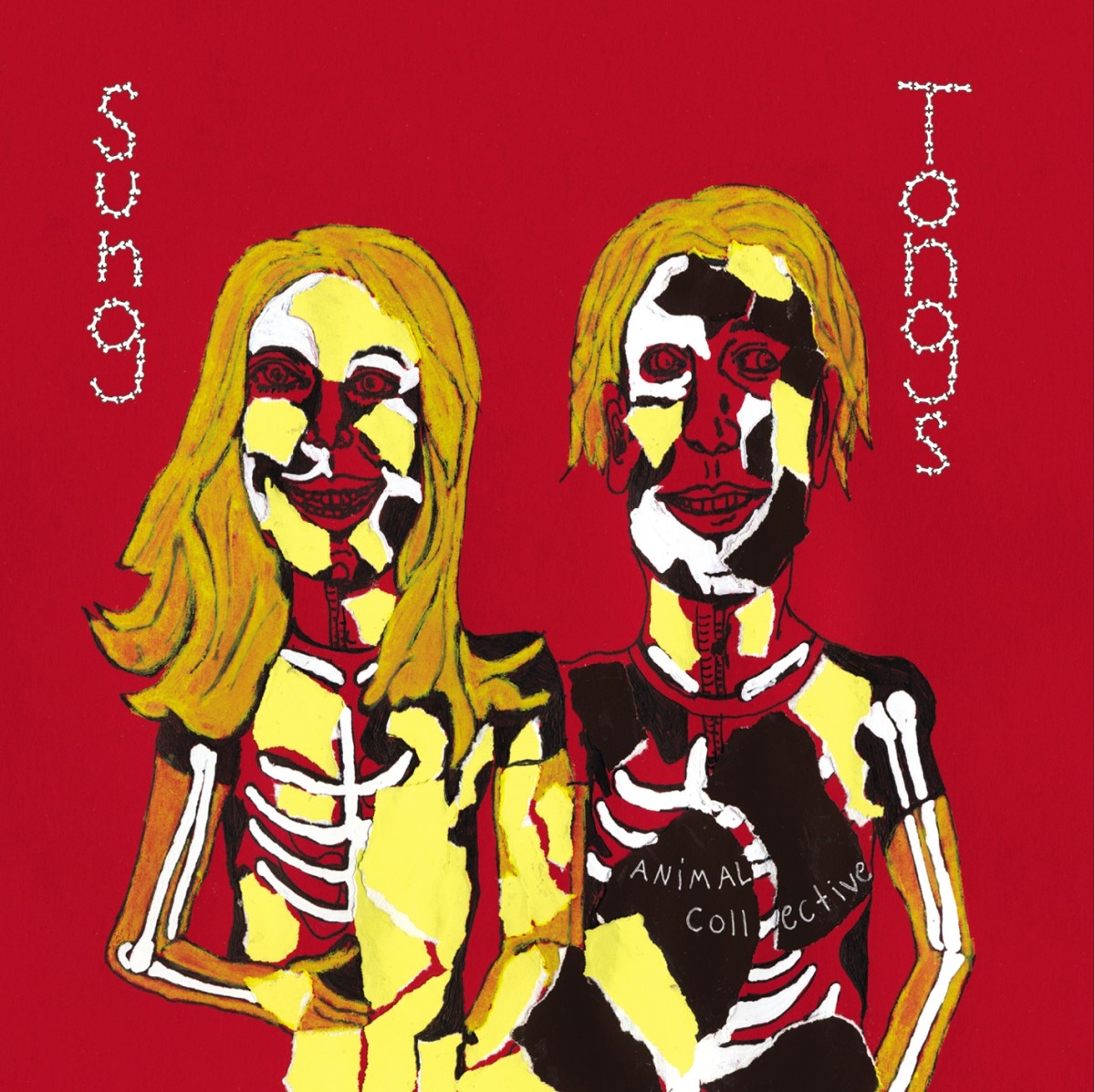 Animal Collective – Sung Tongs
Suffice it to say that Sung Tongs is the only indie folk album with the call-and-response "Meooow / Kitties." Welcome to Animal Collective's world. For over twenty years now, the (sometimes) four-piece has given us warped, childlike music at the fringes of pop experimentation, and Sung Tongs is no exception. Though vocalists Avey Tare and Panda Bear are the sole performers here, it's still a songs-first, live acoustic variation on the full band's unique brand of joyful strangeness. Sung Tongs' freak folk sound was a key waystation, an oddity in a catalog of oddities. Its most radical moment comes in the middle with "Visiting Friends," in which an open guitar chord repeats for twelve minutes over staticky detuned whispers. This centerpiece comes after some of their best acoustic pop songs on side one, and ushers in the more exploratory tracks that close it out. Sung Tongs may have kicked off Animal Collective's legendary four-album run leading to Merriweather Post Pavilion, but its messy, innocent glee was never equalled. – Casey Burke
---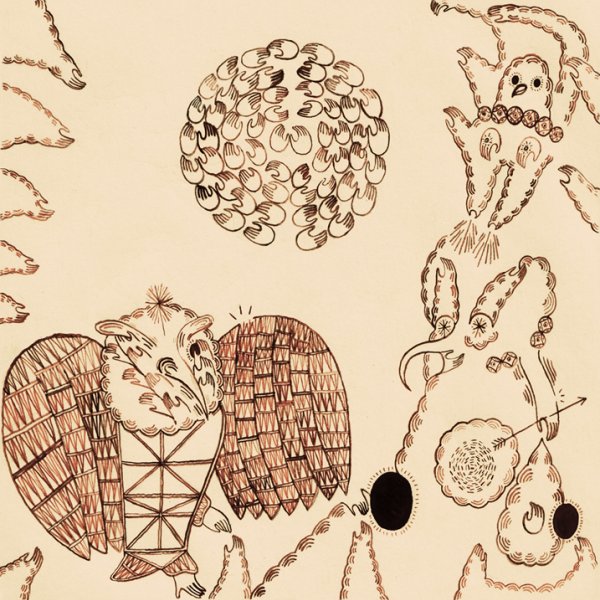 Devendra Banhart – Rejoicing in the Hands (2004)
One of the biggest figures in the rise of mid-'00s "freak folk"—or "New Weird America" as it was sometimes called—Devendra Banhart brought an outsized personality to a vintage and rustic sound. On his sophomore album Rejoicing in the Hands, Banhart channeled the greats of American primitivism through his hypnotic fingerstyle guitar playing, but counterbalanced his channeling of the natural and the cosmic with a distinctive vocal vibrato and lyrics that referenced Elvis Presley and beards that multiplied like algae. As weirdness goes, Banhart was more of a character than a total hallucination, but his approach gave a new generation accessibility to old ideas, all while delivering songs that felt timeless themselves. – Jeff Terich
---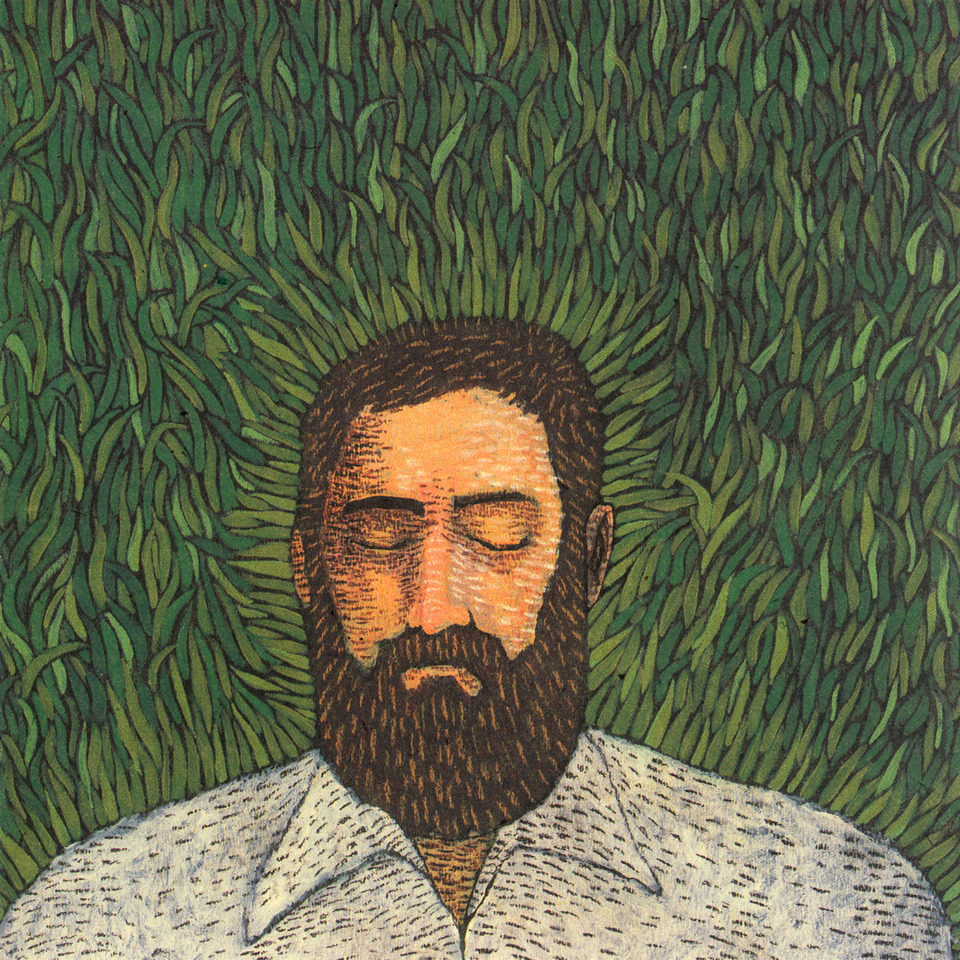 Iron & Wine – Our Endless Numbered Days (2004)
To say that Our Endless Numbered Days is a more polished album, in terms of production, than Sam Beam's debut is simply to say that it was recorded in studio rather than on a four-track tape recorder and that it involves a band this time around. It is still a hushed, intimate affair, and it sacrifices none of Beam's songcraft. Like The Creek Drank the Cradle, it is marked by Beam's murmured vocals, moving lyrics, and agile picking. "Naked as We Came" is a testament to Beam's talents, as good a selling point for the album as any; Beam makes a song about love ending in death sound like a lullaby. – Tyler Dunston
---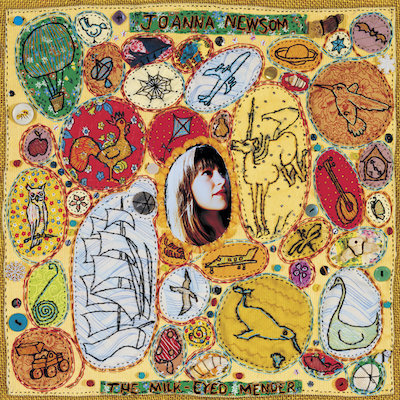 Joanna Newsom – The Milk-Eyed Mender (2004)
Joanna Newsom's stunning 2004 debut, The Milk-Eyed Mender, is a captivating dream filled with fantastical objects—ancient ships, dirigibles, and sea foam all float by. It feels magical the moment you hear Newsom gently pluck the strings of her harp, and the second you hear her voice: childlike, diminutive, but somehow wise. It was her unique voice that initially labeled her "freak folk"; she simply took the freedom to sing exactly how she wanted. She sounds like a fairy nymph, yes, but her lyrics possess serious, hidden messages—"Sprout and the Bean" is rumored to be about abortion (which comes first, the sprout or the bean?), and another references sexual dominance. The Milk-Eyed Mender won dozens of accolades, and later skipped across genres via The Roots, who immortalized her vocals from the quirky "The Book of Right On." – Emily Reily
---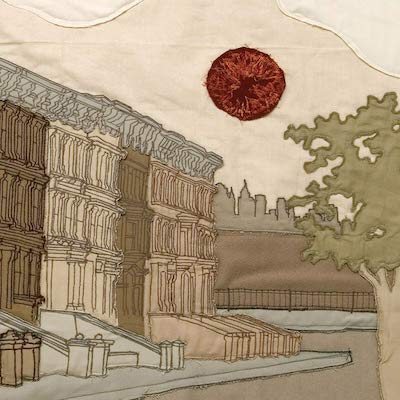 Bright Eyes – I'm Wide Awake, It's Morning (2005)
Before I'm Wide Awake It's Morning arrived in 2005, Bright Eyes had come a long way. Its predecessor Lifted was a double album that managed to wed ambitious orchestral, brass and steel arrangements with frontman Conor Oberst's open-hearted quaver and scream, catapulting him to indie acclaim and even a Late Show appearance. Wide Awake takes a narrower frame without losing emotional or existential charge. Led by long-time friend and collaborator Mike Mogis, the band commits to the kind of stripped-back, Americana-inflected arrangements they'd only played with on Lifted. All the while, Oberst's sharp wit and gift for melody shine through as they never had before. While some are explicitly political, every song here adopts a kind of wry folk sensibility, a unique vantage point on its New York City setting. I'm Wide Awake It's Morning finds Bright Eyes firing on all cylinders, leaving their mark on indie folk with a vivid distillation of a particular time and place, a snapshot of Oberst progressing as an artist and learning to slow down as a person. – Casey Burke
---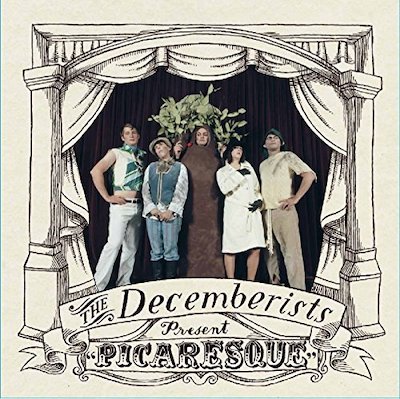 The Decemberists – Picaresque (2005)
Before The Decemberists evolved into a band that made prog by librarians for librarians, the group achieved an early peak on their third album, Picaresque, an album filled with darkly humorous lyrics sweetened by what were their hookiest melodies to date. "We Both Go Down Together" being perhaps their most accessible song, sharing a kindred chorus with R.E.M's "Losing My Religion". Colin Meloy's fragile tenor bleats with an undercurrent of disdain all the way into the epic, almost nine-minute orchestration of "The Mariner's Revenge Song," a standout that became a staple of their live show for years to come. They grew even more ambitious after this album, eventually writing their own rock opera four years later, but Picaresque serves as the high water mark before the layers of ELP synths were unpacked. – Wil Lewellyn
---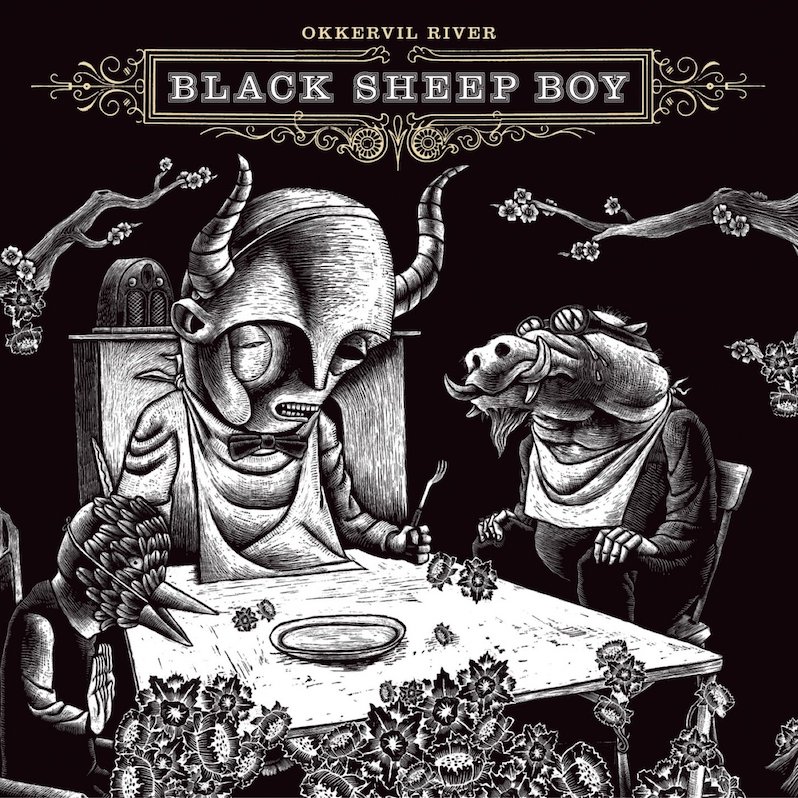 Okkervil River – Black Sheep Boy (2005)
Okkervil River's third album, Black Sheep Boy, opens with a cover—Tim Hardin's 1967 song that lends the album its name, tying it back to a longer folk tradition in which songs and stories live on regardless of the singer or songwriter. Though in this case, it takes on an entirely new form, with vocalist and songwriter Will Shaff basing an entire album of narratives around the scant few verses of the character introduced in Hardin's song. The results don't always sound like folk as we know it—highlights like the intense "For Real" and the driving "Black" are among the loudest songs in Okkervil River's catalog. But in Sheff's adoption of the Black Sheep Boy as a figure in his own creations, he channels a folk artform that existed long before "indie" was ever coined. – Jeff Terich
---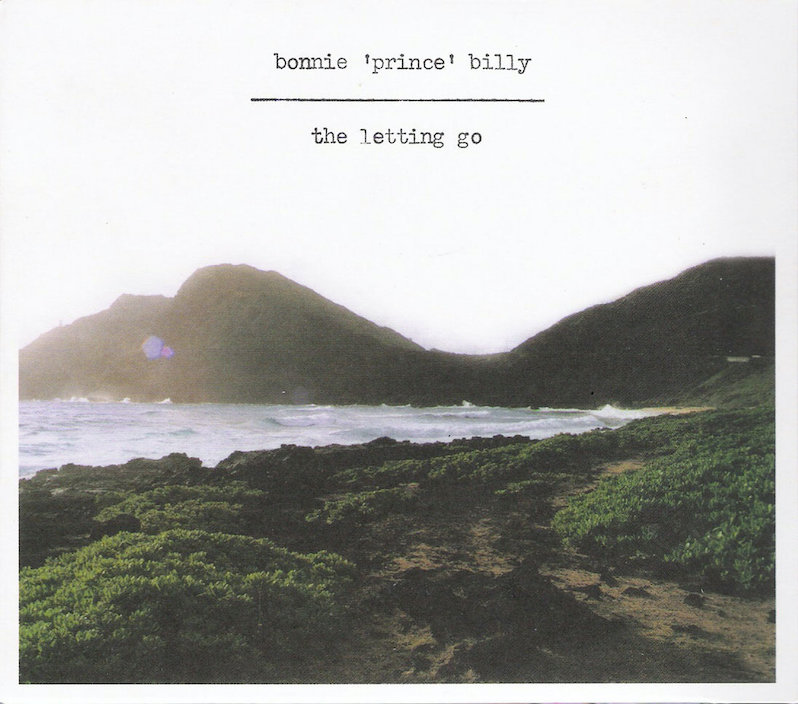 Bonnie "Prince" Billy – The Letting Go (2006)
Will Oldham released his first album with Slint as his backing band, transitioned into darkly affecting alt-country, and by 2006, had few limits set around what comprised a Bonnie "Prince" Billy record. Recorded in Iceland and featuring strings performed by members of the Icelandic String Octet, The Letting Go is Oldham's most elegant and stately work, still based around a simple core of guitar and, by that point, much more sweetly melodic singing—with harmonies from Faun Fables' Dawn McCarthy. It's not that these don't sound like the same ragged songwriter behind Palace's Viva Last Blues so much as the natural result of that same songwriter growing up and embracing beauty over grit and idiosyncrasies. He might have more celebrated albums, but none prettier. – Jeff Terich
---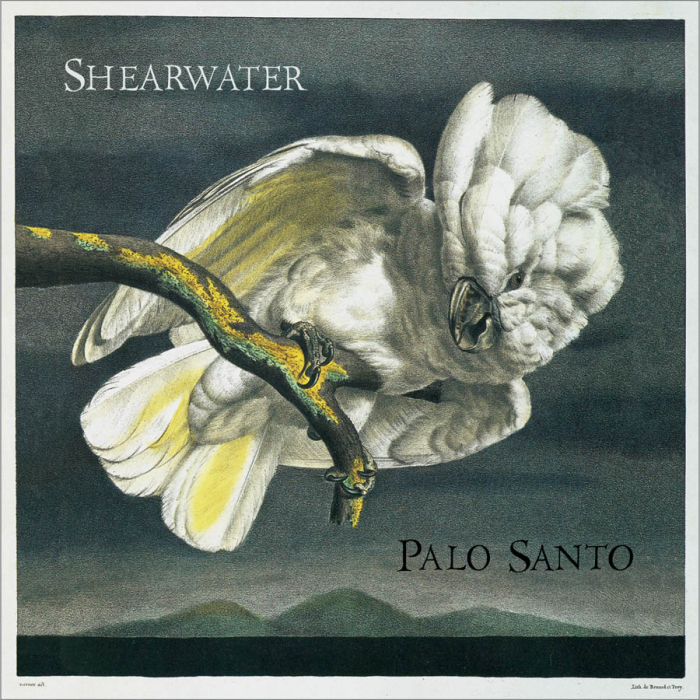 Shearwater – Palo Santo (2006/2007)
Shearwater's roster over the years has included Okkervil River's Will Sheff and Swans' Thor Harris, though the constant presence in the Austin band is singer/songwriter Jonathan Meiburg, who is both an intense frontman and an ardent birder. (A Shearwater, it should be noted, is the name of a seabird.) They're also the rare band to release an album twice in the span of two years, having beefed up the arrangements on some of the songs on the already great 2006 album Palo Santo and making it into an even more powerful set of ambient folk ballads and art-rock stompers, bridging vintage John Cale with late Talk Talk through moments of gentle reflection and explosive grandeur. Some of the re-recorded versions are subtler in their differences, but it's most noticeable in a song like "Red Sea, Black Sea," which is probably the most intense song to feature a banjo since 16 Horsepower's gothic country barnstormer Low Estate. – Jeff Terich
---
Feist – The Reminder (2007)
Following the release of 2004's excellent, refreshing Let It Die, Leslie Feist delivered something even more bright and energetic with The Reminder. Her lyrics are as significant as the melodies themselves, finding a unique light to shine on personal matters of the heart on "My Moon My Man"—not unusual thematic territory—wherein she expresses that she wants to "take it slow, take it easy," discussing much-relayed situations in a new light. Feist's folky pop sound works well, allowing the flexibility to switch tempo and vibe. There are echoey guitars and reverb, but they're not constrained to the previous musical parameters of. Instead, on The Reminder, Feist makes her own space for a unique voice all her own. – Konstantin Rega
---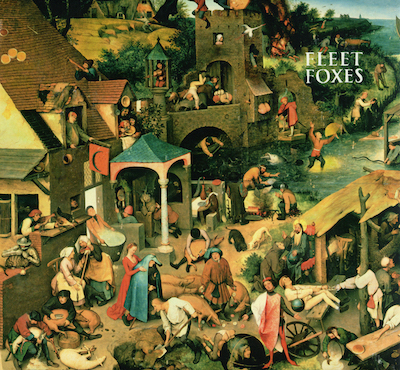 Fleet Foxes – Fleet Foxes (2008)
Their (intentionally) vague yet distinctly pastoral name belies the true origin of Fleet Foxes: a pair of high school pals from Seattle, Washington. Their self-titled debut on Sub Pop and Bella Union followed two EPs in which the group very quickly found their approach, centered on Robin Pecknold's songwriting and timeless voice. The first 30 seconds of the album, a rustic chorale on opening track "Sun It Rises," sound like a found recording from another time, but it's all original, like a folk period piece. Their beautiful harmonies recorded with cathedral-level echoing resonance feel conceptual, like an aesthetic study in folklore. – Forrest James
---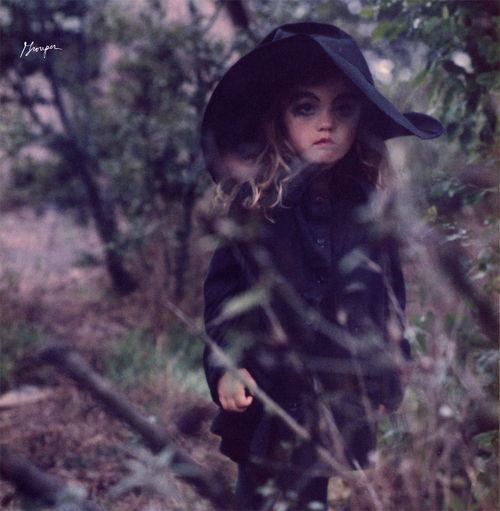 Grouper – Dragging a Dead Deer Up a Hill (2008)
Applying "folk" to describe the sound of Liz Harris' music never quite feels right in the context of her hallucinogenic spacescapes, but it's not necessarily wrong, either. Much of the music Harris has created over the past two decades has comprised little more than acoustic guitar and voice, her approach only diverging from the other artists on this list in the layers of effects and noise that she feeds them through. On her breakthrough album Dragging a Dead Deer Up a Hill, she rarely offers a straightforward melody unadorned with reverb or delay, instead drawing listeners into a dreamlike space where everything's hazy and beautifully strange. It doesn't take much sifting or exploring to find the mesmerizing melodies beneath the rich layers of sound, even if it's never fully clear which words she's actually singing, or if that's even really a guitar at all. – Jeff Terich
---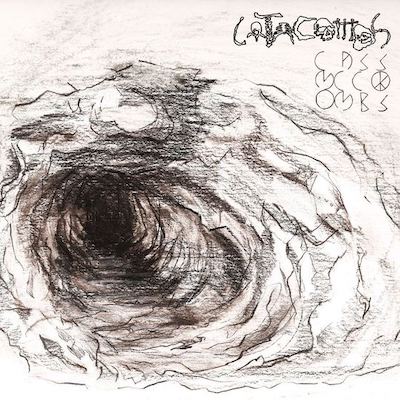 Cass McCombs – Catacombs (2009)
On his fourth album, Catacombs, Cass McCombs continued to creep away from a more reverb-heavy sound with a lo-fi atmosphere. It's lighter, cleaner, there's room for his voice to spill out, to be heard and understood. McCombs never grows too loud, rather keeping to a midtempo hushed approach on songs like "Prima Donna," with its livelier, emphasized guitar strumming and brass. A bit reminiscent of Donovan ("I'm just mad about saffron") at times, the overall tone is mellow and contemplative (think: "Lionkiller Got Married" or "Jonesy Boy"). With only minimal instrumental intrusion, it's McCombs' decidedly subtle vocals that still end up resonating the most. – Konstantin Rega
---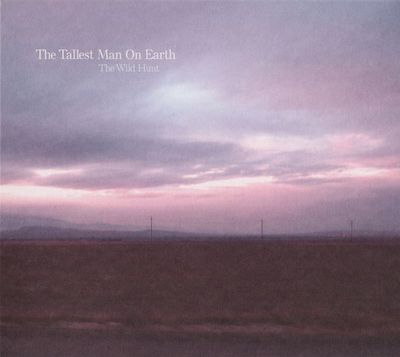 The Tallest Man on Earth – The Wild Hunt (2010)
Early Bob Dylan is a common reference point for Kristian Mattson's work as The Tallest Man On Earth, and the comparison holds some water. Both lyricists look outward rather than inward, delivering grandiose imagery with an aching energy. It's not hard to imagine Dylan writing "If you could reinvent my name, if you could redirect my day / I want to be the king of Spain." The Wild Hunt is stuffed with these kinds of lines, bathing the natural world in a dreamy backlight ("Once I held a pony by its flying mane / And once I called the shadow in the turning game") against Mattson's bright acoustic guitar. He plays most of these songs in open tunings, making it easier to combine his intricate, forceful fingerpicking with driving chords—a duality most prominent in the one-two punch of pristine opener "The Wild Hunt" and the uptempo "Burden of Tomorrow." In the end, this album is no Dylan imitation. The Wild Hunt is a bright, rousing listen, the work of a singular indie folk artist at the peak of his powers. – Casey Burke
---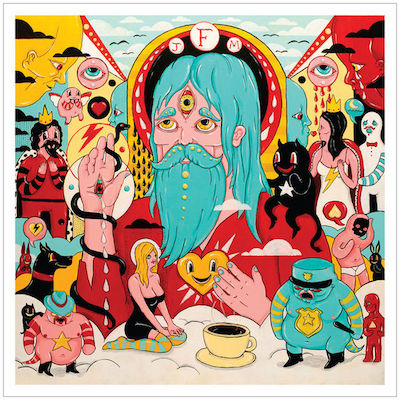 Father John Misty – Fear Fun (2012)
Father John Misty's debut album Fear Fun feels like the most true to character release in Josh Tillman's catalog. It's also his most folk driven album, honing in on his gritty, stripped-down acoustic guitar style. His later releases would become more intricate, but Fear Fun sticks to Tillman's roots. "I'm Writing a Novel" is a charming, rambling tune that listens like a John Prine tune, basking in a cooling, relaxed sound. "Hollywood Forever Cemetery Sings" leans towards a harder rock sound, but still carries an earthy, raw folk skeleton. Fear Fun serves as a turning point in folk, showing the ways that gentler and more ragged takes on folk can blend together. – Virginia Croft
---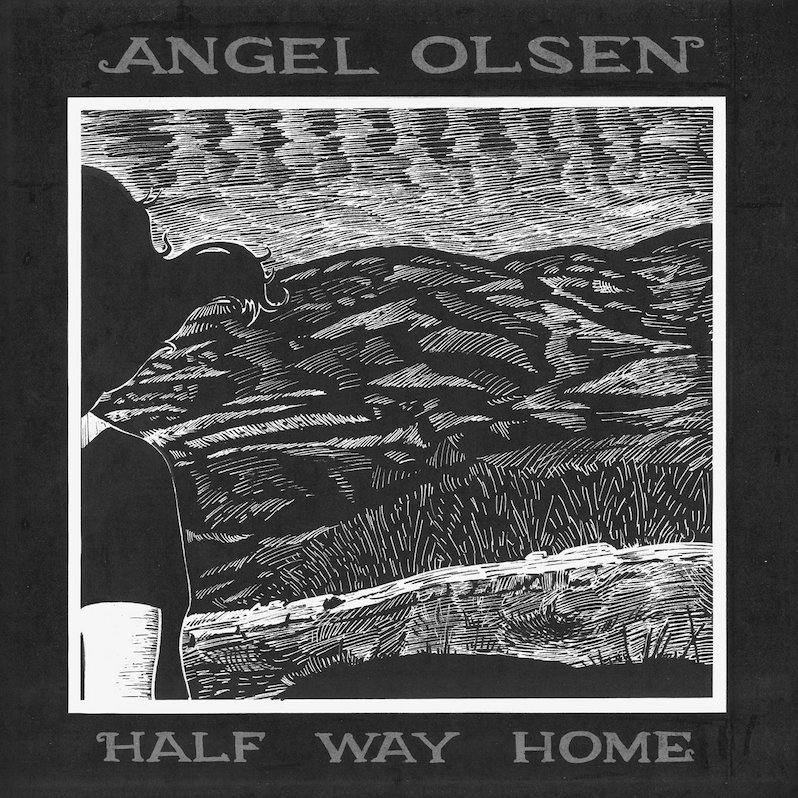 Angel Olsen – Half Way Home (2012)
Angel Olsen's debut album, Half Way Home is influenced by a country sound—reminiscent of early Joni Mitchell blended with Petula Clark, more stripped down and organic than the synth and strings-heavy sound she'd pursue on 2019's All Mirrors. The twang of guitars and Olsen's voice are distorted with reverberation, transforming music with familiar reference points into something original and emotional, but without contrivance. Though there are some interesting stylistic diversions; a song like "The Waiting" is something like a decades-late update on British invasion rock, with a thumping beat and vocals that aren't afraid to cry out (not always conventionally pretty, but charged and powerful). Her sound has changed—more rock or art-pop than country—in her more recent albums, but Half Way Home sees Olsen rawer as she carries on an American folk tradition. – Konstantin Rega
---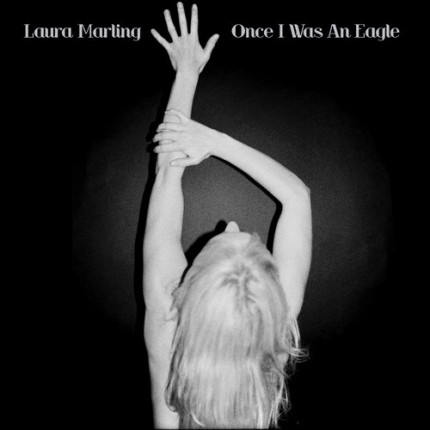 Laura Marling – Once I Was An Eagle (2013)
It's hard to recall an album made by a 23-year-old that bore the weight of experience as confidently as Laura Marling's Once I Was an Eagle—and it was already her fourth full-length. The Berkshire songwriter adapted the strains of classic British folk-rock from the late '60s and early '70s, a time during which she famously said "guitar was becoming a kind of masculine extension." The four-song de-facto suite that opens the album is a hazy desire cycle, using Eastern instrumentation to offset both nighttime antics and morning-after indifference. The rest of the album challenges both her amateur suitors ("Master Hunter," "Little Love Caster") and herself ("Undine," "Where Can I Go?"). Marling clearly has no time for the kind of folk music that deploys honesty as a means of virtue signaling—to her, it's blunt honesty for blunt honesty's sake. Or, to quote the album's best one-liner, "wrestling the rope from darkness is no fucking life that I would choose." – Paul Pearson
---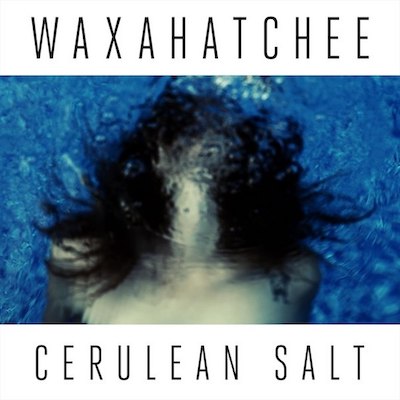 Waxahatchee – Cerulean Salt (2013)
When Birmingham, Alabama group p.s. eliot parted ways in 2011, the Crutchfield sisters each started up a different project, Allison with the raucous indie rock group Swearin' and Katie with the continuously evolving solo project Waxahatchee. It's taken on different forms, from stormy indie rock to anthemic alt-country, but sophomore album Cerulean Salt is less driven by elaborate arrangements and more by Crutchfield's mesmerizing songwriting, from the brief but gorgeous guitar-and-voice opener "Hollow Bedroom" to the bouncy acoustic pulse of "Lips and Limbs," and the dreamy waltz of "Lively." There's a sense of confidence and wisdom to these tracks that sound as if they belong to an artist with more years than someone in their early twenties, but without pretense. This is where a great artist in the making comes into her own. -Jeff Terich
---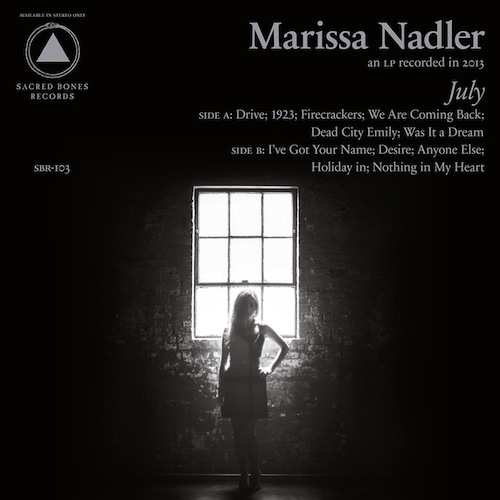 Marissa Nadler – July (2014)
The arc of singer/songwriter Marissa Nadler's career is a gradual one rather than a sharp curve, but there's an interesting dividing line around 2014, when she released her first album through Sacred Bones. July, her sixth album overall, found her collaborating for the first time with Randall Dunn, a producer best known for working with heavier groups such as Wolves in the Throne Room and Sunn O))). Though there's nothing particularly metal about the stark and intimate performances on the album, the pairing feels perfect, as there's a darkness to the material that's sometimes sparse and ghostly ("Dead City Emily"), sometimes richly arranged with a country-noir sound ("Was It a Dream") and consistently featuring some of the best songwriting of Nadler's discography. – Jeff Terich
---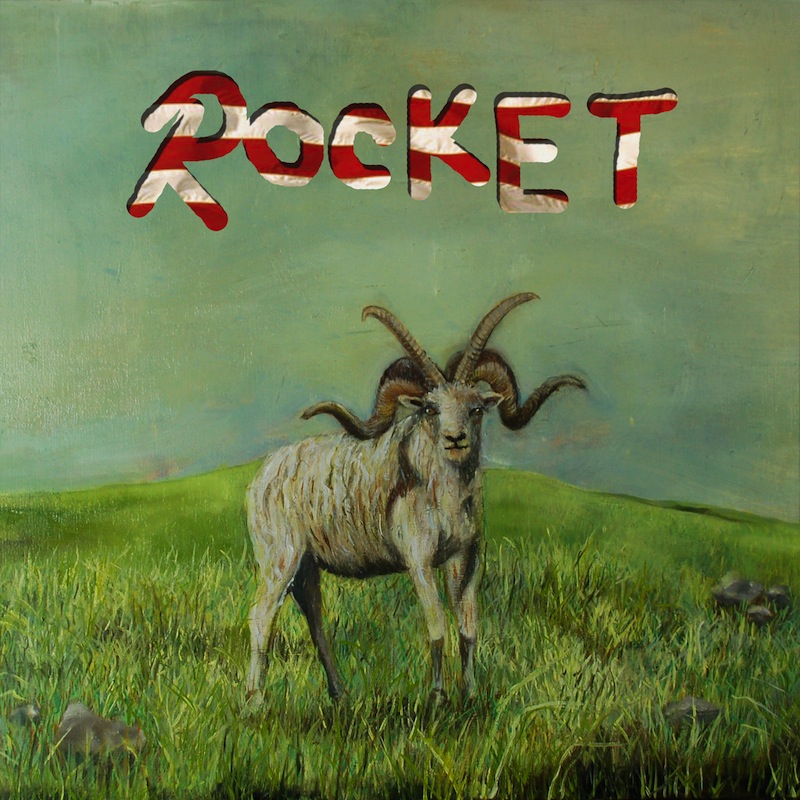 Alex G – Rocket (2017)
Since his early days posting homespun tunes on Bandcamp, Philly's Alex Giannascoli has walked a tightrope between tender, melodic folk balladeer and avant-garde goofball. Rocket embraces the folk side much more openly than his other records, though it would be a stretch to call it his folk album. "County," "Witch," "Horse" and "Brick" all fearlessly blend clashing sounds. Alex G hasn't met a genre he couldn't deconstruct or graft onto another, and Rocket takes on that challenge as fully as his previous work.
Though in the end, Rocket's most direct folk compositions win out. "Proud," "Bobby" and "Powerful Man" boast three of the best melodies Giannascoli has ever written. With help from key players on violin, piano and backing vocals, Giannascoli tells stories in terms both vague and precise. "I ain't never raised a kid, but I bet I'd do a good job if I did" is pure Alex G, down-to-earth, inscrutably innocent, with a hopeful eye on the future. The sign of a serious artist just getting started. – Casey Burke
---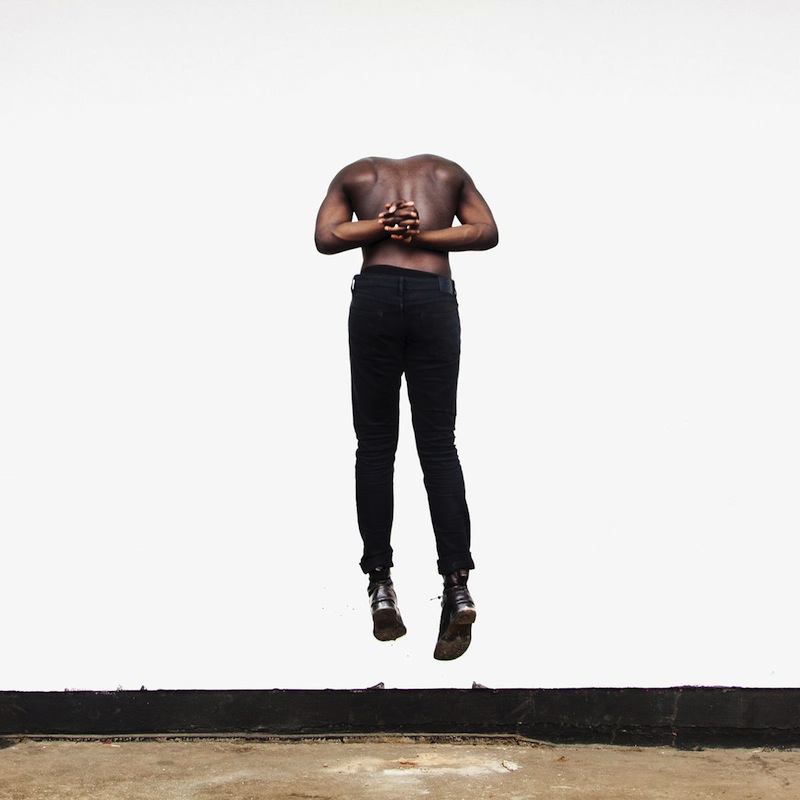 Moses Sumney – Aromanticism (2017)
It might like an oversimplification, especially after the sprawl of 2020 double album grae, but Moses Sumney once said he preferred his music be called "folk." It's folk that detours through jazz, pop and the conceptual art-rock intricacy of an artist like Björk or a band like Radiohead (play "Quarrel" between tracks from A Moon Shaped Pool, for reference), but the gentle guitar work of the gorgeous highlights on Aromanticism and the intimacy therein lend credence to his claim. Sumney's music is bigger than folk, but it also never abandons that central structural core of a solitary artist with a guitar, offering a commentary on the world around him through beautifully strummed and plucked melodies that sometimes grow like a network of vines surrounding him, and sometimes remain sparse and hushed. If it seems like Aromanticism isn't the kind of album you could perform solo without the need for a grand production…well, you couldn't. – Jeff Terich
---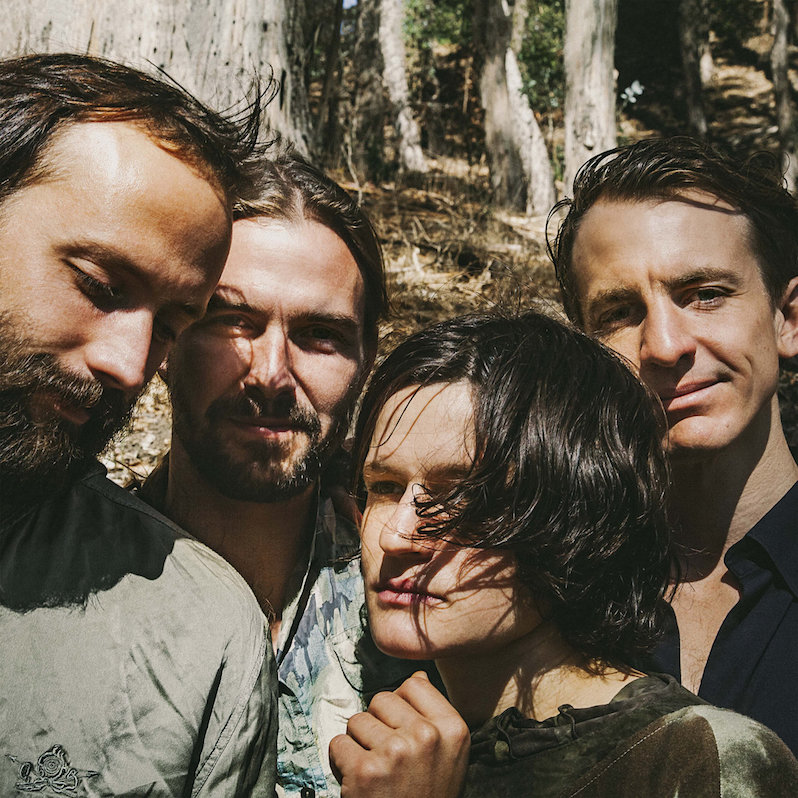 Big Thief – Two Hands (2019)
The release of a double album this year from the increasingly prolific Big Thief seems like a natural extension of the way they've always operated. Which is to say: They write a lot of songs and release a lot of music—and that's before we get to all of their various solo projects. In 2019, the band truly hit their stride as musicians and songwriters, delivering two albums of complementary but distinctive songs. Where UFOF was the more atmospheric art-pop counterpart (its title track even somewhat reminiscent of Radiohead), Two Hands is the earthier of the two, often at its best when the band sounds most relaxed, as they do on highlights like the finger-picked title track and the earworm-laden "Forgotten Eyes." The climax comes with Side B highlight "Not," a track that slowly comes to a boil and pushes the noisier guitars to the front, with Lenker's voice growing more frayed over its six minutes. It's an album of great beauty and stunning melodies, but not without its sharp edges. – Jeff Terich
---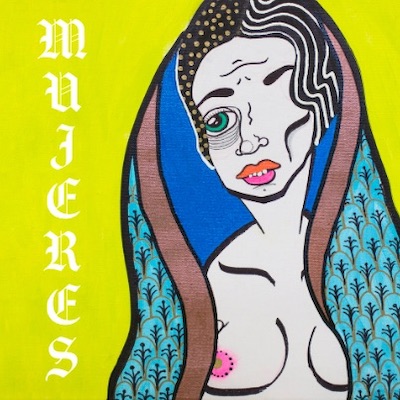 Y La Bamba – Mujeres (2019)
Folk music is the shared music of a community—it's not really about the instruments used in creating it, or how true it is to a particular form of fidelity or production. In her earlier recordings, Luz Elena Mendoza crafted indie folk as we tend to recognize it through the K Records or Saddle Creek catalog, but over time she came to more prominently feature the sounds of traditional Mexican folk music intertwined with dreamier pop. On 2019's Mujeres, she bridges folkloric sounds with nontraditional ones, crafting something dreamy and defiant—songs inspired by the women in her family, feminist empowerment and the racism that still rears its ugly head in America, as heard through songs that redefine folk, as sung in both English and Spanish. There's a lot to take in, but even at its simplest—as when Mendoza's lone voice and guitar are backed by field recordings of birds on "Real Talk"—the results are dazzling. – Jeff Terich
---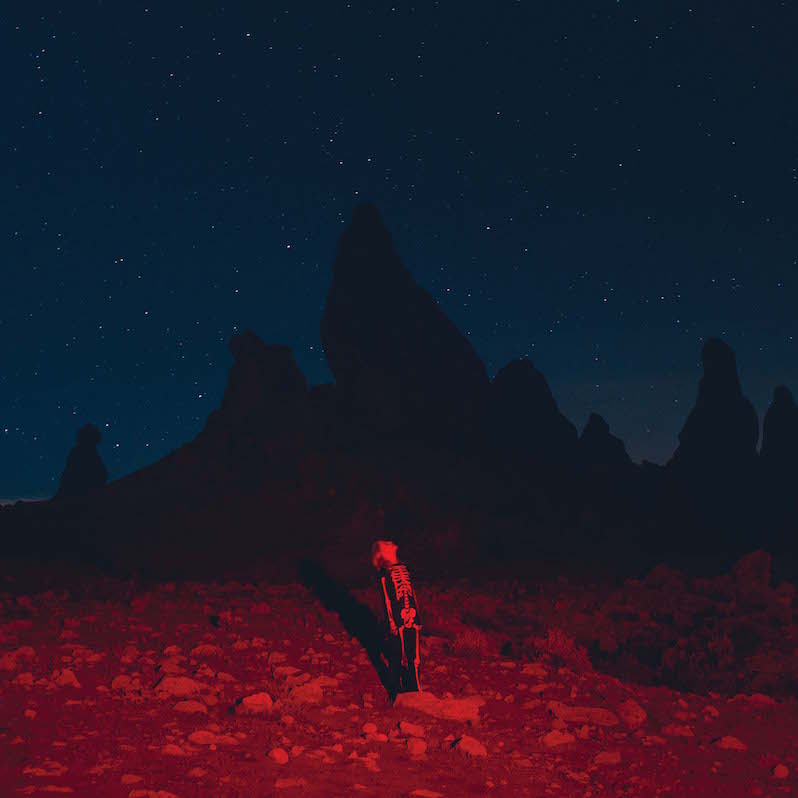 Phoebe Bridgers – Punisher (2020)
Phoebe Bridgers' second solo LP, Punisher, is subtly psychedelic and crackling with emotion. Highlights like "Kyoto" are intimate and relatable, showcasing introspective takes on personal issues in a shifting world where political unrest is a daily reality. There is more maturity here in how revealing Bridgers' lyrics are, even when coming from such a restrained performer, but she doesn't offer any direct solutions to the feelings they divulge. Not everything has an immediate answer, and Bridgers instead suggests by opening the door to her own experiences, they'll relate or help you with yours. Though it does eventually get loud during the climactic end to "I Know the End," Punisher is a spacious and gentle album that creates a space for its creator's own unfiltered expression. – Konstantin Rega
---
Support our Site—Subscribe to Our Patreon: Become one of our monthly patrons and help support an independent media resource while gaining access to exclusive content, shirts, playlists, mixtapes and more.