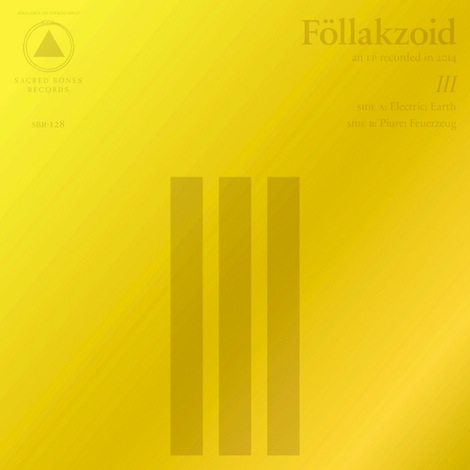 Chilean space rockers Föllakzoid are always going to be a tough sell for most listeners. As the title suggests, this is their third full-length release, comprising four lengthy pieces that stretch across three quarters of an hour. If that is enough to scare you away, then little I can do can change that – those are the immovable facts. What's more, the tracks are lacking in any of the sweeteners that 21st century ears are trained to depend upon – repeated melodies, decipherable song structure, hooks, refrains and, y'know, choruses. Suffice it to say, Föllakzoid are not desperate for your love.
Except, of course, that there is a loyal and growing army of music listeners out there who putty in the hands of  a band like Föllakzoid. One of  the most welcome consequences of  the proliferation of musical styles that are available to us at any given time in the digital era is the independence from reliance on particular taste-makers to decide which bands (or even which types of bands) succeed or fail. No longer are a small group of magazine editors or radio programmers – who as a rule may expect their audience to lack the patience for something so indulgent – the guardians at the gates.This is unerringly good news for South American bands who make four-song, 45-minute space rock records.
Sure enough, Föllakzoid have steadily built up a following. Partly as a result of an affiliation with Sacred Bones Records (which is already home to like-minded acts as Moon Duo and Psychic Ills), partly from heavily touring previous records — including breakthrough sets at SXSW and Lollapalooza — and partly from good old-fashioned word of mouth, Föllakzoid are in a position now to capitalize on the insatiable appetite that exists in certain corners of the Internet for looping, narcotic psychedelic rock. "Psychedelic" is a contender for the most overused term in contemporary music discussion, and can refer to a number of disparate traditions. In this case, think not of the screeching acid guitar solos of Blue Cheer, or the fuzzed-out sloppiness of Ty Segall, or the daisy-chain whimsy of Love. Instead,  Föllakzoid are channeling the entrancing, swirling, deeply rhythmic  style  of  the  great Spacemen 3, which in turn brings to mind a '70s European tradition of Faust, Harmonia and Tangerine Dream. No surprise then that the Korg synth that can be heard throughout III arrived in the band's possession as a gift from Kraftwerk's Florian Schneider.
Indeed, the Korg is emblematic of the most significant change in the band's music on this record. A newfound collaboration with German techno mastermind Atom™ has deftly integrated an electronic component into the mix. It's an easy fit — techno itself owes a great debt to the motorik repetition of the '70s German experimentalists. The predominant effect of the synthesizer here is not to build upon the rhythm, however (the band don't need much assistance there), but to provide ambient flourishes and a sense of growing momentum over the course of each track. In III's best moments — namely the deep hold that "Earth" and "Piure" take on your mind after a minute or two of tuning into their wavelength – the indistinguishable blend of psych rock and understated electronica lulls you into a head-nodding stupor.
The band talk very strongly of the influence of ancient Andean rhythm patterns from their native Chile on their music, a distinctively exotic ingredient that goes some way to identifying the unique flavor of trance-like  psychedelia that, for a seasoned  listener, sets  Föllakzoid apart from their contemporaries. They are not the crossover band that will  usher  in a new brand of mainstream space-rock, but for the initiated, they are a treasured member of the community.
Similar Albums:


Wooden Shjips – West


Six Organs of Admittance – Hexadic


Goat – Commune