Calexico : Edge of the Sun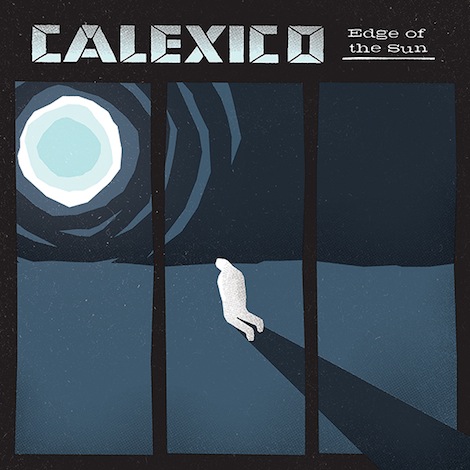 Reliable consistency in music is an underappreciated concept. While most listeners probably don't hold it against bands when they successfully maintain a sound for many years without changing all that much, the indie hype machine easily shifts its attention to bright young things, just the same as in the mainstream. But there's something to be said for a band like Calexico, who have kept a loyal fanbase and been a consistent live draw over nearly two decades and nine studio albums, in large part because their sound was more or less established on the first few releases and hasn't changed much since. It helps that said sound — a blend of bar-band rock, country, touches of psychedelia and Latino influences including Tejano and cumbia — is pretty damn entertaining.
So it's no surprise that the band's latest album, Edge of the Sun, is about what you'd expect if you've heard the band before, and also no less enjoyable. Joey Burns, John Convertino (the band's core members since 1995) and a cast of collaborators including members of Devotchka, Band of Horses, Takim and many others effortlessly create the sound of the American Southwest in a manner that instantly transports you. You're in a border zone of last-call drunks, drifters, risky and potentially criminal opportunities, perhaps a little romance. (As you might expect, Calexico's music has shown up in various crime films and TV shows, among them Collateral and Breaking Bad, and they supplied the entire soundtrack for John Michael McDonagh's film The Guard.)
Horns are notably present on Sun once again, after being a bit more absent from the last Calexico album, 2012's Algiers. They are key to the catchiness and success of first single "Cumbia Donde," opening track "Falling From The Sky," "Woodshed Waltz" and instrumental piece "Coyoacan Theme." The most notable wrinkle to the Calexico sound here might be the integration of synths into the sonic fabric, and they don't stick out awkwardly as one might fear, instead serving as an interesting atmospheric accent. The few instances where drum machines pop up, like the otherwise lovely ballad "Tapping on the Line," don't work as well, coming off as unnecessary flourishes.
Calexico has never exactly been a cheery band, but Edge of the Sun might be one of their most melancholy albums. Nearly every song is in a pronounced minor key, and while the horns and synths lend something of a jaunty sound, it comes off rather like the forced smile of a character in a black comedy. Burns has never been the type of lyricist to spell everything out for listeners, and it's hard to alternatively interpret lines like, "The devil's laughing to himself out loud beneath the city of dreams" (from "Beneath the City of Dreams") and "Where do you go when you've got no place to fall?" (on "Falling from the Sky"). Guest vocal turns from Neko Case on "Tapping on the Line," Carla Morrison on "Cumbia Donde" and Band of Horses' Ben Bridwell on "Sky" add layers of ache and longing to an already desperate foundation.
Upon arriving at the album's closing track "Follow the River," this final song provides some sense that hope or redemption is possible, but enough knowledge to understand that it won't be easy for those who lives rough lives in the margins like the desperate people in these songs. It's worth it, though. The cinematic breadth of the musical and lyrical tapestry created on Edge of the Sun might not quite reach the heights of Feast of Wire or Carried to Dust, but it's a triumph all the same, an exploration of places that much of indie rock fears to tread.
Similar Albums:


Neko Case – The Worse Things Get the Harder I Fight, The Harder I Fight the More I Love You


Bill Callahan – Dream River


Nina Nastasia – Outlaster