Mac McCaughan : Non-Believers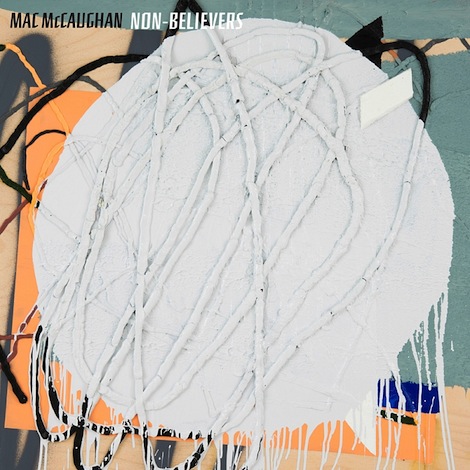 A youthful uneasiness has always followed Mac McCaughan. The 47-year-old Superchunk frontman has been an indie rock mainstay for almost as long as other artists inspired by his music have been alive. And yet, despite his assertions that music has developed a different priority in his life since his early twenties, his penchant for teenage nostalgia remains as effervescent as ever on Non-Believers; an album released hot on the heels of a critical resurgence led by the Superchunk records I Hate Music and Majesty Shredding.
But to marginalize McCaughan's age would diminish an impressive track record. Since 1989, he has not only co-founded the profoundly successful independent label Merge Records with bandmate Laura Ballance, but penned the breezy, Replacements-inspired pop associated with his other project, Portastatic, for over two decades. Despite his spry contributions to the world of alternative rock, his name is far from ubiquitous — Non-Believers, not necessarily his first solo effort (but the first to bear his full name), aims to change that, but with grandiose synth sputters and new wave melancholy in place of distorted guitar manifestos.
The resulting aesthetic shift is a seamless expedition into synth-pop territory without its typical gaudiness. The dream-tinted anthems of "Only Do" and "Our Way Free" manage to capture a sense of suburban urgency that that might still be found among young lovers sneaking out of their parents' homes to meet each other under the cover of darkness. Childhood reminiscence is a recurring motif on Non-Believers — McCaughan paints each past image with such specificity that he casts a melancholy cloud over each track. He sings of the "letters in the pages of artbooks / you kept stacked upon your floor" and a moment with "one foot in wet leaves / one foot on concrete / your hand in my sleeve," as if he were clutching fondly onto each moment as it entered his head.
The sonic punch of Non-Believers is as powerful as any Superchunk record, but decidedly less overt. Percussion is frequently understated, with hi-hat frills and cymbal crashes serving to magnify the opulent, reverb-soaked production. The bass melody on standout track "Lost Again" drives the sparse chimes of faint guitar with mid-range thumps that would make Adam Clayton proud. On the woozy "Real Darkness," the drums are replaced by goth-inspired beats, allowing a series of chorused arpeggios to haunt a Heaven or Las Vegas flavored musical landscape. All of these tracks culminate into a singular retro pastiche, but with enough eccentricity and boldness to transcend the label of throwback record.
Though many artists that have been around as long McCaughan, few have been nearly as consistent. Given his stature as a musician, he has little to prove on this album. But Non-Believers seems less a product of expectation, and more a fiery reaffirmation of McCaughan's love of music-making. While the framework of I Hate Music may have coursed with the passionate confrontation of his musical "affliction," McCaughan's latest album may have finally found a common ground between the mounting burden of age and creative aspiration.
Similar albums:


Destroyer – Kaputt


The War on Drugs – Lost In The Dream


Stephen Malkmus and the Jicks – Mirror Traffic