Treble's 50 Favorite Vocalists
10. Chuck D
The highest entry on this list for a non-singer, Chuck D's powerful, force-of-personality rapping style allowed him to pick up the mantle from the great Melle Mel and lay the foundations—as much through his passionate delivery as his writing—for hard-hitting, socially conscious hip-hop. The explosive, visceral confidence that leaps out of every Public Enemy record sets them apart from many of their politically aware contemporaries. As such, it can be no surprise that Chuck's sheer vocal energy continues to be enough to shake listeners from their apathy, and rally to the streets in protest. He has claimed to have been equally influenced by sportscasters as rappers, which may account for the white heat of intensity that he is able to channel at the right moment. Yet it is his unparalleled alchemy of metronomic vocal rhythm, harsh phonetic dexterity, and unrelenting activism that cements him as one of popular music's great vocalists. – MP
Watch and listen: "Black Steel in the Hour of Chaos"; "Fight the Power"; "Get Up Stand Up" (with Brother Ali)
9. Freddie Mercury
Of all of the many talented vocalists on the list, Freddie Mercury is widely recognized among them as one of the most important and influential frontmen of them all. It is impossible to see a live video and not be mesmerized not just by his soaring, flamboyant voice and his bombastic stage presence, but his intimacy and passion. The most iconic example, his 1985 Live Aid performance, has become perhaps the most essential item on the syllabus for rock and roll frontmen. As Dave Grohl said, "Every band should study Queen at Live Aid." Mercury's bandmate and friend, Brian May, said of him that he "made the last person at the back of the furthest stand in a stadium feel that he was connected."
Sure, everyone knows and adores Freddie Mercury, and will gleefully attempt their best shoddy rendition of "Bohemian Rhapsody" or "We are the Champions" after a few drinks, but Freddie's genius is truly realized when the listener heads off the beaten path of the most well-known numbers and sees his incredible versatility and range of expression. For example, the Queen II proto-metal anthem "Seven Seas of Rhye" shows Freddie's adept handling of a heavier style that influenced singers like Bruce Dickinson and Rob Halford. Freddie's playfulness comes out in tracks like "Bicycle Race" and "Fat Bottomed Girls." His almost naive romanticism is perfectly and intimately communicated in songs like "Jealousy" and "Somebody to Love."
However, one of his most career-defining moments can be found on Queen's final album Innuendo, Mercury was seriously ill during the recording of the album, due to complications from AIDS. His bandmates were unsure that he could handle the highly demanding vocal line in "The Show Must Go On." Upon hearing their trepidation, legend states that he said, in the most typically flamboyant fashion, "I'll fucking do it, darling," drank some vodka, and recorded what we hear today. While Queen could be famously silly and bombastic, his pained yet soaring voice in "The Show Must Go On" is one of the most touching and tragic performances in rock and roll history. It reminds us all upon each listen of the profound and senseless loss of one of music's most iconic voices and personalities. – TH
Watch and listen: "Seven Seas of Rhye"; "Somebody to Love"; "The Show Must Go On"
8. Otis Redding
Ache. I don't think there's a more appropriate word for the feeling evoked by so many Otis Redding vocal performances. While he's got a few upbeat numbers like "Tramp" and "Shake," anthems of heartbreak and loneliness form the bedrock of his catalog. Whether performing originals like "My Lover's Prayer" or covers such as "Nobody Knows You When You're Down and Out," the longing in his voice always made them his and his alone.
Redding took the fundamentals of phrasing and ad-libbing established by Sam Cooke (who he often covered) to new heights, with a considerably grittier tone. Every line and every song is pitched as the climactic statement of a man thinking he has only one last chance to tell you his feelings—perhaps to change your mind, perhaps simply to make you understand. Who can listen to the regretful "You Don't Miss Your Water" and not be moved, possibly to tears? Who can hear his transformation of the sometimes fast-paced soul standard "Tennessee Waltz" into a slow-burn tragedy and not be devastated? I almost ended this blurb with an old-man-yelling-at-cloud comment about how nothing in modern R&B sounds like Otis, but that's far too kind to other genres. Nothing in popular music then or now sounds like Otis's voice, and nothing ever will. – LG
Watch and listen: "My Lover's Prayer"; "You Don't Miss Your Water"; "Tennessee Waltz"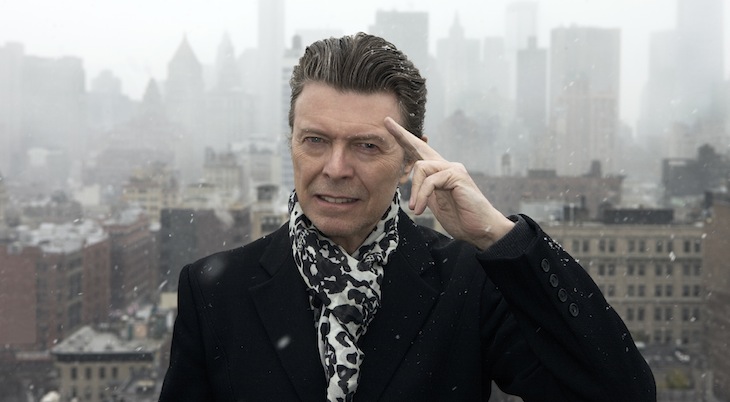 7. David Bowie
In the discussion leading up to this feature, a few contributors noted that they don't really think of David Bowie as a great singer so much as he is a shape-shifting songwriter and art icon. And that's fair—he's both of those things, no question. But that in itself leads to an important question: Can you be a rock 'n' roll icon without a voice to project that outsized personality, and to really sell that creative vision? Probably, but it's a lot more interesting when you sound like David Bowie.
Bowie's vocal performances, much like his songwriting and his fashion, tend to be chameleonic. His technique and sound have evolved over the years, and tend to shift from song to song, but you always know that he's the one at the center of it all. In his early years, he played up the camp value, imitating his friend/peer/influence Marc Bolan ("Black Country Rock") before later settling into his role as rock God and opening up those pipes of his only to enter an entirely new stage of performance. Unlike a similarly versatile talent like Prince, Bowie doesn't play six dozen instruments, though he's got piano, saxophone and rhythm guitar covered. But that's not really the main event. It's the guy who's screaming his guts out on "Heroes," reaching a level of volume and intensity that it gets picked up on a microphone 50 feet away. – JT
Watch and listen: "Moonage Daydream"; "Heroes"; "Ashes to Ashes"
6. Thom Yorke
There are plenty of nominees for the Voice of a Generation for the Gen-Y crowd. Kurt Cobain was acidic and acerbic, Eddie Vedder was hazy yet heartfelt, Trent Reznor was tortured alternately quietly and loudly, and Dave Grohl swam further and further out to classic rock's deep end. Thom Yorke's emotional acrobatics, however, made Radiohead arguably the period's most limber outfit, weaving through, around, and above the musical fray. The band kicked off their career with the wide-ranging beautiful mistake "Creep," Yorke grumbling and yelling his part of an ugly protagonist to match Jonny Greenwood's ugly chords. Radiohead's chameleon-like nature over the following 20-plus years really begins and ends with their lead vocalist: plaintive sadness layered atop players' next-level jangle, theatrical scene-setting for their urban-nightmare art-rock, and just the right amount of spoken word or falsetto to scatter through a long romance with electronic sounds. Yorke has expertly shepherded his band and his fans across vast musical terrain; better yet, we still can't wait for what's next. – AB
Watch and listen: "Stop Whispering"; "Let Down"; "Pyramid Song"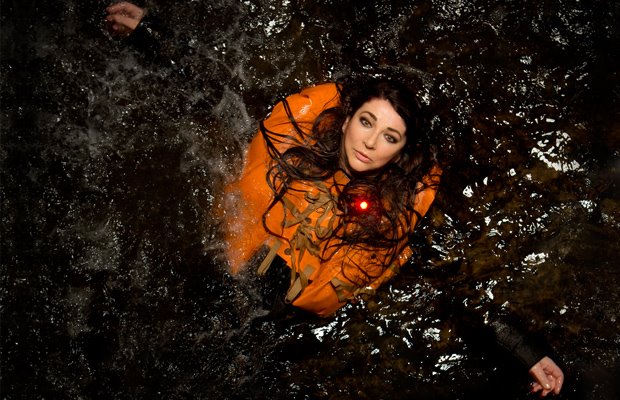 5. Kate Bush
She's two parts genius to one part absurdity, juxtaposing theatricality and gut-wrenching emotion in one fell swoop. She's influenced as much by the comedy of Monty Python as she is by English literature. And she went decades without so much as a single live performance, thus deepening the already rich mystique built up from albums such as The Dreaming and Hounds of Love.
No, there's no artist who so deftly combines beauty with bizarre so well as Kate Bush, not even Tori Amos, who also appeared on this list and owes a great deal of her stylistic approach to the ornate art-pop that Bush pioneered in the '80s. And that pretty well explains why a run of a few dozen shows in London last year — her first in more than 30 years—sold out in about 15 minutes. And that the performance wasn't a run-of-the-mill show but a conceptual experience only justified the four-figure bill to travel to London (sadly, I was not one of the lucky ones). That's what you get with Kate Bush—an experience, not simply a series of pop songs. She plays the role of every character she has to, be it a bankrobber with a cockney accent, the metaphorical cry of a hound, a romanticized computer, or simply a woman trying to understand her partner. Kate Bush is perhaps more accurately described as a dramatic performer more than merely a singer. Though her soprano range is unquestionably breathtaking, it's the commitment to taking on a role or setting a scene that makes her wholly unique. – JT
Watch and listen: "Cloudbusting"; "Sat in Your Lap"; "Running Up that Hill (A Deal With God)"
4. Nina Simone
Interesting fact: While Nina Simone didn't get enough votes to top this list, every staffer who voted for the jazz singer cast her in their top 10. That seems to be a fitting circumstance for a vocalist whose smoky, edgy alto has often been a barrier for newcomers—even dedicated fans of the genre. But those who like Simone love her, and for good reason. An avid fan of blues, R&B and soul, Simone often stuck to a simple melody, but had a knack for bending those basic lines into something otherworldly. To hear Simone coo a song like "Ain't Got No, I Got Life" over the accompaniment of her own impressive piano playing is to be transported to an alternate plane of existence, one where the highs are taller and the lows are just a little deeper. But for all the prowess her voice held, Simone knew how to work a crowd as well. Her breaks, breaths, and other moments where she showed restraint had just about as much impact on the listener as her melodies did. Her unique style has influenced notable artists as varied as Lauryn Hill, Alicia Keys, John Lennon, Fugazi's Ian MacKaye, and Xiu Xiu's Jamie Stewart. – ATB
Watch and listen: "Ain't Got No, I Got Life" ; "Don't Let Me Be Misunderstood" ; "Feeling Good"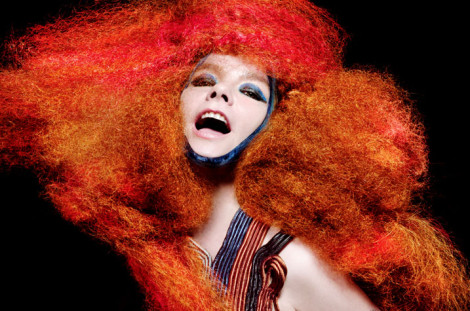 3. Björk
In the Icelandic language, "björk" is the word for birch tree. The birch is considered a pioneer species, meaning it will be one of the first flora to begin to regreen areas damaged by fire or some other upheaval. The voice of capital-B Björk is to rock as her lowercase-B counterpart is to nature. Over a long and winding solo trek as well as during her time in The Sugarcubes, Björk has taken over dead and dying space in the realm of alternative music, terraforming it with her space divadom (danceable Debut, heartbreaking Vulnicura) and jerking, angular pop (Life's Too Good, Medúlla). The birch tree's presence is a double-edged sword, however. Unchecked by natural selection—grazed saplings, dead seeds—it threatens to become parasitic, overwhelming what it wants to revitalize.
So the environment cuts Björk down on the regular. Her every chirp, whisper, scream and melody, not to mention more than her share of appearances and statements, seems accompanied by an air of dismissiveness from the general public. She's been hurt, embarrassed, mocked, ignored, divorced. Critics are all too comfortable lumping her together with avant-garde screamers like Diamanda Galas and Yoko Ono, selling short her talent, her restraint, her tunefulness, and just how much fun she can actually be. Yet it feels like it serves Björk well that she's been nicked by life and opinion now and then, as a controlled burn might trim back a treeline.
It's not that the world is conspiring to have Björk taken just in small doses; rather, she's positioned as still something of a best-kept secret or guarded treasure. And none of this means Björk is weird or weak: She's only a punchline or target for those unwilling to accept the shock of the new and embrace a daring, independent voice. Yes, in the process of changing the musical landscape, Björk's singing could get labeled as pained or painful. (1.) Sometimes that's the point. (2.) Stick around for joy. – AB
Watch and listen: "Hit" (with The Sugarcubes); "Bachelorette";  "Lionsong"
2. Aretha Franklin
When Aretha Franklin performed Adele's "Rolling in the Deep" for David Letterman in 2014, it immediately went viral. While her voice isn't quite what it used to be, her command of the song was impressive. She took a song about a young woman wronged and she provided a depth that only experience and age could have. She made it clear that she was still the queen.
Aretha Franklin is an astonishingly talented singer. Her voice is powerful and commanding. Franklin is a technician and her control and confident presence is a sight to be seen. But what sets Franklin apart is that in addition to her training, she is an incredibly honest singer. With each performance, she embodies the emotion so fully and genuinely that no note rings false. She can imbue songs with everything from sass to vulnerability to righteous indignation. And it all feels so tremendously real. Every time I listen to "Ain't No Way," I'm moved to tears. In "To be Young, Gifted, and Black" there is a tremendous amount of pride, intermingled with history and righteousness; it's breathtaking. As she has aged, her command has only grown. – JI
Watch and listen: "Rolling in the Deep"; "Think"; "Chain of Fools"
1. Johnny Cash
Though it isn't the signature rolling baritone from "Folsom Prison Blues," I always loved Johnny Cash's voice most when it was old, worn down, and breaking. When it was at the edge of a hard-lived life, naked in its flaws. I think his work on the American Recordings series is strong. It's tough to deny that much of that work is bolstered by production, and it's easy to harp on his renditions of earlier hits. But I've never heard a better version of "I'm So Lonesome I Could Cry." What Cash was able to do, more than maybe any other artist on this list, is come to terms with the reality of who he was, and what he was becoming. He sang his most honest songs when he came to terms with his dying, with a voice that was well-traveled, cracking, and even afraid. Perhaps nothing represented the man more than how he sounded when he was most in touch with what he was leaving behind. I was in college when the music video for "Hurt" came out, back when you could still see a music video on television from time to time. And I remember some guys from my soccer team gathering in the community room in our dorm, huddling close to the television, and watching it all the way through. When it ended, we all kind of stared at the television for what felt like hours. Sure, the visuals are moving and all that people say they are. But hearing a voice that sounded so much like a voice we knew and loved, the voice of a grandfather that we could call ours, it did something to all of us. And then, not long after, he was gone. – HA
Watch and listen: "Folsom Prison Blues"; "I'm So Lonesome I Could Cry"; "Hurt"
You might also like: