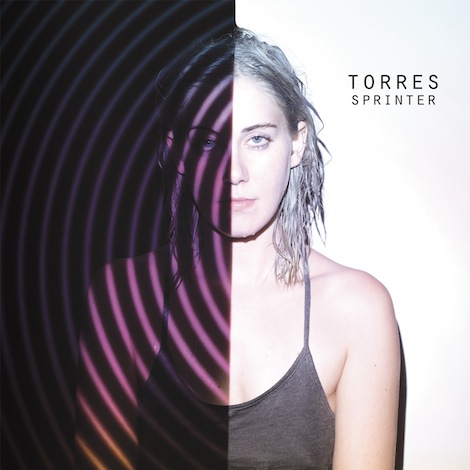 Mackenzie Scott loves the '90s. Take one brief listen to "Strange Hellos" and it's easy to spot how her raw-yet-melodic tone and blues oriented guitar channel a young PJ Harvey. That leading single from Sprinter—Scott's sophomore effort LP—boasts a gritty aura of defiance and a chip on its shoulder. Give a deeper plunge into her guitar work and the textured walls of shoegaze and no-wave reveal themselves as a having a heavy hand on the young musician as well. But Scott, who goes by the moniker Torres, is no '90s rocker. Hell, she's barely even a rocker. In fact, if Scott had to pick a musical soul mate who graced that decade, it would probably be Elliott Smith, who often—and quite publicly—scorned edgy production for something softer, subtler and more melodic. Following that metaphor, "Strange Hellos" is Sprinter's "Son of Sam"—a triumphant, yet ultimately misleading, red herring of an opening track.
It's not that the rest of Sprinter is a dud. In fact, "Strange Hellos" is one of the less captivating songs on the record, from a lyrical standpoint. It never loses sight of that grit either. But Scott, working closely with Rob Ellis and Portishead's Adrian Utley, quickly leaves behind that clean, indie rock single and sets out on a mission to craft a much more complicated landscape. Like Smith, Scott can rock, but she's a singer-songwriter at her core, and she does her best work when painting with a minimalist palette. And while the '90s tropes might be the first to come to mind, deeper listens draw close comparisons to Sharon Van Etten, Angel Olsen or Julia Holter, both for Scott's strong vocal control and powerful use of imagery. It's with those tools that she uses the bulk of Sprinter to illustrate her complicated relationships with dark, stirring clarity.
And while some of those relationships exist on a purely personal level, most of the intimate struggles that Scott details are on a much grander scale. There's a deceptive, almost disarming ease to the way she reveals struggles with family and childhood, church and religion, and the differences between all those seemingly related entities. As Scott slowly descends into her subject matter it feels as if she's on a journey, not one to any certain place, but a journey as far away as possible from one very specific locale. That point of origin seems to shift form on occasion. During the stirring blues of "Son You Are No Island" it's an undeserving ex-lover; it is deceptively pleasant childhood memories on the bouncing "Cowboy Guilt," and time itself on the relentless ballad "The Exchange." But whatever form that phantom takes, it's haunting vibes seem to push Scott in the same direction and drive a powerfully dreary spark.
What Scott offers on Sprinter isn't a quality that's bound to a particular region of space or time. It's not even something that can be reached via the right production or a certain amount of practice. There's an allure to Scott's story telling, and her stories themselves, that a songwriter either does or doesn't have. And, while a few moments on Sprinter lean a little heavy on a sonic world long past, no amount of cheesy production choices could tear down the wall of honest, riveting emotion that Torres boasts. And on Sprinter, her best collection of songs yet, Mackenzie Scott doesn't just carry a spark—she lights a fuse.
Similar Albums:


Angel Olsen – Burn Your Fire For No Witness


Julia Holter – Loud City Song


Elliott Smith – XO