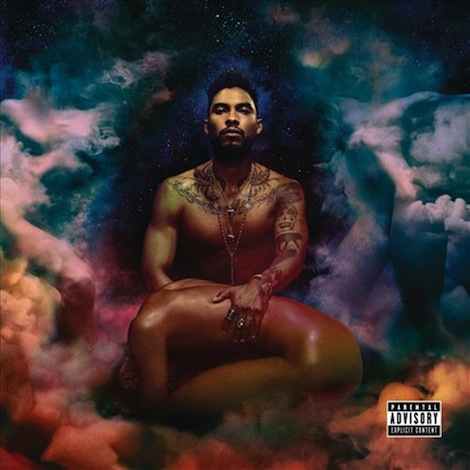 Miguel's career thus far has been one of the stranger ones you could imagine for an artist who's become one of R&B's leading lights. When he was something close to a conventional practitioner of the genre, like on his 2010 debut All I Want Is You, even his most successful singles (the title track and "Sure Thing") were always more spacey and musically adventurous than his ostensible peers. Cut to five years later, and while he hasn't left the Jason Derulos, Chris Browns and Trey Songzes of the world in the dust from a commercial standpoint, he is on another fucking planet in every other way. (The cover literally suggests this—among other things we can discuss in a moment.)
Wildheart, his latest and greatest album thus far, isn't even really in the same universe as 2012's Kaleidoscope Dream, the record that constituted a sizable artistic step forward and introduced him to a much wider audience. (By which I mean hipsters. Let's be honest.) That record, particularly on songs like the superlative "Adorn," "Do You" and "Arch & Point," drew a great deal of its sound from peak-era Prince while also adding tinges of hip-hop, psychedelia and 70s funk, and showed greater songwriting acumen across the board. This one draws on those influences as well, but with less concern for approximating them in any homage-like way or according to a formula recipe.
How else to explain why a blend of Los Angeles traffic report samples, guitars oscillating between post-rock and garage crunch, hushed yet fast-paced trap drums and vague lyrics about astronauts and dying young works perfectly as the album's antipast', on "a beautiful exit?" Or Kurupt (!) showing up to pour sly menace on top of "NWA," the album's most R&B/hip-hop-indebted track? Or "leaves" sounding like an emo-revival lament with (much) better, soul-aching singing? A fair amount of this seems like it shouldn't work, at all, and yet it totally does.
Much of this is based on Miguel's knack for song structure and craft, which has only gotten better since Kaleidoscope. He knows when to put himself and his voice front and center, when to step back and let the music wild out for a while, when he should push for the anthemic hook and when to take a subtler tack, and so on. Sequencing is also an important part of this. It makes sense to position two tracks, "what's normal anyway" and "Hollywood Dreams," respectively interrogating racial identity and bullshit California dreams, after the first six have been so sex-heavy, and for the later portion of the album to examine mortality and love in a more serious fashion.
Circling back to the sex jams: Dear lord, does this man love to fuck. That is not remotely a bad thing. It's also refreshing that he finds a balance between the anemic descriptions of the Omarion/Derulo types and the Pornhub-description-detail of The Weeknd and R. Kelly. He can say he wants him and his lover to "fuck like they're filming in the Valley" and get into fairly explicit detail on "the valley" without it feeling awkward or misogynistic. There's no sense of anything being non-consensual or fueled by mental or chemical manipulation. (As for the cover, you can argue that the woman's position indicates a desire on Miguel's part to foster subservience, but he's presenting himself as the same sort of object. It's not entirely defensible, of course, but most great artists force us to examine contradictions. [It's also reminiscent of Natasha Khan's cover for her Bat for Lashes album The Haunted Man, in which her nude body is intertwined with that of a nude male contortionist.])
He also writes genuine love songs better than almost anyone in his class. Standout "leaves" is a devastating coda for a dying love that knocks the narrator for a loop, conveyed in a seasonal metaphor that's incredibly simple but wonderfully effective, segueing into a gorgeous take-me-back plea on the Lenny Kravitz-assisted "face the sun." There's no wedding-worthy song on the level of "Adorn" on Wildheart, but I can't say I expected there to be. I'm not sure Miguel has any interest in writing it.
Guitars are all over Wildheart, but this isn't a rock album, and while Miguel maintains the vocal sound of an R&B crooner this isn't really R&B, either. (It also isn't what hipsters looking for something to whine about dubbed PBR&B—usually in reference to Frank Ocean and early Weeknd or How to Dress Well.) It's reverb-heavy and certainly fills up a great pair of headphones – not entirely sure how well it will play in a room. You can hear Sly Stone in the crunchier guitars, and Prince or D'Angelo in the freewheeling unhinged sexuality and the synths/keys at the foundation of so many songs, and Portishead in the throbbing beats and the Zombies in the structure of verses like those on "goingtohell," but this Wildheart sound, whatever it is, is all Miguel's now. It perfectly soundtracks the journey through Miguel's personality that this album is, beginning at the id (or the dick, if you prefer being blunt) and ending with the heart and soul in an affecting fashion.
Miguel has always found his way onto the R&B airwaves, but I'm somewhat worried about the commercial prospects of this album, given that he had to release an alternate version of lead single "Coffee," which was great as is, featuring a Wale verse. (Of fucking course.) That said, I don't really think Miguel is that concerned with sales, as this is without a doubt the exact album he wanted to make with few if any compromises. That makes it one of 2015's best.
Similar Albums:


Prince – 1999


D'Angelo and the Vanguard – Black Messiah


The Weeknd – House of Balloons