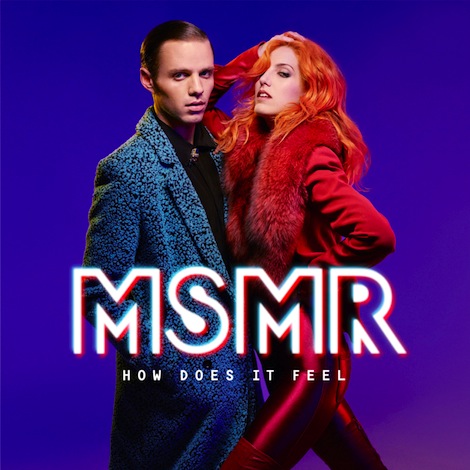 MS MR aren't easy to classify. Not because the music of the New York City duo—singer Lizzy Plapinger and producer Max Hershenow—is without precedent, but because they're hard to place in the pop music landscape. Their brand of pop is danceable and synth-driven but not really EDM-friendly, catchy but not overtly crafted for radio appeal. On their latest album, How Does It Feel, they create a potent sound, albeit one that lacks the freshness of their debut, Secondhand Rapture.
The album does succeed with the power of its opening half, aptly exemplified in opening track and lead single "Painted." Hershenow drops piano chords and synth textures that seem to fall from the skies like meteors as drums snap and crack and Plapinger blows the roof off with her strong alto, exhorting herself to recover from trauma: "But if you never break you'll never know!" It's an astonishing start, and it's kind of disappointing that it comes right away, and there's barely time to savor it.
This isn't to say the album's remaining tracks are bad, or even necessarily mediocre—they just all fail to reach the benchmark "Painted" sets right off the bat. Some songs do come close—the slow cabaret of "Wrong Victory," "Leave Me Alone" and its astonishing banger of a beat, the skyscraper hook of "Criminals," to name just a few. These are all within the first six songs of the album's 12. After that, the proceedings get considerably more uneven. MS MR is not well-suited to midtempo songs, and that's what makes up most of the second half of How Does It Feel. String-laden ballads "Cruel" and "Pieces" just ring flat without being actively bad. The synth riff on "Tripolar" is frankly irritating and the song goes nowhere, and closer "All The Things Lost" is as anticlimactic as the shrug emoticon. ("Reckless" stands out as a fast-paced breath of fresh air.)
Plapinger's voice, though, keeps even the less musically engaging tracks from being boring. It is in excellent form here, alternating between resonant proclamations and low seductions. She's the real deal regardless, and Hershenow is certainly capable of producing engaging dance music and ringing hooks even if he doesn't always nail it here. How Does It Feel is not a success, but it also shouldn't be considered cause for anyone to write MS MR off just yet.
Similar Albums:


Banks – Goddess


Florence and the Machine – How Big, How Blue, How Beautiful


CHVRCHES – The Bones of What You Believe