MS MR : Secondhand Rapture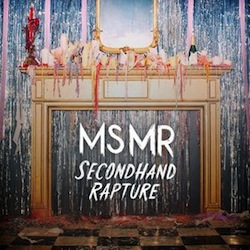 A group's debut album is often either a brilliant catharsis of everything that's been pent up over the artists' lives or just a glimpse of what's to come, but in need of more time to refine style and presentation. New York-based duo MS MR are sandwiched somewhere in the middle of these extremes. The powerful vocal performances and dreamlike pop presented on their debut full-length Secondhand Rapture are enough to make an enjoyable record, but their sound often blends from one song to another, making for a somewhat homogeneous listen.
Over the past couple of years, MS MR released a handful of infectious singles and a well-received EP. "Bones" was even featured on a trailer for the third season of HBO's megahit series Game of Thrones, giving MS MR widespread exposure and building the anticipation for Secondhand Rapture. The album begins with the previously released "Hurricane" featuring rolling percussion and a soaring chorus that sets the tone for what's to come. The similarly catchy "Bones" follows, but introduces the dark side of the group. Lyrical themes of isolation, death and heartbreak weave throughout, as on "Dark Doo Wop," which finds lead singer Lizzy Plapinger delivering a heart wrenching manifesto of longing over soaring instrumentation. The contemplative ex-lover anthem "Think Of You" is the real gem on Secondhand Rapture. Lyrically, the song is full of resentment and anger but presented over a bright pop arrangement, and featuring a chorus with hooks enough for a hitmaker like Rihanna.
In spite of the highlights scattered throughout Secondhand Rapture, it's abundantly clear that MSMR are still searching for their voice as artists. Musically, they rely on the same structure for the duration of the album. Nearly every song begins on a soft note, only to build to choruses with epic, rolling percussion and percolating bass lines. The songs really don't differentiate enough from one to the next, making the record's sound come across as one big song instead of 12 unique chapters.  That's not to say that there aren't some cool elements throughout, such as the harp and handclap interplay of "Salty Sweet" or the delicate piano weaving through "Twenty Seven" but ultimately, the uniform structure of Secondhand Rapture works to its detriment.
MS MR are undoubtedly off to a promising start. Based around some strong singles, a handful of massive pop hooks and vocals with Florence Welch heroics, Secondhand Rapture will surely garner the group some well-deserved attention. Unfortunately, it won't be until the next couple of LPs when listeners will find out if MS MR lives up to the promise of becoming the dark and atmospheric pop rock juggernaut they seem to aspire to be.
Similar Albums:


Florence and the Machine – Ceremonials


Lana Del Rey – Born To Die


Churches – Recover EP