White Reaper : White Reaper Does It Again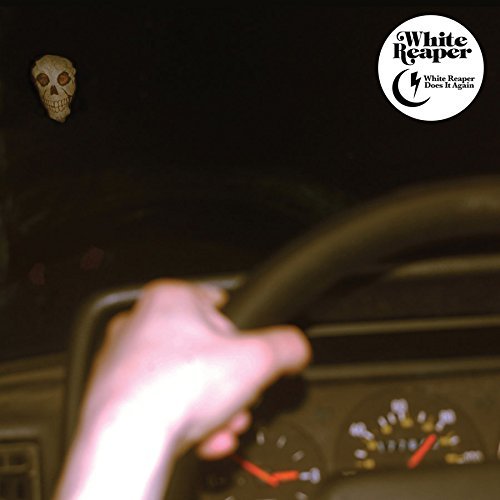 Three minutes might be the perfect length for a pop song—it's not too short, and it's not too long. For Louisville garage punk foursome White Reaper, it's more than enough time to plug in, turn up, and blast out a fun slice of fuzz. And debut album White Reaper Does It Again does this 12 times in a row, with an average length of three minutes apiece. The record breezes by, but these scorching melodies linger.
The title White Reaper Does It Again suggests that White Reaper has done something like this before. In fact, the band's 2014 self-titled EP was an auspicious beginning, with its radiant hooks and wavy rhythms that sacrificed nothing in sonic flash. Between the two Polyvinyl releases, White Reaper added keyboardist Ryan Hater; his instrument provides a perky uniqueness that most raucous punk bands don't possess these days. The keyboard lifts the senses, and the guitar solos bleed out fast; the jarring solo in "Wolf Trap Hotel" lasts about eight seconds. The keyboard is reminiscent of Grandaddy circa "A.M. 180."
High in the mix over the first seven tracks is a tambourine, but then it's nowhere to be heard during the last five songs. Drummer NickWilkerson either played with the tambourine attached to his hi-hat, and then played with it unattached, or maybe someone played the tambourine by itself. It's not a huge concern, but a concern nonetheless. Regardless, White Reaper is having a great time as engineer Kevin Ratterman caught the band in their glory. This is punk 'n' roll with a bright layer of glitter on top. Fun, powerful, and meant to be enjoyed with a bag of Cheetos.
White Reaper Does It Again says it all in its apt title. If we're lucky, they'll never stop doing it. And if you need it explained, the "it" that they're talking about is blowing you and your speakers away, in three minutes or less. Crank it up.
Similar Albums:


Ty Segall – Manipulator


White Fence – To the Recently Found Innocent


Thee Oh Sees – Floating Coffin