The New Pornographers : Brill Bruisers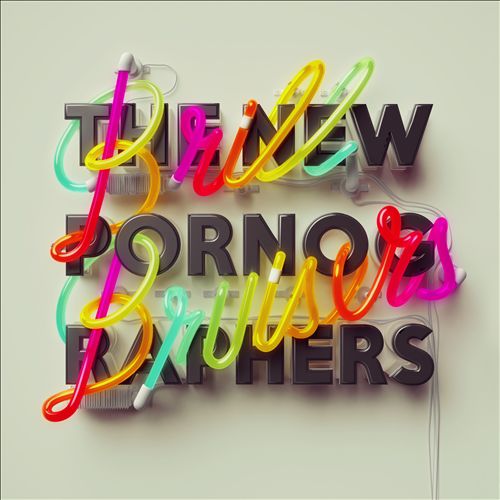 New Pornographers frontman A.C. Newman said before the release of the band's sixth album, Brill Bruisers, that he  "feel[s] more confident about this record than [he's] ever felt about anything before." He's also called it a "celebration record," and has explained how he's got nothing in his life dragging him down and that his art reflects this. The thing is that all of the albums AC Newman's indie supergroup have released are pretty much fantastic, from Mass Romantic to Challengers, on up to the similarly solid Together. But there's a palpable sense of something extra this time around, considering how alive and glittery Brill Bruisers is. Even the tracks guided by the more meditative and poetic Dan Bejar — also of Destroyer — leap from the speaker at a jackrabbit pace. It's just a shame that summer is almost over — this album, much like the Pornos' best, is custom fit for a beachgoing blowout.
Focusing on one or two tracks as synecdochial examples of what Brill Bruisers is, is too weak. The only way to capture it is as a whole piece of art like a Seurat painting. You have to consume it as a continuous experience to really digest it. Not that there aren't plenty of standouts to take in along the way. Casting aside my ability to be really objective (spoiler alert: big fan), I'll be as clear as mud about my admiration for this fine album. I love Neko Case, and it's undeniably sweet to listen to Brill Bruisers and catch Case's voice in the mix, even just as part of the scenery. Then again, it's hard to improve upon a song like "Champions of Red Wine," where she takes the lead. And then, oh look, she actually does one better on "Wide Eyes," singing, "And if you see no hope for me / I still see hope for you / in the hi-rise of the morning / the exception that proves the rule." It's just too good.
And then there's Dan Bejar. I appreciate and admire that fine man, and have for some time. But it's still thrilling after all these years to hear him doing something so uniquely not Destroyer. In "War On the East Coast," he kicks the crap out of an indie pop song. He growls against a backdrop of towering choruses that are so unlike his typical M.O., and the result is ultimately satisfying in the same way a comic actor often is in a dramatic role. In "Born With a Sound," Bejar casts his purring voice against Amber Webber's, and the resulting vocal layers are delicious, like a cake that looks just too perfect to eat.
Talking about the New Pornographers' latest album, Brill Bruisers — after a nearly flawless record that stretches from 2000's Mass Romantic to 2010's Together — is almost impossible to do without resorting to fangirl hyperbole. It's such a complete, whole thing unto itself, and so eloquently executed that the only way to maintain some kind of objectivity is to cast skepticism on perfectly crafted pop music. This is the sort of album that a critic or reviewer longs to get their hands on but at the same time, feels freakishly frightened of. It's not easy to discuss an album that hits the spot just right while still maintaining a sort of stoic distance and a fair amount of critical credibility, so take this with a grain of salt if you need to. Just don't deprive yourself of the experience.
Similar Albums:


Spoon – They Want My Soul


Jenny Lewis – The Voyager


Okkervil River – The Silver Gymnasium