The New Pornographers : Continue As a Guest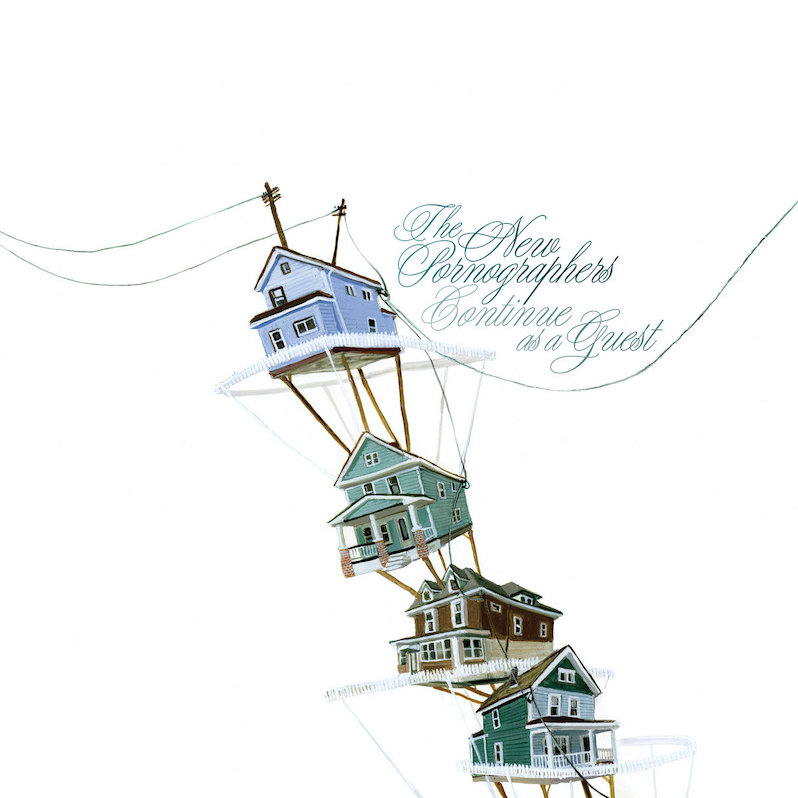 The internet has been with us for so very long now that there's a plethora of words and phrases, originating online, that have wormed their way into our real-life, everyday speech. The phrase "continue as a guest" (from the question commonly encountered on websites offering some kind of service: "would you like to login, or continue as a guest?") is not one of them. But that's what makes it such a compelling name for an album; while no one would bat an eyelid at the real-life use of "unfriend," "stream," or even "lol," the idea of "continuing as a guest" lingers just over the horizon of acceptability. Saying it out loud feels a little jarring—a bit robotic, and a bit insincere. Which is, of course, the entire point. The internet's gradual pushback against the frontiers of reality is not something The New Pornographers are best impressed with, and Continue as a Guest is an album that focuses on the increasingly blurred lines between the world inside our screens and the world outside of it.
The point is most forcefully made on the single "Pontius Pilates' Home Movies," an absurdist, blackly comic satire that laments and ridicules the distorting effect of the internet on people's ability to engage with reality as anything more than a vague slew of content to be dispassionately swallowed. "Fall through the kaleidoscope of your mentions / You're buried in daydream, you think it's an entrance," sings A.C. Newman, a stark warning to those who would assign too much meaning to the spats they get into on Twitter. Elsewhere, the song "Bottle Episodes" employs just the right level of ambiguity to leave us wondering whether the television is something we're watching, or, in fact, living inside.
The theme is so prevalent throughout the record that it's hard not to read even seemingly innocuous lyrics as being a dark indictment of the digital world. "Meet me in the mirror maze / Tell me when you find your way out," from the album's closer, "Wish Automatic Suite," is one such example. Is it, perhaps, telling us that, for all social media's promise of connectivity, we're really just hammering away at the algorithms—building up the walls of our own echo chamber—until, despite feeling like we're part of a community, we are in fact staring back at nothing more than the lifeless reflections of ourselves? That's this writer's less-than-jolly conclusion, though the encouraging thing about the New Pornographers' lyrics is that they operate on a level beyond rational interpretation, capable of skimming the brain and heading straight for the pit of your gut. "My heart's just like a feather; really, really light," we're told on "Really, Really, Light," and we seem to understand just how joyful this is, despite the words themselves meaning almost nothing at all. 
Musically, Continue as a Guest continues the kind of slow- to mid-tempo songs, plodding along cozily but emphatically, that have typified their last couple of releases. It's a setup that has diminishing returns; with anything as direct or as full-bodied as a distinctive riff being fairly scant, the songs that fare best are the ones whose whole character and atmosphere provide a clear separation between themselves and the other tunes alongside them. The suave, bass-driven "Pontius Pilate's Home Movies," or the mystical "Marie and the Undersea" do this very well, while a few others have a harder time standing out. That being said, the inclusion of session saxophonist Zach Djanikian on the album ensures each song has at least something fresh and fun going for it, from the sax's mesmerizing drone on "Cat and Mouse With the Light" to its coolly sinister refrain throughout the title track. So, the internet might be a numbing void that rots the soul—but it also allows for the transmission of Djanikian's, fantastic, jazzy musicianship straight into your ears. Which means it can't really be that bad.
---
Label: Merge
Year: 2023
---
Similar Albums: