10 Essential '80s Industrial Tracks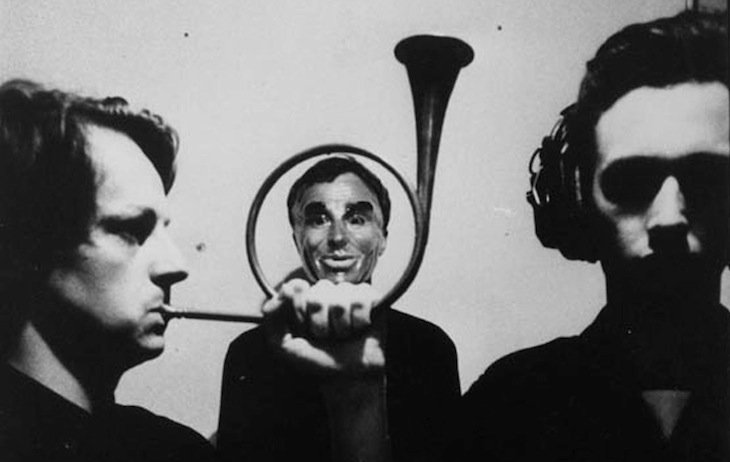 Industrial music only makes sense during the darkest, coldest, eeriest times of the year. That doesn't mean you can't listen to it at any other time—in fact, if you need to cast a heavy shadow over your immediate surroundings, spinning some Nurse With Wound or Throbbing Gristle will do just that. But now that it's fall, the abrasive pulse of industrial beckons us, in particular the experimental golden age of the 1980s. That's when the genre evolved from Throbbing Gristles performance-art noise ("Industrial music for industrial people") toward something resembling pop music—dark, abrasive, fucked up pop music. Yet most of industrial's most notable bands were all very different from one another. Einsturzende Neubauten made metal shop into a machine choir. Ministry evolved from a kind of new romantic darkwave toward the punishing industrial metal we know today. And Cabaret Voltaire—well, depending on what month you were listening, they could have been up to something entirely different. A few years ago, we ran a list of the 10 most essential industrial albums, but that's not exactly what we're up to here. This is a window into the vast and varied creative explosions during the genre's most important decade. Check out our list of 10 Essential '80s industrial tracks.
---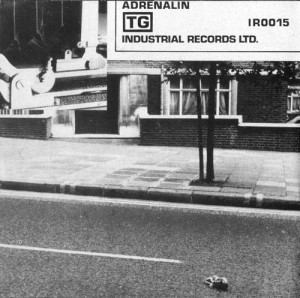 Throbbing Gristle – "Adrenalin"
(1980; Industrial)
One of the most accessible tracks by one of music's—not just industrial's—most inaccessible, disturbing bands, "Adrenalin" could pass for a darker-than-average Depeche Mode outtake. It's really goddamn danceable, and the refrain of "Paper-thin adrenaline," oddly talk-sung by vocalist/multi-instrumentalist Genesis P-Orridge, makes for a decent hook. Lest you forget who you're listening to, the proto-house pulse and jaunty synth lines are frequently offset by flashes of machinelike noise that at times sounds like muffled, distorted screams, which sound more in line with the band's regular output. If you're intrigued, by all means dive further into Throbbing Gristle's discography. But if you come upon "Slug Bait," listen to it and then wish desperately that you could un-hear it, don't say I didn't warn you. I can't overstate this. – LG
---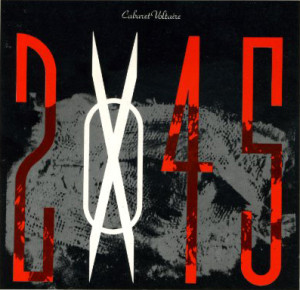 Cabaret Voltaire – "Breathe Deep"
from 2×45 (1982; Rough Trade)
Sheffield's Cabaret Voltaire changed styles from release to release, thus making their form of industrial a highly versatile and changeable one. It took shape in the late '70s as a mangled minimal synth buzz with "Nag Nag Nag," and later morphed into dancefloor EBM with "Sensoria." In between, however, the group's experimental tendencies took them to a fascinating, almost no wave aesthetic on 1982's 2×45—named as such because the album comprised two 45 RPM records. Its leadoff track, "Breathe Deep," is a noisy and seething orgy of dancepunk shrieks and growls. It's funkier than most of the band's other tracks, but still retains the sinister atmosphere that made Cabaret Voltaire one of the industrial era's most innovative and compelling bands. It's fun, yet eerie, as all great industrial should be. – JT
---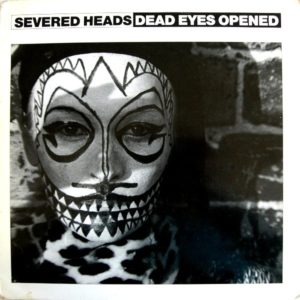 Severed Heads – "Dead Eyes Opened"
(1984; Ink)
Australian synth-industrial outfit Severed Heads covered a lot of ground early on in their career, from noisy minimal synth a la Cabaret Voltaire to more abstract treatments in the vein of Nurse With Wound. Yet 1983's "Dead Eyes Opened" remains their greatest moment, if for no other reason than that it's their most immediate. No doubt inspired by industrial progenitors Throbbing Gristle, Severed Heads took that group's two greatest songs—"Hamburger Lady" and "Hot on the Heels of Love"—and mashed up their central concepts, namely grotesque narrative and gorgeously minimal synth-disco. As a fluttering array of synths creates a mesmerizing hook atop a pulsing beat, a man narrates a story of a lightning storm reanimating a severed head. It's wondrously macabre, and with a fiendish noise solo just to cap the whole sinister affair. – JT
---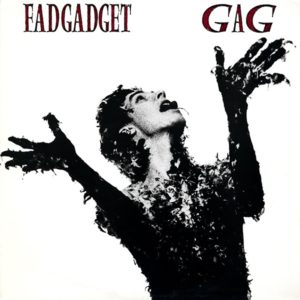 Fad Gadget – "Collapsing New People"
from Gag (1984; Mute)
In and of itself, Frank Tovey's Fad Gadget wasn't exclusively an industrial band, though early tracks like the darkly humorous social commentary of "Lady Shave" certainly danced along the borderline between industrial and new wave. "Collapsing New People," however, can pretty safely be called an industrial track (even proto-EBM) for one important reason: The track prominently featured the instrumental and percussive talents of German experimentalists Einsturzende Neubauten. In fact, that band's name translates to "Collapsing new buildings," hence the title reference. Fascinatingly, though its personnel comprises an avant garde house band, it's among Fad Gadget's catchiest songs, its clanging glass-bottle percussion and buzzsaw synths adding up to a harmonic convergence that's best heard on the dance floor—collapsing, concrete-sealed or otherwise. – JT
---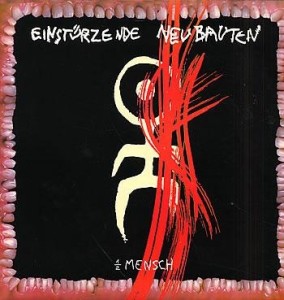 Einsturzende Neubauten – "Halber Mensch"
from Halber Mensch (1986; Some Bizzare)
Some (including me, for a long time) simply perceive Einsturzende Neubauten as That Other Band Blixa Bargeld Was In aside from the Bad Seeds. In truth, they're one of the seminal industrial bands, as important as Ministry, Cabaret Voltaire and Throbbing Gristle. "Halber Mensch" ("half-man" in German), the opening track of the album that shares its name, is not a typical example of the band's post-punk-derived, chaotically percussive racket. It's nothing but the band's chanting voices and some ambient noise. What it does do, however, is stretch the boundaries of what industrial could do with less predictable means of noisemaking, evoking the relentless menace of the genre through whispers every bit as effective as screams. – LG
---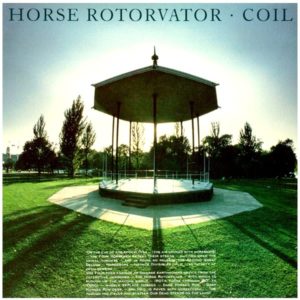 Coil – "The Anal Staircase"
from Horse Rotorvator (1986; Force & Form)
Taken as a whole, Coil's 1986 album Horse Rotorvator is, to borrow a phrase from Nosferatu, a "symphony of horror." But broken up into its individual tracks, it's—if you can believe it—even more harrowing. Leadoff track "The Anal Staircase" is relatively accessible compared to the unsettling laughter of "Circles of Mania" or the atonal horror flick shrieks of "Blood from the Air," but this is all relative. It is, after all, a pounding industrial number called "The Anal Staircase," the imagery of which creates its own horror. It's catchy in its own way, like Depeche Mode gone evil, but Jhon Balance's manic delivery, coupled with metallic percussive clinks and disembodied voices, turns it into a breathtaking piece of macabre party music. Watch your step. – JT
---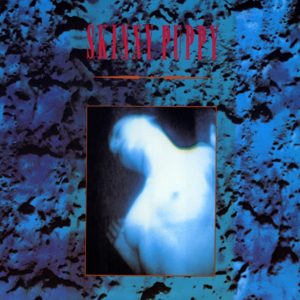 Skinny Puppy – "Dig It"
from Mind: The Perpetual Intercourse (1986; Nettwerk)
The Canadian industrialists finally ventured into singles territory with this track from deep inside their third LP. It widened the audience for Cevin Key's kitchen-sink arrangements of aggressive electronics and frightening samples, as well as Nivek Ogre's all-encompassing lyrics of despair, his death-metal vocabulary seemingly raging against multiple worldly ills simultaneously. If the song's video and the refrain "Execute economic slave" are in any way meaningful, we're probably listening to a screed against the corporate state. Everything about this cut is high-frequency, drenched in treble: the clattering percussion, the wheedling synths above the chorus, even the processing on Ogre's vocals. Teetering on both accessibility and danceability, "Dig It" is as close to a dog whistle as music can get. – AB
---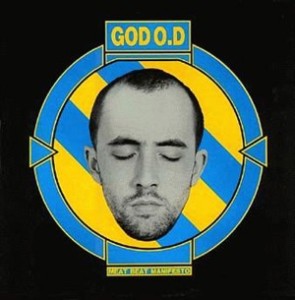 Meat Beat Manifesto – "God O.D."
(1988; Wax Trax!)
Throbbing Gristle may have named their classic 1979 album 20 Jazz Funk Greats, but if there's any act who can lay claim to actually including those titular genres in their brand of industrial, it's this crew out of Swindon, England. Even more distinctive is that after work like "God O.D." got released on labels on Wax Trax! and Sweat Box, MBM's "industrial" label turned out to be a pigeonhole and misnomer, with later albums more obviously embracing house and dub. Even so, this cut playfully twisted industrial music's foundations: brutal yet squirrelly beats that sounded like they were played live in the studio, leftfield sampledelica that included looped trumpet, and yelled vocals that turned down the distortion and turned up the rap. – AB
---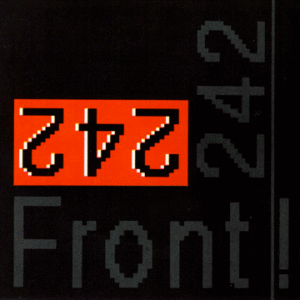 Front 242 – "Headhunter v3.0"
from Front by Front (1988; Wax Trax!)
This is the cleaned-up, hefty album version from the Belgian group's third album, Front by Front, but its long remix history helped set up "Headhunter" as Front 242's biggest hit and one of the genre's greatest anthems. With its relentless rhythm, instrumental bursts (of staccato keyboard, of synthesized bass strings, of triggered guitar), and growled melody, "Headhunter" is pretty much the epicenter of electronic body music, industrial music's offshoot targeted for the dance floor. There's not much bang-on-a-can experimentation or found sound going on here, so the song's rebellious nature comes from its lyrical theme, positioning the daily grind as a sanitized version of Surviving the Game—contract as weapon, office as hunting ground, workers as prey and trophies. – AB
---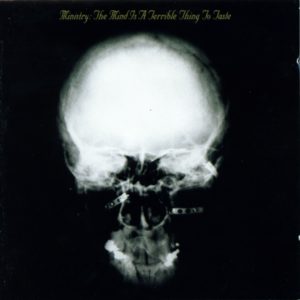 Ministry – "Thieves"
from The Mind Is a Terrible Thing to Taste (1989; Sire)
This opening track of Ministry's cult classic fourth album The Mind Is a Terrible Thing to Taste was a true gateway drug to listeners of both industrial at large and the band in particular during the 1990s. Al Jourgensen's rebel yell against political chicanery ("Which side are they? Which side are they? Which side of their mouth do you suppose?") was propelled by rock sounds made mammoth by technology. His and Paul Barker's guitars were processed to the speed of lit strings of firecrackers, while Bill Rieflin's drums hit eardrums like gun hammers hit bullets. Drills became riffs; dialogue from The War at Home and Full Metal Jacket became part of the Greek chorus. Here was the popular tipping point for when industrial dance became industrial metal. You can't do a gothy, jackbooted version of the white man's shuffle to this song, but you can sure as shit mosh to it. Psalm 69 would appear three years later, and if you were lucky enough to know "Thieves" then you were prepared. – AB
---
Support our Site—Subscribe to Our Patreon: Become one of our monthly patrons and help support an independent media resource while gaining access to exclusive content, shirts, playlists, mixtapes and more.