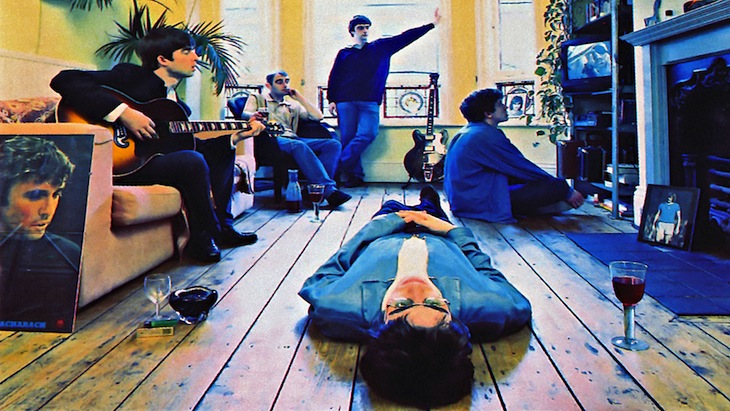 In the summer of 1994 I was out of high school, about to go into college and for work I washed dishes at a restaurant on the Connecticut shoreline. I got paid every Friday and if I was lucky and finished early enough, I'd make it to the Savings Bank of New London branch before they closed at 5 p.m. If I made it there on time and could cash my check, I'd always go straight to the Mystic Disc — a small record shop in Mystic, Connecticut, where pictures of Jimi Hendrix and posters making fun of Ronald Reagan hung on the wall. On most Fridays, you could find Rich Freitas working there.
Rich drummed and played guitar in local bands and helped organize local concerts, but he also worked at Mystic Disc, which in addition to being a great record store, was like an information depot for the kids like me who loved music. You went to Mystic Disc to get the local news about whose band was playing the next all-ages show and to track down the bands you heard on the radio.
Also, the Disc is where you went to get your international news. The shop sold copies of Melody Maker and the New Musical Express, which they hung in plastic sheaths on the wall which in my mind served to rarefy them. Rolling Stone and Spin were just on the racks at the drugstore, like any other magazine about fishing or cars. Not these, though. They made the wall.
That summer, it seemed every week in the NME and the Melody Maker carried nothing but news about Oasis. It wasn't long before the record store started stocking the import singles — "Columbia" and "Supersonic" — and Rich played them for me. I thought they were great; I had been a fan of what used to be called "college rock" for years, and this seemed in line with that, but more upbeat and optimistic — "We're gonna make it happen," Liam Gallagher promised on "Supersonic."
Much is made in Britain, and to some extent on these shores, of how Oasis and the other Britpop acts were Blighty's roundhouse counterpoint to Yank grunge. And while "Black Hole Sun," and "All Apologies," this was not, I think most American fans who found Oasis early on, saw them as citizens the of the same alt-nation. It wasn't Top 40, and that mattered then.
Later that summer came "Live Forever," which still finishes in the money in any discussion of the band's great singles. On August 29, 1994 the Manchester boys put out their brash and effervescent debut, Definitely Maybe, and about a month later Rich sold me my CD copy, which I still have, and everyone within earshot of my dorm room speakers that fall up in New Hampshire got to hear it in heavy rotation, as it competed with Phish, Blues Traveler and Wu-Tang Clan.
Now 20 years later, Rich, who's as youthful as ever, still works his Friday shift at the Mystic Disc, I'm writing here in New York City, but over the phone we talked Definitely Maybe, for the first time in two decades.
As became the case with Oasis' other albums, which are all over the shop in terms of quality, I don't think I ever stopped listening to Definitely Maybe. Sometimes it gets a full airing, but I mostly hop around, mostly landing these days on the cocaine-bubblegum of "Up in The Sky." I hear it and feel a bit younger, and it takes me back to a time when all it took was just three hours of sleep and a half pint of Gatorade to cure a hangover. Unlike now, when I require a blood transfusion and 15 hours of Orange is the New Black on Netflix.
Maybe it's because we're so programmed in pop culture to become nostalgic for our high school and college years that we instantly expect those records to be the soundtrack to Throwback Thursday pictures. We collectively laugh at the clothes, but marvel at how good the music was then. When I called Rich last Friday, I thought were going to set the controls of the time machine to summer '94, rekindle the old enthusiasm, and as best we could recall our long music conversations in the record store.
But we didn't.
"I actually haven't listened to it in two or three years," Rich said. "I was remodeling my house and moving records around and playing different stuff, but it wasn't like I got transported back to 1994. It's just a good rock record. I didn't feel any nostalgia, unlike Ladies and Gentlemen We Are Floating In Space by Spiritualized. I put that on and I'm right back where I was in '97."
Rich said to me that his feeling on when or not an album is fuel for the time machine is whether the album "has soul to it."
"You can have a great album that's not full of soul," Rich said. "The Oasis record is not full of soul. It's full of attitude and it's full of ambition, but it's not a soulful record, where as the Spiritualized album is incredibly soulful, especially if you understand Jason Pierce's milieu."
We then chatted for a bit about "anniversary reissues," which have now become commonplace. Definitely Maybe got the 3-CD special treatment from Sony in May, which came complete with a bevy of B-sides, outtakes and live versions which I couldn't be asked to spend money on.
"I think the cacophony we have now reissues is all PR," Rich said. "It's understandable, but do we really need a 10th anniversary reissue of Slanted and Enchanted? Tenth? Really?"
By the time my second year in college came around, I actually had two Oasis posters in my dorm room — no women, but hey, two Oasis posters — and devoured the band's 1995 sophomore mega-album (What's the Story) Morning Glory, which is getting deluxe reissued on Sept. 29. And like a lot of people I've tried to like the subsequent Oasis, albums, but they all took up residency where the majority of albums live: a modest house down at the end of A Few Good Songs Avenue
Rich checked out even before Morning Glory came out, when the import of "Some Might Say," arrived at Mystic Disc.
"That was their peak," Rich said. "Oasis seemed like a moment in time. It wasn't that we were sitting on a new Kinks or Stones. I just wanted to enjoy that moment."
After I got off the phone with Rich, I put on Definitely Maybe on the iPod and went for walk in my neighborhood. It's Brooklyn and not the Connecticut shore, but as the guitars on "Rock N Roll Star" drowned out the bus brakes and car horns, I was back again, wishing I could cash a dishwasher's check and buy the album all over again.
You might also like: