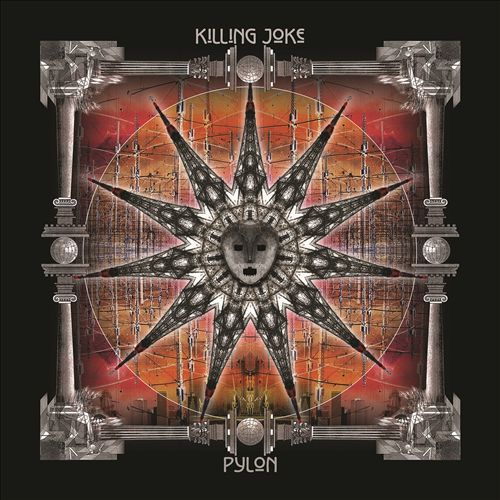 Based on the sound of Killing Joke's last album MMXI, it would be natural to expect its follow-up to be another crunching slab of industrial rock, equally thoughtful and powerful. In some moments Pylon is, but before we get into the whys and hows it's important to take into consideration the evolution this band has undergone since their inception in 1978. They started as a post-punk band not unlike Gang of Four, then progressed in a gradually darker and more aggressive direction. Along the way they added elements that we would now think of as new wave, industrial and even goth. For most of us who grew up in the '80s we were introduced to them through Metallica's cover of "The Wait." The first album I bought by them was 1994's Pandemonium, and then then it hit me: All the Ministry, Godflesh and Tool albums I had been listening to were directly influenced by this band.
One of the band's defining elements is the voice of Jaz Coleman, who maintains a smooth android croon over Youth's bass line frantic basslines. This instantly gives a more organic feel than anything they have put out since the'90s.  The flourishes of futuristic effects are still intact, retaining a cyber punk soundtrack ambiance. While still not fully committed to metal, things get heavier on "Dawn of the Hive." It carries the kind of tribal post-apocalyptic chug that would have made a good soundtrack for the last Mad Max movie. The chorus gives a melodic breather from the hypnotic hammering before they lock into a more militant industrial march.
"New Cold War" is layered with so many darkly reflective sounds that the disco hi-hat sound is what the song needs for its sense of movement, despite its juxtaposition against Coleman's roars. The album continues in an upbeat direction until reaching the weird, taut groove to "New Jerusalem." Jaz spits out his lyrics in a rap-like cadence against Kevin Walker's guitar that finds the line between being metallic while using effects to blend with the futuristic mix. "Big Buzz" continues this trend with another upbeat almost punk-like tempo and lyrical wink to Coleman's mystic interests as he quotes Alastair Crowley's Book of the Law, exclaiming "every man and woman is a star."
There are more metal moments, such as "Delete," and Killing Joke are one of the few bands that can approach this kind of cerebrally heavy sound with such dynamic variance. Coleman also adds harshness to his voice on "I Am the Virus" and closes out the album with a song that is heavy sonically but still not metal. This isn't a surprise, since they have never claimed to be a metal band. Killing Joke has never made the same album twice and they are not breaking the trend here. It's reassuring that, closing in on 40 years, Killing Joke are still challenging themselves and continuing to expand musically.
Similar Albums:


Godflesh – Hymns


Coliseum – Anxiety's Kiss


The Soft Moon – Deeper