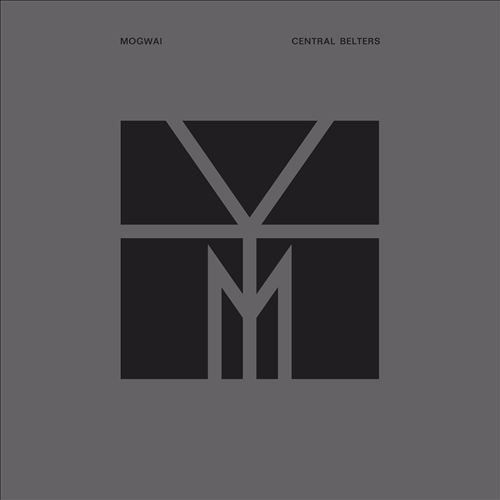 I first heard Mogwai in the early '00s. They had just released their album Rock Action, and my older brother had brought it home from college. I felt like I had discovered a gem. At the time I was going through my progressive rock phase, so I often I fell into the trap of solely being impressed by technical prowess. I remember hearing "Take Me Somewhere Nice" and being struck by its simplicity and beauty. Despite the fact that Mogwai vehemently deny the categorization of post-rock, they have proven themselves to be one of the pioneering bands of the genre, and maybe even the most accessible entry point among the many bands it encompasses.
Mogwai's enormous career retrospective, Central Belters, celebrates the band's 20th anniversary with a collection of hits, fan favorites, B-sides and unreleased tracks. It's a 3-CD/LP set that attempts to cover all bases. The first two discs feature some of Mogwai's better known tracks, such as "Summer," "Auto Rock," "Mogwai Fear Satan," "Christmas Steps" and the aforementioned "Take Me Somewhere Nice," while the final CD/LP presents some lesser known and previously unreleased tracks.
The first two discs of Central Belters do well to show the evolution and refinement of Mogwai's sound and aesthetic. While they never completely stray from their signature sound, their discography is full of surprises. Some songs are lush and beautiful and atmospheric, and some songs are brash and heavily distorted. Some have vocals and lyrics, and some don't. "Summer" is a head-bobbing instrumental song with jarring dynamic shifts from the verse to the chorus. The glockenspiel-driven melodies are cut off by blaring, distorted guitars. While catchy and memorable, it sounds very much like Mogwai in utero. Their sound begins to shape with the very atmospheric "New Paths to Helicon" that lulls you in gently only to make your head rattle and eardrums bleed. The rest of the album is a journey through a variety of musical soundscapes, from the sinister "Christmas Steps" to the cheerful "2 Rights Make 1 Wrong," and from the harshly distorted, flamboyant "Mogwai Fear Satan" to the most recent track included, "Teenage Exorcist," (which sounds almost like some sort of weird lo-fi combo of Snow Patrol and Low). Mogwai runs the sonic gamut, while still maintaining a signature stamp that is heard throughout.
The final third of the collection has a number of interesting but not particularly grabbing songs. "Earth Division" and "Burn Girl Prom Queen" display the same mesmerizing beauty that had been channeled so many times in their discography. But the standout track from the disc of deep cuts is the apocalyptic closer, "My Father My King." which was a standalone release that came out along with Rock Action. The song is based on a melody from the "Avinu Malkeinu," a Jewish prayer song that is recited during various services. Clocking in at 20 minutes, it is the longest song on the album, and an impressive display of Mogwai's handling of dynamic contrast. The entire song is a massive crescendo that starts off with quiet, mystic riffing and climaxes with heavy distortion and screeching guitars. I hadn't heard "My Father My King" before listening to Central Belters, and all I could think while hearing it was how incredibly awesome it would be to see live. Apparently, Mogwai has been closing their shows lately with this gem; prepare to leave with your mind completely obliterated.
Central Belters tells the story of a band that reinvented itself over and over again, but within its own unique musical context. The first two discs are a cohesive celebration of 20 years of art. The final disc, while much less consistent and coherent as a standalone, does well as a compendium of deep cuts and B-sides but doesn't really hold up as a record on its own (which is to be expected for a box set of this size). Overall, 'Central Belters' is an admirable handling of a large and varied discography.
Similar Albums:


Codeine – When I See the Sun


Sonic Youth – The Destroyed Room: B-Sides and Rarities


Godspeed You! Black Emperor – Asunder, Sweet and Other Distress