Shearwater : Jet Plane and Oxbow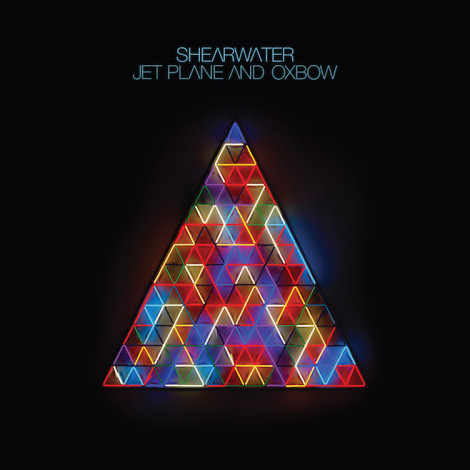 Shearwater has always been passed off as a collective. But ever since the band spun off as a less folky side project of Okkervil River, it has largely served as a vehicle for Jonathan Meiburg's understated, poetic songwriting and his smooth, well-controlled voice. And while the name Shearwater gives a majestic, almost otherworldly presence to the music Meiburg and his rotating cast of collaborators craft, it can also have the opposite effect of alienating listeners who grew attached to the contribution of a performer other than Meiburg. If a fan grows too attached to the airy ambience of Rook or the innovative, propulsive rhythms Thor Harris added to Animal Joy, they are bound to be left wanting when Shearwater's lineup inevitably changes. Because, while it's true many bands frequently change line-ups, Shearwater's alumni have such distinct styles that their presence is bound to be missed.
This ever-shifting sonic target is the biggest obstacle facing Meiburg on Jet Plane and Oxbow, his sixth studio record under the Shearwater moniker (and second with Sub Pop). But, while the record finds him chasing yet another new adaptation of the band's sound, it's via an approach that pushes Meiburg to the foreground and presents him as more of a singer/songwriter than his past discography. To create a more radiating, progressive sound, Meiburg worked with a slew of indie-rock players including Shearwater regulars Howard Draper, Danny Reisch and Lucas Oswald, ex-Cursive drummer Cully Symington, and film composer/percussionist Brian Reitzell, and the results place Jet Plane in a more retro, synth-driven realm than Shearwater has ever found itself before. In fact, one comparison of a track like "Wildlife in America" to David Bowie's "Heroes" is all it takes to clarify the influence composers and digital innovators like Brian Eno had on this particular project. And while that doesn't necessarily earn Meiberg extra points for creativity, he does cash in well on the execution, crafting a powerful beast of a record that does a beautiful job straddling the line between digital and acoustic grooves, not a far throw from what Wye Oak accomplished with their most recent effort, the excellent Shriek.
Jet Plane and Oxbow also abandons Meiburg's previous fixation on animal metaphors, a Neko Case-ian obsession that Shearwater wore well but had driven into the ground by the time 2012's Animal Joy came to an end. This time around, the songwriter's mysterious baritone waxes political in a slightly less obscure light, with an aim of making more overarching (and often political) statements. Over the course of the record, it becomes clear that Meiburg is intent on interweaving his themes delicately throughout its 11-track run, and while that means many of the tracks depend on others on the record to reach full thematic relevance, he does leave room for a few stand-out pieces, namely single "Quiet Americans" and the robust, funky "Filaments," which features Jenn Wasner (of the aforementioned Wye Oak) on background vocals. The latter of those might just be a stand out of the band's expansive career, its gorgeous balance of beefy chords and intricate, subtle stacked rhythms serving as the perfect stage for Meiburg's powerful baritone as he croons, "I'm taking everything back; When I led you down to the lake, it was the thrill of my life."
Jet Plane and Oxbow isn't a sequel to any of the sonic journeys that Shearwater has taken its listeners for on previous releases, but that also means it doesn't make the mistake of becoming a water-downed duplicate. This time around, it's truly Meiburg's show, and his Eno-esque sound experiments are successful and beautiful, even if they are a tad bit derivative. But, truly, no one in the world sounds or writes quite like Meiburg, so it's hard to see a problem with him innovating on his unique style with a tried-and-true tactic. If execution is what matters to you, this is a record for you.
Similar Albums:


Wye Oak – Shriek


Midlake – The Trials of Van Occupanther


Peter Gabriel – So