Kanye West : The Life of Pablo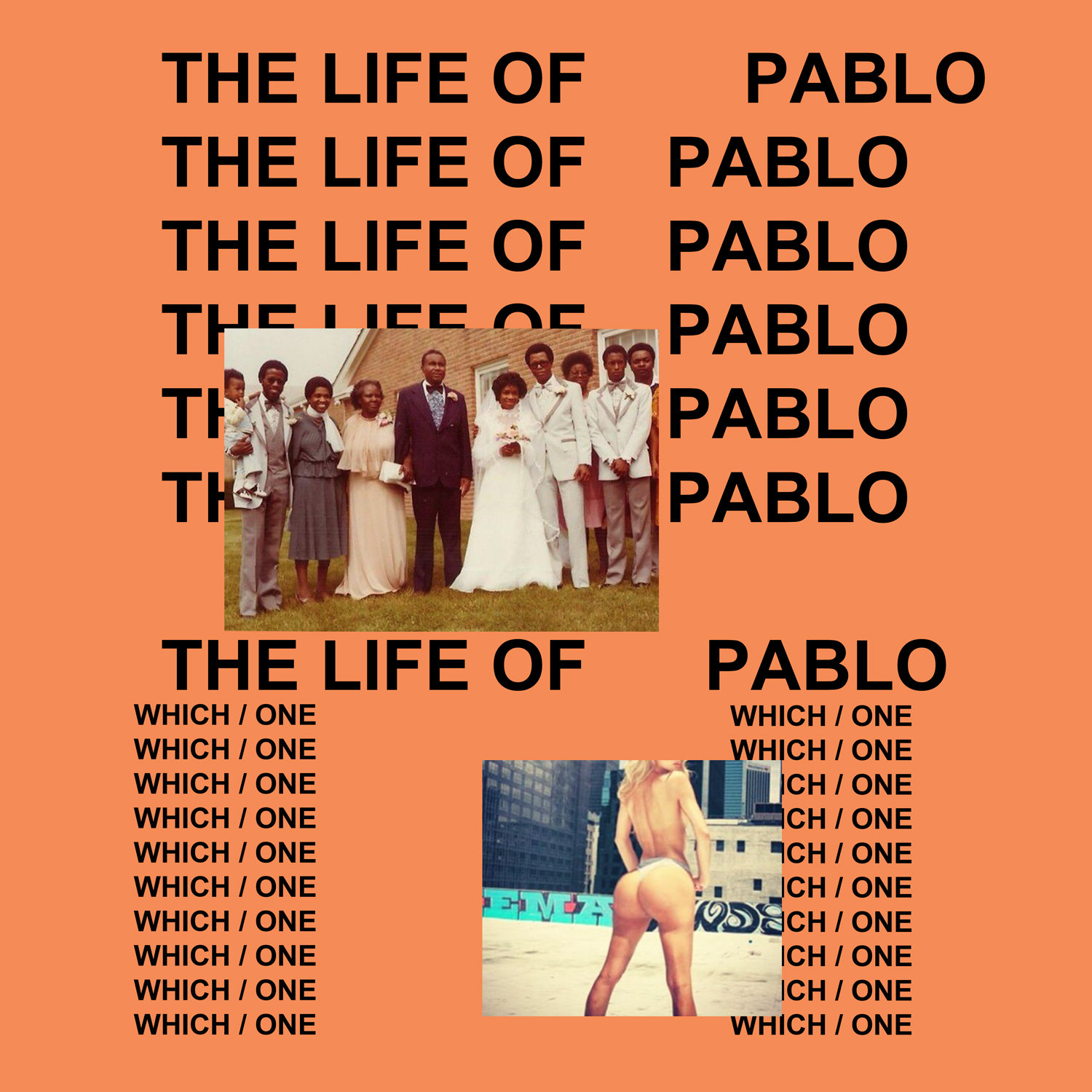 On his seventh studio release, it takes Kanye West a full nine and a half minutes before he does anything that can be fully characterized as rapping. And while some will probably see that as a cocky move, it's possible to view the beautifully suspenseful intro "Ultra Light Beam" and the subsequent "Father Stretch My Hand (Parts 1 & 2)" as intentional mood setting and course-correcting on West's part. His work has always hit its highest mark when he gave his instrumentals room to breathe and The Life of Pablo delivers on that front, with Kanye mostly sticking to short, Auto-tune-heavy phrases at the record's start, giving one of the only prominent rap verses of the records' first ten minutes over to Chance the Rapper. So as opposed to Yeezus, which showed West perhaps too eager to get his mind on tape, TLOP showcases patience that is more than rewarded when Kanye's bars finally start to drop on "Famous."
I entered The Life of Pablo with a critical mind. It's no secret that the majority of Treble's staff weren't quite on the same Yeezus praise-train as the rest of the music-critic majority, mostly due to the presence on more than a few tracks of sloppy, self-indulgent lyricism that didn't have many other redeeming qualities. While that record's more political moments (especially "New Slaves") were spot on, there was definitely an important side to Kanye missing. While West has always been more technically skilled in the production department than in his raps, he always made up for it with an unmatchable sense of wit and self-awareness. On Yeezus' worst verses, he had completely lost touch with both.
On TLOP, West is still a boaster by nature and continues a largely freestyle approach to many of his tracks, but he balances that evolving style with a better sense of timing, a stronger focus on musical innovation, and a few of his best songs to date. Only about half of the songs here are truly hip-hop, with the rest of the record tipping the genre-mashing on the other side of the fusion scale. But when West does rap, he's intent to put some real thought into his words, and when he doesn't, he's focused on providing an experience for the audience more than a pedestal for himself. Take "I Love Kanye," for instance. On Yeezus, this 44 second poem—a tongue-in cheek jest at both himself and his audience—would have been four minutes longer and featured a difficult-to-stomach intro by Bon Iver's Justin Vernon. But on TLOP, Kanye hits the stride he first reached on My Beautiful Dark Twisted Fantasy, working with an all-star team of old pros and new blood to execute twisted, pop-rap experiments that are as satisfactory to the audience as they are to Yeez's sense of artistry.
At its core, TLOP is focused on that artistry and how it matures with age and parenthood. As the title suggests, Kanye is at least mildly infatuated with the characters of Pablo Picasso and Pablo Escobar on this record, as well as their respective experiences with fatherhood. But the title is also a bit of a red herring. Whereas many of West's previous record titles indicated strong, overarching themes, the Pablos are more of a loose connector in this case, a thin string running through 18 nuanced tracks that are ultimately focused on providing a challenging yet enjoyable ride for the listener.
The elephant in the room with any recent release by West is, of course, his tendency to tease and alter track listings, beats, lyrics and even album titles down to the last minute. And while part of me would have liked to see a repeat of the brevity found on Yeezus (one of my only praises of that particular LP), I find myself ultimately satisfied with the final cut. The final length of one hour is, after all, briefer than MBDTF's and each previous iteration of the tracklist would have cut out at least one track that I find to be absolutely essential. I personally found "Father Stretch My Hand" (both sections), closer "Fade" and the long-awaited "Waves" to be unnecessary at best. (The latter is largely due to a natural human tendency to hate Chris Brown.) But the interlude moments on TLOP largely serve to better the record in the same way that skits did on West's earlier work. And the remainder of the tracks are absolutely stunning, with "Feedback," "Highlights," "FML," "Real Friends," "30 Hours," "No More Parties in LA" and "Facts" all standing out as high marks in West's prolific career.
TLOP is not a perfect hip-hop record, but it doesn't really seem as if it's intended to be either. Rather, it's the work of an established game-changer in the industry re-aligning with his own particular strengths. When West really decides to drop bars on TLOP, they are some of his best to date But, in other moments, he seems satisfied to let newcomers like Chance or Ty Dolla $ign take the spotlight as he further evolves his unique production style. And while TLOP can sometimes lack the cohesive build or epic scope of his West's memorable work, one gets the sense that he's comfortable with passing on that torch to someone like Kendrick Lamar while moving on to his next phase of artistry. All in all, TLOP is a case of self-indulgence and ego-tripping that pays off well this time around.
Similar Albums:


Donnie Trumpet and the Social Experiment – Surf


Kanye West – My Beautiful Dark Twisted Fantasy


Pusha T – Darkest Before Dawn