Wild Nothing : Life of Pause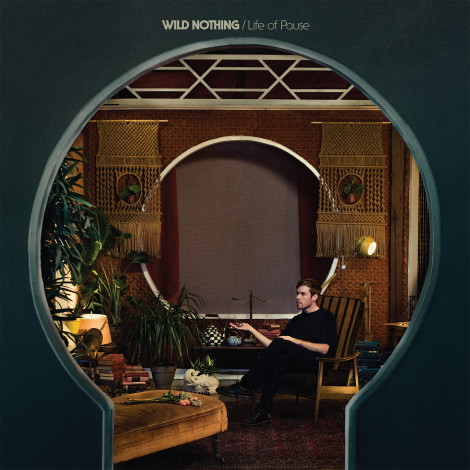 Wild Nothing has given "cool" a whole new meaning. Whether it be the sleek standout "Shadow" from 2012's Nocturne, or the intriguing "A Dancing Shell" from 2013's Empty Estate, Wild Nothing's Jack Tatum has a knack for the allure of hazy, just slightly disorienting guitar-driven pop. Naturally, his latest Life of Pause is no exception—if anything, it puts him and his music on a whole new level.
Throughout Life of Pause, shimmery melodies arise from a seemingly calm pool, but as the tracks progress, so does the intensity. Jack Tatum has found his niche: pulling listeners farther and farther down the pop rabbit hole, and it's a subterranean cubby you won't want to leave. "Alien" possibly contains the answer to the daze Wild Nothing puts listeners in, as Tatum sings, "You make me feel like an alien." This is not the only case in which Tatum has an out-of-body experience: On the drum laden "TV Queen," he coos, "I got so lost trying to know you/trying to touch you." When consuming the glory that is Life of Pause, it's easy to feel like you've been transported to another planet.
Wild Nothing has always had a knack for quality dream pop. Melancholic synths accompany sleepy guitar lines, painting an effervescent image worthy of wrapping oneself in. On Life of Pause, the tracks have been upped on their dream factor—opener "Reichpop" lures you in with a melatonin infused hook inspired by the minimalist composer its title references, apt for cooling down any gathering you want to fully melt into. Tatum skillfully reminds us that he can provide an upbeat track, too. "To Know You" waxes a new-age version of Simple Minds or Talk Talk.
It seems Tatum has even become more harmonically experimental with his latest set of songs. "Adore" opens with a dissonant piano line reminiscent of Bartok, intermingling with haunting, raw acoustic guitar. Towards the end, we hear an echo of "ha ha ha" that reads like a moment from the "Friday the 13th" theme. The track is a sort of game of gotcha—at first, confusing within its complexity, but quickly settling back into our blanket of pop-comfort.
Life of Pause fuses together various corners of the plentiful palette of pop—silky riffs, slick drums, and alluring vocals. Tatum has proved to be a connoisseur of his craft, combining perseverant harmonies and bold synths, all the while maintaining a layer of distinct cool on everything he creates. Considering this is Wild Nothing's first release in three years, the wait—or pause—was definitely worth it.
Similar Albums:


The Radio Dept. – Clinging to a Scheme


Beach House – Depression Cherry


Twin Shadow – Eclipse