Bent Shapes : Wolves of Want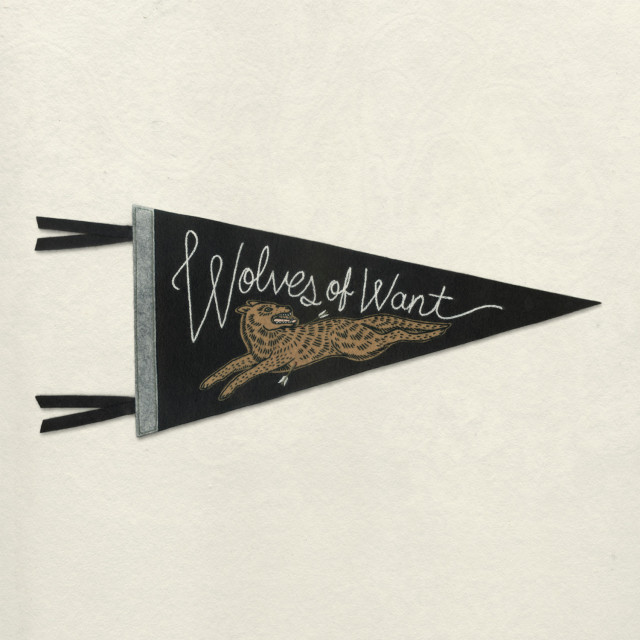 Massachusetts four-piece Bent Shapes' latest release, Wolves of Want, exhibits the sort of taut angularity and pointed melodicism that immediately brings to mind the torchbearers of early and mid-aughts rock revival. But while those curators of cool, mostly centered in Brooklyn, managed to direct the general public's attention away from the hordes of objectively bad bands dominating rock radio at the turn of the century, one can't definitively say that any one in particular was delivering a clear, broad, contemporary message with their music. Images and appearances dominated the times: Think of the Strokes, quintessential hipsters, with their Converses and denim jackets; Interpol and their penchant for dark, bespoke menswear; or Karen O's entrancing stage get-ups. Their lyrical content was oftentimes insular and general, either focused on relational struggles or the dread and disenchantment associated with living in New York after 9/11 (Paul Banks and Matt Berninger easily take the cake for most cryptic scribes of the bunch). That's why Bent Shapes stand out so much on their sophomore effort, which seamlessly combines those proto- and post-punk sounds with an acute attention to hooks and pop songwriting. This type of music, for whatever the reason, enters and then recedes from the spotlight so often, but in Bent Shapes' employ, they use it to make a statement—and quite a few of them at that.
The latest iteration of the band, which has always revolved around guitarist/vocalist Ben Potrykus and drummer Andy Sadoway, sounds as unified and solid as ever, with Jenny Mudarri and Luke Brandfon entering the fold for the Elio DeLuca-produced follow-up to 2013's Feels Weird. Put to tape with a 16-track recorder, the Titus Andronicus contributor seems to have inspired the band to air their grievances with even more passion this go 'round. With a little jangle still, the guitars sound as much a communicator of bold remarks as the hyper-literate Potrykus, lending extra bite to his strings of social commentary. Album opener "New Starts In Old Dominion," a direct descendant of Boston's legendary college rock underground (Pixies, Throwing Muses, et al.), kicks off with a spunky rhythm guitar before all members chime in, Potrykus singing, "You've got a crippling debt, reason to be upset/And the right to believe order is just around the corner," peppered with Mudarri's harmonies. The guitars build in the song's final section with the accompaniment of grand piano, horns and group repetition of the title phrase, providing an energetic launchpad for the album.
From there, the momentum only continues to build, each subsequent musical figure and one-liner as compelling, if not more so, than the last. The wonderful thing about the group's observations, though, is that, despite their sting, they're never forceful or offensive. That is due in part to the self-reflective nature of the material, as Potrykus approaches the issues of his generation cathartically, finding release by making sense of his own experiences and relating them in the interest of his peers. There's a self-deprecating charm that plays a commensurate role in the equation, too, like on "Realization Hits." As he describes the pitfalls of complicity among a generation led to "monetize the things we love," he takes a jab at himself, claiming that being "all guts, no glory keeps me from being self-congratulatory," and "failing's never been this fun."
There are times when the bookishness seems overwrought, like on "USA vs POR," when a verbose character comes to the front of the song's mix, seemingly to speak to a girl at the bar. "Darlin', you know we live in spectacular times," he says. "Oh, I know the connotation, but while diversion is the language of anti-ideology, those of the spectacle pave the way for subjugation through banalization," he continues. One can almost picture the highbrow from Good Will Hunting delivering the matter-of-fact monologue before receiving his serving of apples. Elsewhere, though, their quips and wordplay flow effortlessly. "What We Do Is Public" over-caffeinates some Is This It riffage as Potrykus expresses concern for the real-life relationships we neglect due to the ceaseless sharing of moments as content via social media: "No one's proximity means less these days than who is near your heart/Plus being close to people never got you very far/It's nothing special, it's nothing personal/All in all you're just another pic on my wall," he sings casually during the chorus.
Given current trends in popular music—and even in the grey areas where popular and underground collide—it's difficult to hypothesize how big of an audience an album like Wolves of Want will reach and what kind of effect it will have on them. There's no doubt in my mind that if Bent Shapes had been part of the pack 10 or 15 years ago, they would have shared generously in the spoils of a shifting culture. Who's to say now, though? Reflecting too much on Bent Shapes' lineage, however, denies them their present due. Our culture has shifted again, and Bent Shapes probably realize this more than most bands—so much so that each and every song is a pointed display of precisely what's gone wrong. Informed and self-aware, they seem absolutely in tune with the day and age, stricken enough by its anxieties to know what to say yet productive enough to actually speak out about them.
Similar Albums:


La Sera – Music for Listening to Music To


Quilt – Plaza


The Modern Lovers – The Modern Lovers