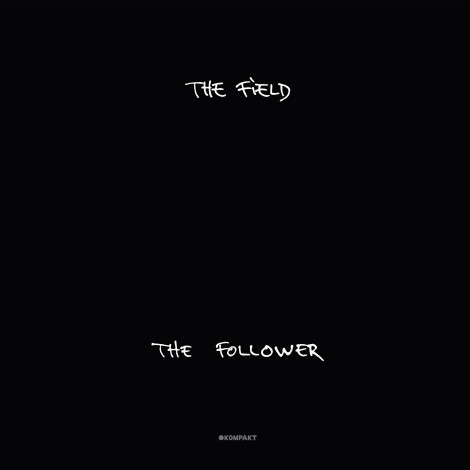 Over the course of ten years and five LPs, Axel Willner, aka The Field, has established a singular sound in electronic music. On The Follower the Swedish producer recalibrates his finely crafted loops, finding new methods to entrance listeners. These six tracks are transformed by the sorcery of repetition, invoking some wizardly spell through small and subtle movements. By applying snippets of shadowy samples the album achieves a minimal intricacy, a sort of techno hypnotism. Managing a fine balance between monotony and compulsion, The Follower explores a vast plateau of dance-averse melodies.
The title track leads with house beat determinism, sounding occasionally like the unmoving skip of a CD. It is perhaps the only weak entry in this hour-long endeavor, while "Pink Sun" is a dizzied and blissful composition, radiating with a percussive lisp. "Monte Verita" rises in a glorious plume of exhalations, and it's hard to resist nodding measuredly through the eroded rhythms of "Soft Streams." These songs are not brief—the average runs about 10 minutes or longer, just enough time to induce mesmerization.
The final two tracks comprise nearly a half-hour, bottling the syrupy sap from hushed synthesizers. "Raise The Dead" is particularly unadorned, embalmed and gaseous, the kind of music that zombies might dance to, in the after-hours graveyard. Album closer "Reflecting Lights" proceeds with Krautrock intonations, a cruise-control theme for some moonlit Autobahn. We seem to glide under a scale of street-lights, directionless and yet driven, propelled at a methodical and unwavering pace.
The Field is an artist that rewards patience, eschewing epicness he generates delightfully unhurried compositions. But to call this music simplistic would be gravely misinformed. By harnessing the power of loops, the producer works toward the transcendental, executing a series of modular incantations. The half-dozen parts of The Follower aspire to a higher consciousness, it is quite literally a looping state of mind, where the composite mechanics work together in a flawlessly gauged system.
Similar Albums:


Andy Stott – Luxury Problems


Four Tet – Morning/Evening


James Holden – The Inheritors