Pop Life: None of this is happening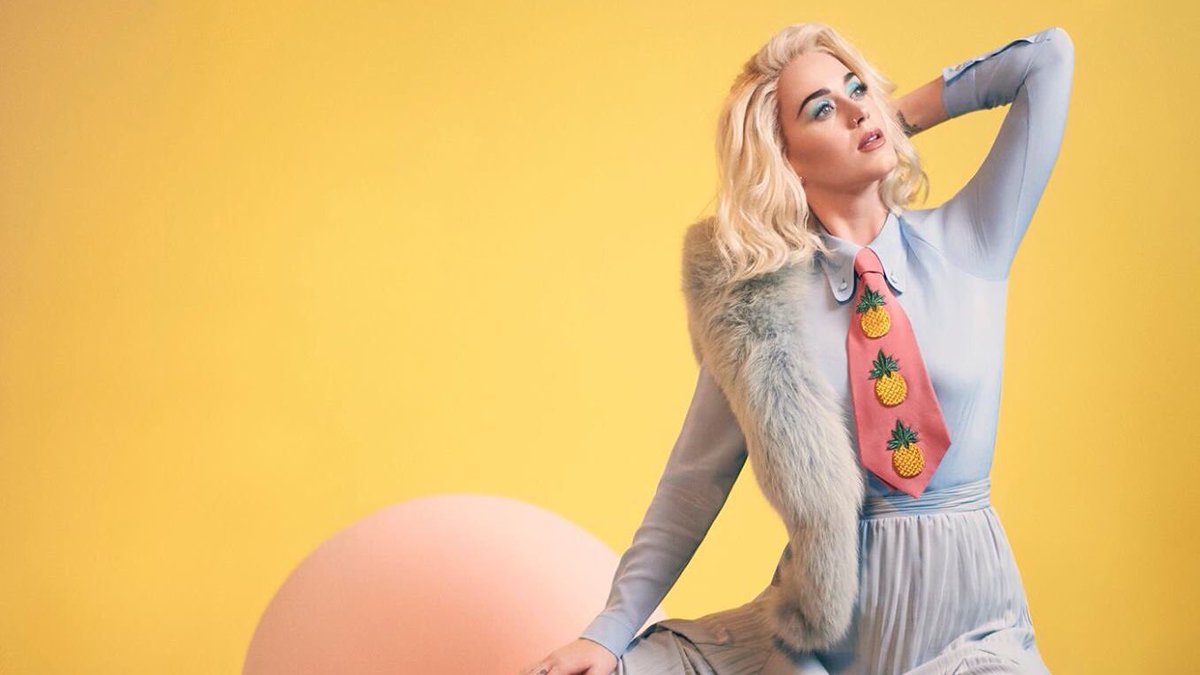 A new Katy Perry song came out earlier this month; "Chained To The Rhythm." It's pretty good. It might be the best straightforward pop tune she's made since the insane run of singles from Teenage Dream. (Only one of those hits doesn't hold up: "California Gurls," because that shit has always sucked.)
But when I really thought about it, searching for signposts of the ways great pop—be it pure fun trash or masterpiece singles like "1 Thing" or "Toxic" or "Stay or "Run Away With Me"—is supposed to move you, I felt absolutely nothing. And not because the song is hollow, or didn't have them—it works on every level a big ol' pop hit is supposed to. It's just incredibly difficult for me, of late, to latch onto art that isn't truly urgent. Not much of that has come out in any genre this year, pop or otherwise. This is a completely subjective feeling, of course, but it's one I can't shake.
We exist in a moment of ubiquitous desperation. Those with hatred or distaste for the administration wait in horrified anticipation or saddened exhaustion for its next move. Those who applaud its abhorrent acts, or find themselves capable of swallowing them, wait with rapture shot through with strains of rage (or, in the case of the swallowers, a sort of nihilistic pragmatism) to see how the president will shock the world next, or how he will enrich them and their friends, or at least stimulate economic growth by "running the country like a CEO." Quite a few just want to see him publicly mock the establishment that's fucked them and disenfranchise the people of color or different origin who seem like the only safe targets for their impotent, inchoate, ungovernable rage.
I find myself uncertain, regarding my ability to process art, and sometimes much of life, on a daily basis.
Last year, I put out an installment of this column called "What to the Protester is the Pop Song?" It had specific time-sensitive relevance then, to be sure, but American society a year ago—which sure as shit wasn't in a great spot—seems almost quaint now. (And I'm well aware that thinking this is a result of my gender/racial privilege: For many people in this country, the new presidential administration merely magnifies, or more accurately drags into the mainstream so they cannot be ignored, problems that have existed for decades or centuries before now.)
There have been quite a few albums released at the tail end of last year or so far this year that I've really enjoyed. But few of them feel immediate and necessary. I've had exceptions to this rule, none of them "pop" per se but certainly not obscure, and two are notably popular: Nine Inch Nails' Not the Actual Events, Migos' Culture and the xx's I See You. These are the albums I feel most equipped to talk about. I have no thoughts about a new Ed Sheeran single, sorry to say.
I See You has great beauty in its arrangements and hooks, and sultry, catchier-than-ever melodies. It operates within a scope greater than any previous work by the London hush-pop trio. And alongside the anthems of lust and longing like "Say Something Loving" and "I Dare You" that are the xx's stock-in-trade, there is the heartstopper "Brave For You," a cloud-float of Romy Croft's arpeggiated guitar and tender vocal buttressed by Jamie xx's organ riffs and pitched-down drums, which can be interpreted as an LBGTQ anthem (Croft recently became engaged to her girlfriend, designer Hannah Marshall) or a general statement of resolve in the face of fear.
Culture—currently No. 1 on the Billboard 200 (there! I justified it being in the pop column!)—is a different kind of vital. Quavo, Offset and Takeoff are in defiance of the Trump administration, and its belief that a silent majority buttresses its isolationist/white nationalist platform, by sheer virtue of their success. Migos' tales of gleeful hedonism, sex and drug-related violence, which could easily be hashtag-problematic, are so frequently offset (pun not intended) by absurdity and difficult to be offended by: Think of Quavo claiming to stir crack in the Pyrex with a gun barrel on the hook of No. 2 Billboard hit "Bad and Boujee;" or Gucci Mane musing, "I'm a murderer, n***a, but don't promote violence" on his "Slippery" guest verse. And when it matters, the group drops all humor, as on the grim crime story "T-Shirt" (easily the album's best beat, by Nard & B), and "What The Price," in which Migos question major American institutions from church to the law and find them all wanting. Songs like future shake-joint anthem "All Ass" and goofy sex jam "Kelly Price" are there to ensure things don't become a slog.
Thus far, the only piece of music to sound like a direct response to Trump is Not The Actual Events, the first five tracks of new Nine Inch Nails material since 2013. Trent Reznor hinted in an interview with Zane Lowe that politics at least partially inspired the EP, but also it's such a 180 from the grown-man meditations of 2013's Hesitation Marks that only some kind of rage could've motivated it. Since he's still sober, happily married and just had his fourth child, I extrapolated.
This is the most abrasive NIN music since Year Zero. Most of the vocals are clean, but little else on Not The Actual Events is. "Branches/Bones" ends in an ear-splittingly distorted guitar progression and anguished scream (by a man who's doing this at 51!) before cutting off into the deadpan synth-driven despair of "Dear World." The transition is as jarring as the music. Two tracks, "She's Gone Away" and "Burning Bright (Field On Fire)" are dirge-paced, layered with screeching riffs and atonal static. Reznor's lyrics are clipped and cryptic, phrases reaching out like predatory vines in a haunted forest: "Try to keep the flies away/The makeup hides the bruise" from "Bones" and "Everything is getting unfamiliar now/Trajectory and decline" from "Dear World," come to mind.
Then there's Reznor's madman laugh from "She's Gone Away," which hasn't left my head since I first heard it and belongs in a David Lynch film. And his repeated insistence, on the refrain to "The Idea Of Me," that "NONE OF THIS, IS HAPPENING." I have felt as if that scream is, in the internet parlance of our times, "me AF," and wished that the latter line was true.
None of this is happening. None of this is happening. Except it fucking is, and right now, I'm not sure if enough of our music and art will be up to the task of sounding necessary.