Shadow of the Horns: Late '90s metal was the worst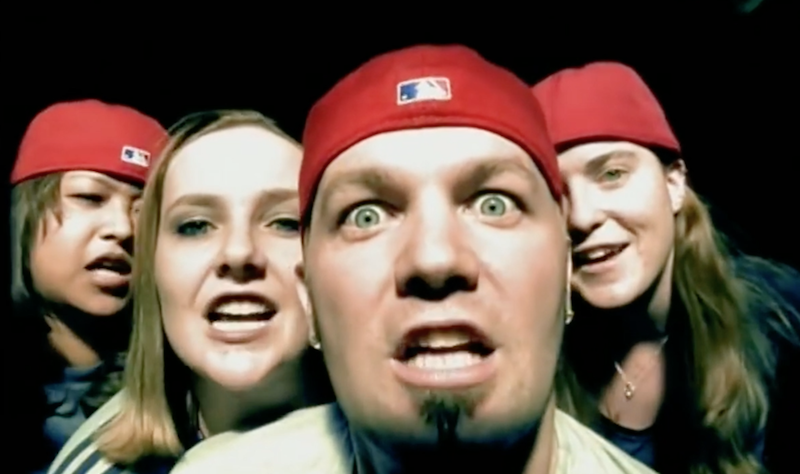 Last month, nu-metal outfit Sevendust announced they'd be playing a series of special tour dates for the 20th anniversary of their 1997 debut album. That's not all that out of the ordinary; bands playing front-to-back album shows is pretty common right now, especially when it's tied to a notable anniversary. Yet I find myself scratching my head at the idea of nü-metal nostalgia. As a genre, nü-metal dated itself from the get-go, with crude, testosterone- and Monster Energy Drink-fueled tantrums that managed to bridge the gap between alternative and metal while souring an entire generation of listeners on heavy music simultaneously. In fact, Deftones' Chino Moreno—a member of a band who got a pretty good boost out of nü-metal's initial surge of popularity—won't even tour with Korn because he wants nothing to do with the genre. So it's not just me; some of those who were actually part of it, at first, are perfectly content to keep their distance.
It's important to survey metal's landscape during the era that bands like Sevendust and Korn rose to prominence. The late '90s, on the whole, was a particularly dismal time for metal. Don't get me wrong, there were a fair share of important bands making solid to great records, including Opeth, Death, Harvey Milk and Emperor, as well as some promising early material from Converge and Botch. And by 1999, the tide had begun to turn, with the release of The Dillinger Escape Plan's outstanding debut album Calculating Infinity, Cave In's Until Your Heart Stops, Agalloch's Pale Folklore and Botch's We Are the Romans, the latter being one of the best metal/hardcore albums released during the entire decade. These, however, aren't the whole picture of the late '90s; in fact, as much as these are the albums we might retroactively choose to represent the landscape of the '90s, they were the outliers.
Let's take a look at some of the metal records that also turn 20 this year. Limp Bizkit's debut album Three Dollar Bill, Y'all$, an album that arguably features a handful of moments of innovative instrumentation but also features, much to its detriment, Fred Durst (who in all seriousness uses the word "biatch"). Motley Crue's weird stab at industrial metal, Generation Swine, also turns 20 this year. Sugar Ray's Floored, maybe their last actual "metal" album, turns 20 this summer, though it's best known for the suburban-reggae jam "Fly," which was a gateway drug to Spring Break frat party success for the band. Judas Priest released Jugulator, a mostly forgotten groove-metal album sans Rob Halford; Powerman 5000, featuring Rob Zombie's li'l brother, made their debut; and Metallica, a year removed from their freshly-shorn alternative-friendly Load, doubled down on their newfound direction in bloated post-grunge with Re-Load, an album that justifies very little of its 76 minutes. (Seventy-six fucking minutes!)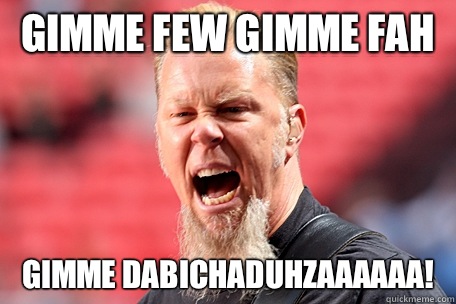 One could argue that 1997 was an anomaly, and that's certainly an optimistic lens through which to view it. But 1998 wasn't much to write home about either. In spite of being the release year of one of the greatest death metal albums of all time—Gorguts' Obscura—it also saw the release of Vanilla Ice's ill-advised nü-metal album Hard to Swallow, Godsmack's self-titled debut album, Korn's Follow the Leader and Iron Maiden's regrettably forgettable Dickinson-free Virtual XI, not to mention some of the least celebrated albums in the Slayer, Anthrax and Motörhead catalogs. Oh, and more past-their-prime Metallica in the form of Garage Inc., which is a covers album (I still cringe at the thought of James Hetfield singing Thin Lizzy). In a way, that's almost the greater sin. There will always be shitty bands, but when the most celebrated artists in the genre are coming up empty, it's hard to see that particular year as anything but problematic.
There's not much point in repeating myself in going over 1999; a lot of the same god-awful bands and trends are still represented, with the notable addition of Methods of Mayhem, a project that should embarrass any and all people involved (particularly Mix Master Mike and George Clinton) but probably justifies its existence via publishing royalties from strip clubs. And I'd like to point that 1999 was also the year that riots and arson broke out at Woodstock, whose ubiquitous images of garbage fires seemed to encapsulate not just the total clusterfuck of a festival that was, but the general landscape of popular heavy music in the '90s.
There are still plenty of really awful metal bands these days, but all of the bands I've mentioned were insanely popular in the '90s. They were on MTV—during the daytime. They headlined arenas. They played the Family Values tour, or even OzzFest. The late '90s produced some of the most cringe-inducingly bad, creatively bankrupt acts in metal, and it was astonishingly marketable. In hindsight, the angry-white-male-ness of the era probably should have signaled that Bush was going to be elected; the election of Trump might also account for a resurgence of nü-metal (though Papa Roach and Slipknot, at least, are not down with this nation's executive orange goblin—good for them).
It's amazing how much things turned around in 2000. Bruce Dickinson rejoined Iron Maiden, and they subsequently released their best album in more than a decade. Deftones distanced themselves more from nü-metal with the atmospheric White Pony. Isis and High on Fire made auspicious debuts, Electric Wizard released a damn masterpiece, and the cult of Weakling was born. I'd say it's almost like we were able to forget that the '90s' end was a near-total disaster for heavy music. But then again Linkin Park happened in 2000, as well, so they can't all be victories. And I recognize that there will be lousy metalcore bands, post-grunge wheezing and gimmicky acts like Butcher Babies for the foreseeable future. Still, we've made a lot of progress since Tommy Lee's rapey nü-metal one-hit wonder. We've come so far—let's not revel in the anniversary of metal's worst years.
The best metal tracks of the month
Ensnared – "Gale of Maskim"
"Swedish death metal" evokes a certain sound—a certain seal of quality. It conjures up faded cassette covers of Gothenburg scene vets—the melodic surge of At the Gates, the buzzsaw riffs of Entombed. Ensnared doesn't necessarily show any interest in carrying on that legacy, however. They're a much harsher, chaotic sort of death metal band. You couldn't easily slap "'n roll" after their form of death. It's too dizzying and torturous, swapping back and forth between blast-beat riff squalls and power-chord punch, with one hell of a guitar solo to break it all up. Yet while this doesn't necessarily evoke old-school death metal from Ensnared's home country, there is something charmingly old-school about it, recalling the likes of Possessed or Morbid Angel at their most evil. So while this isn't the kind of misanthropic fun that pairs with PBR so obviously, it should warm the blackened hearts of listeners who like their death metal as ugly and unpolished as possible.
[from
Dysangelium
, out May 12;
Dark Descent
]
Cavernlight – "Lay Your Woes Upon the Ground and Know That the End Will Soon Swallow You"
Wisconsin's Cavernlight know a little something about crafting a painful sound. Their noisy, murky doom metal shrieks and roars with a menacing darkness, each bowel-rumbling open chord reverberating ominously, with each note landing slowly and carefully for maximum anguish. Yet to focus too much on their knack for slo-mo abrasion would be a mistake. "Lay Your Woes" (a track whose title is absurdly long to the point that it's practically a Weakling title) is powerful and intense and sort of overwhelming, but it's also melodic and breathtaking in its own way. It features some guest vocals from R. of fellow Gilead band False (who are also great!), and the complete package is a lot to take in one sitting, even if it's only seven minutes long. There is a lot more where this came from, however, so I suggest we all steel ourselves for their slow-moving, horrific onslaught.
[from
As We Cup Our Hands and Drink from the Stream of Our Ache
, out June 16;
Gilead
]
Ex Eye – "Opposition/Perihelion; The Coil"
Ex Eye is a newly announced band whose personnel will probably drive the kvlter-than-thou purists crazy but excite the hell out of particularly progressive-minded listeners. Ex Eye is an experimental, progressive black metal band featuring drummer Greg Fox of Liturgy and minimalist saxophonist Colin Stetson. If that's a turn-off, then I'm really sorry you can't see past arbitrary genre-boundary bullshit because this is amazing. Almost like a black metal equivalent to Justin Broadrick's collaboration with John Zorn in GOD, Ex Eye fuses free-jazz spiritualism with black metal intensity, and fuses it all together with an extended, sprawling compositional approach that lends it an overall massive feel. The songwriting has depth and emotion, but it's difficult to encapsulate in any one simple way. Is it heavy? Absolutely. But beyond that trying to squeeze it into any one category is futile. This is wild stuff.
[from
Ex Eye
, out June 23;
Relapse
]
Tombs – "Cold"
Brooklyn's Tombs have been on a gradual ascent since releasing Path of Totality in 2011, earning the coveted Decibel Album of the Year only to outdo themselves three years later with the spectacular Savage Gold (which paired with the band's own coffee!) and its equally impressive follow-up EP, All Empires Fall. They've since made what's not too far from the metal equivalent of going major label, making the move from Relapse to Metal Blade, where they're releasing new album The Grand Annihilation. "Cold" is one of a couple tracks they've released in the past few weeks, somewhere between the explosive bursts of black metal they sometimes indulge in or the slower, Swans-inspired gothic dirges that break up some of their more intense material. "Cold" is more of a gallop, a gothic doom-metal descent that sounds more in line with Tribulation's recent foray into post-punk-laden heavy metal anthems. It's a slightly more nuanced approach for the band, as much as can be said of a song that deals so heavily in ominous harmonies, vocal growls ("Tear away the veil!!") and a wash of virulent darkness. It's not the heaviest or the most accessible song in the band's catalog, but it's a transition toward something interesting and new. Tombs are always headed somewhere, and by all indications where they're going is as hellishly exciting as ever.
[from
The Grand Annihilation
, out June 15;
Metal Blade
]
Elder – "The Falling Veil"
Metal's already been blessed with its share of standout releases in the first four months of 2017, Power Trip and Pallbearer chief among them, which sets a high bar for the next seven or eight. But in the short term, there's no heavy album I'm more excited about than Elder's Reflections of a Floating World. The band's 2015 album Lore is a goddamn masterpiece, the most epic psychedelic/stoner rock record in recent years, and a quite gorgeous record in its greatest moments (which is most of them). I've actually had the pleasure of hearing Reflections already, and it's a hell of a record. "The Falling Veil" is one of its most strongest tracks, having just premiered on Stereogum, and it's a strong showcase for the Portland band's intricate instrumentation and complex songcraft. At just over 11 minutes, it blends a hazy, hypnotic dreamy quality with too-badass-for-this-planet riffing, doing justice to their heroes in Sabbath and Zeppelin, all the while maintaining an accessible melodic quality that keeps every instrumental diversion not just interesting, but downright thrilling. Once the band takes off, they just keep on speeding in one direction, never repeating anything too much to lose its flavor, but keeping everything structurally intact. They're not a jam band; as much as it seems like the group is engaging in improvisational explorations, there's a tightness and linear quality that reminds listeners that Elder isn't just a great group of musicians, they can write some damn amazing songs as well. One of my biggest regrets as the resident metal guy is not hearing Lore early enough for it to make my Top 10 Metal Albums of 2015 list. I'm making damn sure that's not going to happen again.
Reflections of a Floating World
, out June 2;
Stickman
/
Armageddon
]
Piece by piece
The best metal albums of the month:
Crypt Rot's Embryonic Devils: Metal can be unapologetically, delightfully campy when it wants to be, and while Crypt Rot are certainly harsh, heavy and menacing in their best moments, they're also the kind of band that can appreciate some good tongue-in-cheek fun. Embryonic Devils is pretty short, but it offers a fine introduction to this band of old-school death metalers, whose knack for brutal riffs with a side of melody, served horror-style, are the kind of death metal band that risk not being taken that seriously, but more than make up for it with their chops. (Southern Lord)
Full of Hell's Trumpeting Ecstasy: It seems reductive in a way to simply call Full of Hell's latest a grindcore record. It is that, but it's also a hardcore record, a noise record, plus some sludge, some other experimental stuff—it covers a breathtaking spectrum on the whole, and even includes some gorgeous vocals from Nicole Dollanganger. It stretches the limits of what grindcore can be, yet does so in no more than 23 minutes. It's a feat that seems practically superhuman. (Profound Lore)
Oranssi Pazuzu's Farmakologinen: A new EP that comprises material that's actually from fairly early in their career, this four-song set from Finland's most adventurous metal band of the moment is nonetheless a highly welcome set of psychedelic metal that makes a fine add-on to their catalog (particularly since a good chunk of their catalog has been hard to find in the U.S. until now). Yet, all the same, it's new to these ears and these ears are stoked. (20 Buck Spin)
Valborg's Enstrand: I've written about this album a few times already, so I'll keep it brief. But Germany's Valborg find an impressive mixture of post-punk, doom, death metal and thrash that all kind of swirls together in one menacing gothic chug. While I'll definitely be ready for some summer riffs, I'll be keeping this one around when I need a quick fix of darkness.
***
Dead Cross—the metal and hardcore supergroup featuring Mike Patton, Dave Lombardo, Justin Pearson of The Locust and Mike Crain of Retox—have announced their debut album (finally!). While I didn't get around to including their new track "Grave Slave," it's a ripper (and kinda noisecore!).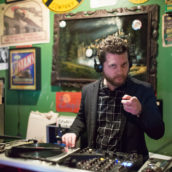 Jeff Terich
Jeff Terich is the founder and editor of Treble. He's been writing about music for 20 years and has been published at American Songwriter, Bandcamp Daily, Reverb, Spin, Stereogum, uDiscoverMusic, VinylMePlease and some others that he's forgetting right now. He's still not tired of it.