Queens of the Stone Age reveal full details of new album Villains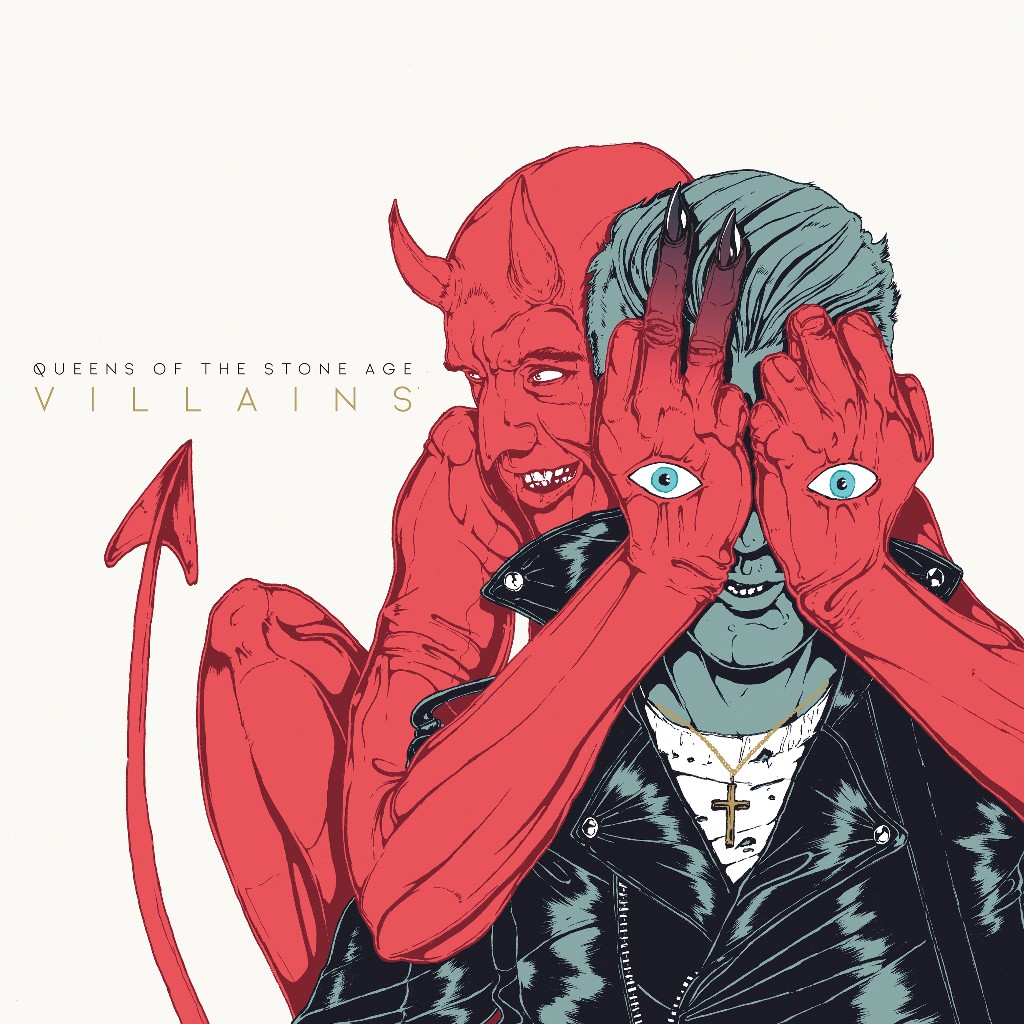 Yesterday, Queens of the Stone Age revealed that their new album was titled Villains, via a hilarious teaser video. And today, they've unveiled the full details of the album. It's being released August 25 via Matador, and it was produced by Mark Ronson. That's the album's artwork above.
The first single is titled "The Way You Used to Do," and you can hear it below, as well as see the tracklist and the band's upcoming tour dates.
Villains follows 2013′s …Like Clockwork.
Queens of the Stone Age Villains tracklist:
1. Feet Don't Fail Me
2. The Way You Used To Do
3. Domesticated Animals
4. Fortress
5. Head Like A Haunted House
6. Un-Reborn Again
7. Hideaway
8. The Evil Has Landed
9. Villains Of Circumstance
Queens of the Stone Age tour dates:
6/22 — Rapids Theater — Niagara Falls, NY
6/24 — Amnesia Rockfest 2017 — Montebello, QC
8/10 – Majestic Ventura Theater – Ventura, CA
8/12 – Outside Lands – San Francisco, CA
9/6 – Capitol Theatre – Port Chester, NY
9/7 – Festival Pier – Philadelphia, PA
9/9 – Budweiser Stage – Toronto, ON
9/10–20 Monroe Live – Grand Rapids, MI
9/12 – Express Live! Outdoor Pavilion – Columbus, OH
9/13 – Stage AE (Outdoors) – Pittsburgh, PA
9/15 – Agora Theater – Cleveland, OH
9/16 – Riot Fest – Chicago, IL
10/9 – The Complex – Salt Lake City, UT
10/10 – Red Rocks – Morrison, CO
10/12 – Peabody – St. Louis, MO
10/13 – Crossroads KC – Kansas City, MO
10/14 – Roy Wilkins Auditorium – Saint Paul, MN
10/15 – Eagles Ballroom – Milwaukee, WI
10/17 – Fox Theatre – Detroit, MI
10/18 – Old National Centre – Murat Theatre – Indianapolis, IN
10/20 – TBC – Washington, DC
10/21 – Agganis Arena – Boston, MA
10/22 – State Theatre – Portland, ME
10/24 – Madison Square Garden – New York, NY