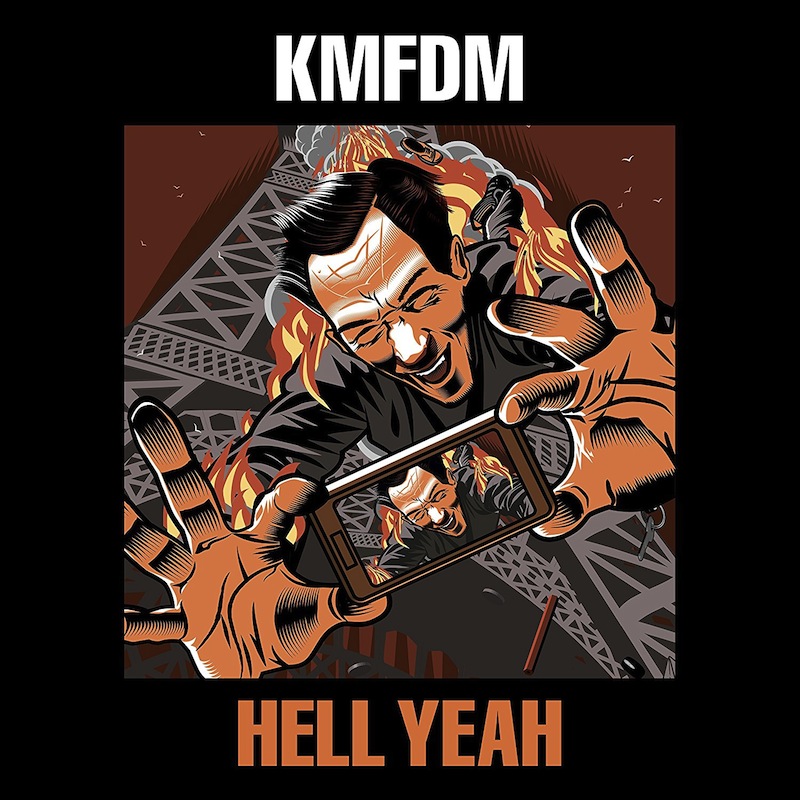 Industrial music's relationship with the Billboard charts and the general public has been complicated and fractious. Nine Inch Nails became the representative face of its artful angst. Jagged, clanging synth-pop was wedged into the mainstream through Depeche Mode and other New Wave veterans. Marilyn Manson, and to a lesser extent Ministry, played up its carny metal madness. And yet somehow industrial music's largest and most productive subset—the electronic body music (EBM) that's driven goths, rivetheads, steampunks and other scenesters to foggy club nights for decades—can't catch a mainstream break. Can justice be served with KMFDM's 20th studio album, Hell Yeah? I don't know, but I do care, and you should too.
KMFDM have worn the same "industrial metal" label applied to acts like Ministry and fellow Germans Rammstein, but they've embraced electronics, sampling, and found sound tighter for longer; they're regularly considered a foundational EBM act alongside Front Line Assembly, Front 242 and Nitzer Ebb. After noise-art beginnings in the 1980s, KMFDM honed rock chops and dancefloor stomping imbued with sociopolitical skepticism and a whiff of sexual musk. KMFDM's critical peak was 1990's Naïve, an acknowledged masterpiece album of the form, and their best-known single "Juke Joint Jezebel" came five years later. In between, however, was a downward-grading plateau with minimal footholds of exposure. After 1995, even occasional MTV or soundtrack placements had all but disappeared.
Lead songwriter/arranger Sascha Konietzko has soldiered on with rotating KMFDM lineups across two continents and two more decades, as likely to put together listless, joyless yelling (Adios, Blitz) as to approach prior metallic manifestos (Tohuvabohu, Hau Ruck). The unspoken enemy working against KMFDM and really all of EBM since their heyday has been the genre's sonic sanitization. Most of their signature keyboards and triggered guitars sound similar nowadays. Nobody clears TV and movie samples the way they used to; all of these artists seem equally angry about a roster of public ills spinning in stasis, lazy Susan-style. Beyond auteurs like Einsturzende Neubauten and the brazen powernoise subgenre the fear is gone, so the thrill and novelty are largely gone too.
But there is an unspoken enemy of the unspoken enemy: recontextualization, or at worst appropriation. That is to say, you've probably danced to these sounds elsewhere without realizing it. It could be argued that EBM's sonics found an outlet in the 1990s' big beat movement: Check the aggressively growling moments of The Chemical Brothers and The Prodigy's catalogs, and recall signature singles like The Crystal Method's "Keep Hope Alive" and Fluke's "Absurd." Truth be told, it was also hinted at by the danciest diversions of dream pop and baggy Madchester just before it, and by digitized alt-rockers like Garbage and Linkin Park after it. With Hell Yeah it seems that KMFDM have at last hit a sweet spot in EBM's long-revised paradigm.
Konietzko's work since the mid-1990s has had a whirling dervish quality that suggests a lack of direction instead of universal anger and frustration. Maybe En Esch, his imposing figure of a musical partner who departed the group for good in 1999, was a greater artistic foil than anyone realized. Maybe it took this long for a KMFDM lineup to gel. Big names and no-names in industrial have made great music during this span, and I've praised KMFDM albums here and there along the way. But Hell Yeah is a tight, focused, smart release in the same manner that Naïve was and no KMFDM LP has really been since.
Lucia Cifarelli, Konietzko's wife and frequent vocalist for the post-Esch incarnations of the band, seems here to finally dispel Esch's shadow from hanging over them. Like most EBM songwriting KMFDM's has always been a little hammy and/or cheesy, but it rarely felt like Cifarelli balanced that with legitimate menace or other emotional heft. On Hell Yeah she crushes her responsibilities, from mad stream-of-consciousness rebel yells on "Rx for the Damned" to cooing through "Freak Flag" that should be remixed for gay clubs for the next year or two. Her goth march through "Only Lovers" is as believable as goth marches can get, and if you still carry a torch for the long-lost band Curve you'll have the midtempo groove of "Shock" on repeat.
KMFDM also succeed in part by being so old as to have the opportunity to sound new again. "Rip the System v2.0" hearkens back to a cut from their 1989 UAIOE album, transforming its "Black man/White man/Yellow man" mantra into the chorus for a more substantial anti-racism rap. Tracks such as "Rx for the Damned" and "Oppression" scratch Konietzko's funk and dub reggae itches, respectively, while "Glam Glitz Guts & Gore" reminds old fans and informs new ones that the band knowingly critiques celebrity from a position of, well, celebrity. And it's been a long time since KMFDM's attempts at anthems have been so necessary, let alone triumphant. With huge political shifts like Donald Trump's America and Europe's Brexit-fueled introversion fresh on their minds, "Fake News" becomes a novelty hit-in-the-making while "Total State Machine" is a blaring statement for marches and mosh pits: "Your government hates you/Hate your government."
Hell Yeah is a wonder, emphasizing the band's roots while showing them able to keep up in a modern milieu. There are no distractions in the form of noisy interludes, spoken-word aimlessness or even the long tradition of an in-joke KMFDM theme song. The arrangements feel spot-on and nothing in the tracklist, be it groove or come-on or primal scream, seems out of place. Look, I admit I'm an oldhead, and It may seem foolishly anachronistic to give this music such high praise. If EBM hasn't cracked the charts by now has its moment passed, or didn't it deserve one? That's a perfectly reasonable question with an answer I don't have. All I know is that I want to drive through walls when this is on in my car. In a perfect world Hell Yeah at last changes how the world portrays and reacts to electronic body music. Maybe that's wishful thinking, yet even in an imperfect world this is absolutely, unironically, KMFDM's best album in 27 years.
---
Label: KMFDM/earMusic
Year: 2017
---
Similar Albums: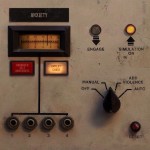 Nine Inch Nails – ADD VIOLENCE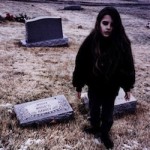 Crystal Castles – Crystal Castles (II)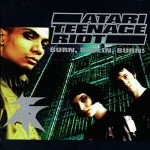 Atari Teenage Riot – Burn, Berlin, Burn!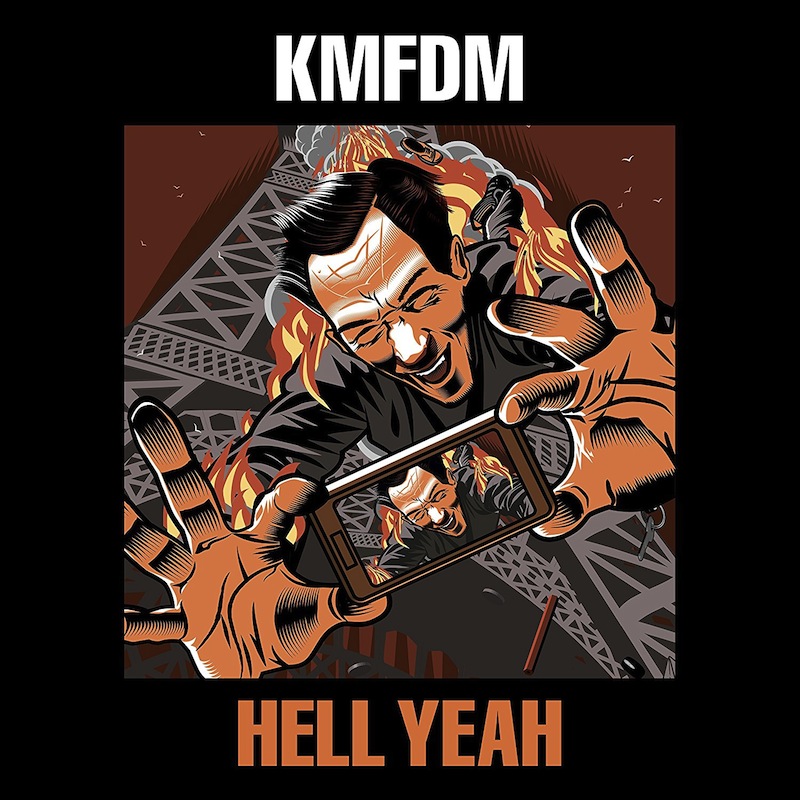 Buy this album: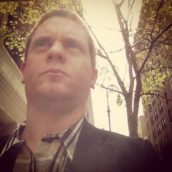 Adam Blyweiss
Adam Blyweiss is associate editor of Treble. A graphic designer and design teacher by trade, Adam has written about music since his 1990s college days and been published at MXDWN and e|i magazine. Based in Philadelphia, Adam has also DJ'd for terrestrial and streaming radio from WXPN and WKDU.