The cynical rebranding of Eminem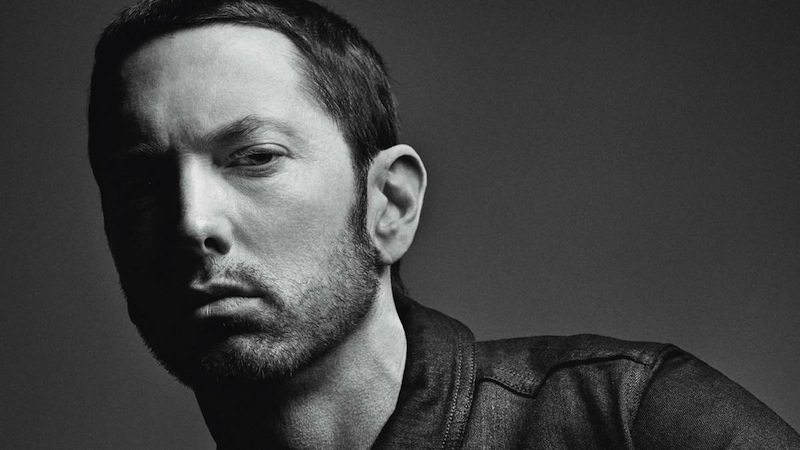 With a new album on the docket, the remaking of Eminem into a sensitive, woke everyman in the year of #MeToo may be one of the most cynical things you will witness in this, or any other, year. The makeover of a man who's often suggested it's smart to handle conflicts with women by beating them and throwing them in the trunk of a car into the defender of Black Americans, immigrants and veterans should not be terribly surprising. Through the years, bands as wide-ranging as Los Tigres Del Norte and the Geto Boys have had antisocial messaging recast as common-man heroism. What's stupefying is that makeover's shamelessness, without a hint of remorse for contributing at such a high profile to a terrible public discourse, just to land a bunch of Spotify plays that still get smashed by Post Malone.
Perhaps understanding songs about tying up and immolating intimate partners may not fly in the culture right now, Eminem reemerged Friday, Nov. 10 as a self-critical poet on "Walk on Water," off the forthcoming Revival (expected release date Dec. 8). Inspired by insecurity over rap's young lions, "Walk on Water" shot up streaming charts. The single's popularity may be likely in parts due to novelty (it's his first single in a few years) and an ultra-hot feature (Beyonce). Regardless, the song is a departure from previous lead singles, which courted various levels of controversy ("The Real Slim Shady," "Just Lose It"). "Walk on Water"'s expression is anything but bombast. Here is instead the portrait of an artist, who has scored almost 50 million units in cumulative sales, fretting about —spoiler alert—what everyone thinks of him.
"Walk on Water" comes on the heels of a hailed anti-Trump BET performance and hints Eminem will go more topical on Revival, recalling 2004's "Mosh." Still, even though attacking President Donald Trump (along with coming late to the party for Colin Kaepernick) feels like one of the least risky things any performer can do right now, art is complicated. One can be ridiculously rich and fragile at once, socially conscious and an asshole. However, why Eminem's tone deafness and inauthenticity matters, considering the global conversation about sexual assault, bears drawing out.
The United States is engaged in a larger conversation about violence against women, sexual harassment and sexual assault. However, these are worldwide dialogues, such as was witnessed in Peru, where beauty pageant contestants recounted statistics of women murdered in the country; in Europe, where marches have taken up issues of equity; and in contemporary music, where jazz, country and metal are just three of many genres that have seen allegations of sexual assault and abuse of women attain headlines. Scrutiny of behavior, jokes and content is getting more attention, rightfully so, than at other points in recent memory.
Up until now, an artist like Eminem has stayed fairly untouchable. Granted, the Detroit superstar has been a lightning rod since his debut. Scores of thinkpieces, television segments and reports have excavated Eminem's lyrics extolling violence against women. They've changed virtually nothing. The free speech and artistic merit contentions, among the key points of the Eminem defense, have essentially infantilized him for nearly two decades. He's turned his unique style, the bad press and long-simmering disputes over violence in society and music's influence on that into sales. No rapper is bigger than Eminem. None has had quite the platform to speak to as large a fanbase.
All that invincibility may soon see its demise. Content in hip-hop has been a potent debate since the late C. Delores Tucker went after 2Pac in the early 1990s. Nevertheless the political winds have changed considerably since Tucker's time. Social media, the Harvey Weinstein scandal as well as incidents involving XXXTentacion and Brand New have reshaped dialogues in seen and unseen ways. More importantly, women in music recounting abuse have recontextualized these matters vividly. Recent events as well as the emergence of a woke aesthetic have granted longstanding criticisms of Eminem a different heft. What previous generations acquiesced to simply isn't as permissible anymore.
Add to clashes over acceptability are the evolving standards for people with power. Private behavior, long the province of "no one's business," is changing in public perception. How men speak to and about women is undergoing a transformation. Some may credit President Trump for that. Others may lay these changes at the feet of Hollywood—a subreddit has even dubbed it "The Weinstein Effect". In this lens, how the mainstream reconciles its most visible pop culture icon unavoidably, uncomfortably using violence against women as a go-to trope, is a topic worth watching.
Tangling up this subject is the fact Eminem is part of a class of now legacy acts at a career crossroads.
As a youth-centric scene, hip-hop has buried more than a few rappers, even greats, on the other side of 40, like Eminem. Along with the progression of time, the music itself is changing. A flow popularized by Migos, not Eminem's frantic delivery, runs the sound of a new generation of musicians, including wildly popular emcees like Lil Pump, 21 Savage, Cardi B and Playboi Carti. In addition, a sharper social awareness popularized by the likes of Kendrick Lamar and, more widely, Black Lives Matter is pushing artists to speak and act differently. Even XXXTentacion has sought to be contrite, publicly apologizing for his past and pledging donations to combat domestic violence, in the weeks leading up to his December trial. For Eminem, that reflection, or action, has yet to come.
In a year where violence against women is an overdue conversation, it's more important than ever that performers make a more substantive contribution, practically and artistically, to the culture. Current events do not exempt America's best-known rapper or any artist, nor should he get to cherry-pick crusades like Trump-bashing simply because they're easy.
Eminem is influential, but not isolated; depictions and reports of sexual assault and abuse are normalized in a way they should not, and though a celebrity culture is problematic, it is what it is and fans deserve improvements. Eschewing a sort of moral relativism that points elsewhere and instead being accountable might be a good place to begin. Whether Eminem can turn a career of, more or less, blowing off such criticism or make amends for real has yet to be revealed. That response will determine if Revival is truly what it says.