Jenny Lewis : The Voyager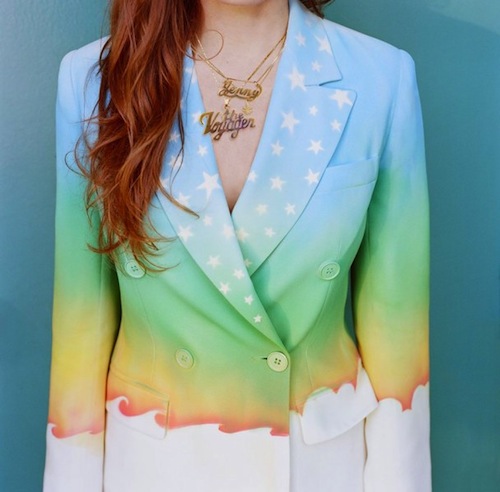 The best moments from Rilo Kiley's discography (split pretty evenly between The Execution of All Things and More Adventurous) had two qualities in common. They combined frontwoman Jenny Lewis' pointed first-person storytelling with the band's willingness to fully immerse themselves and commit to whatever goal they were trying to accomplish. For More Adventurous, Lewis' most remarkable and inventive work to date, that meant focusing more than ever on her powerful voice and forming creative fusions between alt-country, indie rock and genres ranging as far as soul, glitch and roots-rock. It was certainly a high bar to set and, in the ten years since, none of the band's members — collectively or individually — have quite managed to top it.
While The Voyager doesn't beat out More Adventurous as Lewis' best effort as a frontwoman, it certainly makes a strong argument for second place. In her most inspired moments of songwriting, Lewis has straddled a line between confessional writing and character-based narration. Her third solo effort — and first since Rilo Kiley's official break up — takes her semi-autobiographical character pieces to a new depth. A lot has changed for a now 38-year-old Lewis since 2008's Acid Tongue; her band split up and her estranged father passed away. Likewise, the characters Lewis constructs speak from a perspective that feels more mature, but not necessarily any wiser or more capable of keeping life from tumbling around them.
The ten stories contained here are quite varied, tied together by that overwhelming feeling of doing your best to remain calm in a crisis. Each narrator is the titular voyager — a woman weighed down by heavy circumstances either out of control, of her own doing, or a combination of the two. Opener "Head Underwater" is Lewis' most personal writing since The Execution of All Things, an upfront introduction to the album's themes of loss and coping mechanisms. "She's Not Me" and "Slippery Slopes" feel like updates on the troubled narrators of More Adventurous' "Does He Love You" and "Portions for Foxes," respectively. "The New You" is an earnest heart-to-heart with an ex-lover with questionable methods of coping with their stress ("You struggle with sobriety/ dreams of notoriety/ listening to Kill Em All"). The gorgeous, closing title track — perhaps the album's best track — ties the package together nicely, driving the emotional hardship home without coming off too sappy or overreaching.
While Lewis is a brilliant singer/songwriter, she has always done her best work when relying on talented partners to take her songwriting and enchanting voice to the next level and The Voyager is no exception. Producer Ryan Adams' hand is felt heavily here — both in guitar style and overall production choices — resulting in an accessible, vintage alt-country/soul vibe. We also get a real treat in the form of "Just One of The Guys," Lewis' collaboration with Beck. That track combines the best of the both artist's approach, creating a song that's as fun as it is striking and critical. The only real flaw in the production of this album is an overuse of treatment on Lewis' voice. Unlike some indie-rockers, she has the pipes to get the job done without too much reverb or other effects; the tunnel of sound surrounding her sometimes distracts from her words. Other than that small misstep, the feel of The Voyager is charmingly vintage and refreshingly easy going- a helpful dose of sugar to accompany Lewis' thought-provoking writing.
Some songwriters are content with sticking to the same formula their entire career, while others continually tweak and expand their influences, leaving behind the old for better or worse. On The Voyager, Jenny Lewis finds a happy medium between the two, recalling the craftsmanship of her best work while approaching new ground with a graceful execution.
Similar Albums:


Rilo Kiley – More Adventurous


Conor Oberst – Upside Down Mountain


Ryan Adams & The Cardinals – Cold Roses