Essential Tracks This Week: Jenny Lewis, Be Your Own Pet, and more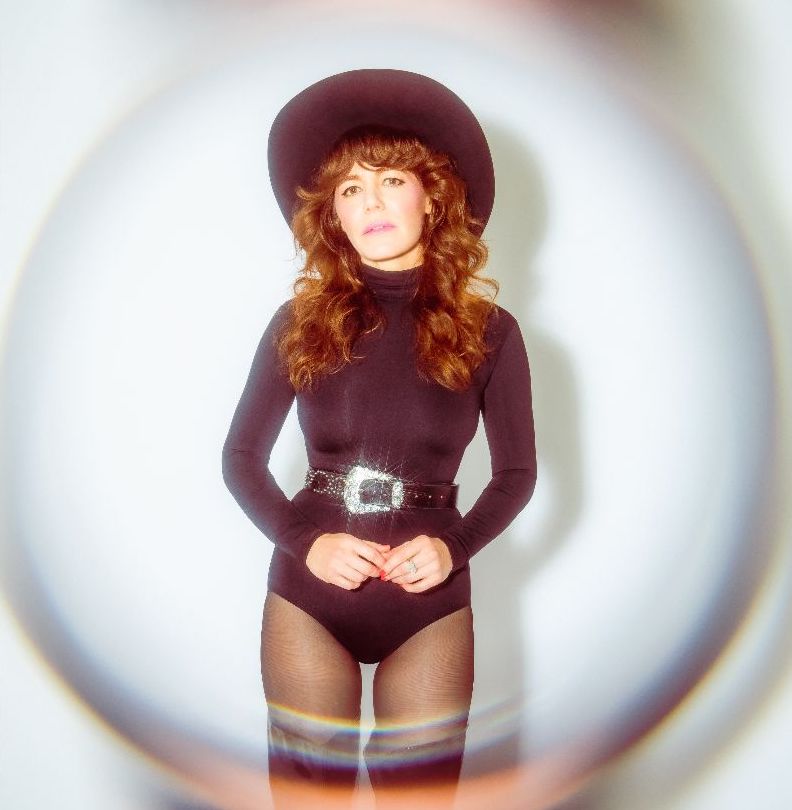 Just because today's a pretty massive day for new albums doesn't mean we don't still have time to deliver a selection of our favorite new songs. Up this week in our latest roundup of Essential Tracks: the return of Jenny Lewis, plus an even longer awaited comeback, some great new dance-pop, noise rock, and a delightful country rock song from a new-ish artist to watch.
---
Jenny Lewis – "Psychos"
As I told my editor right after listening to "Psychos" the first time, I've never been a Jenny Lewis fan until, like, right now. She conveys "this shit is crazy town" exploits of meeting unself-aware dudes (for some reason I'm thinking he's just a little stinky too) with the most sublime wink and a nod deadpan lyrics. Think Laurel Canyon California cool meets country bump with slide guitars and all the trimmings. "Dreams" by Fleetwood Mac gone wrong. The most "danger alert" line ever to elicit a chuckle or a head shake: "I'm not a psycho, I'm just tryna get laid, I'm a rock and roll disciple in a video game."
Props, for painting that picture.
I'm learning for myself when it comes to telling stories—yarns from the trusty Moleskin—Lewis, forever dead-ass, is one of our best to connect the word with fetching twangy groove that clocks in just over three minutes. Khruangbin's Texas Sun/Moon EPs, released with Leon Bridges, might have prepped me for the twang era of life. But it's good to know that Jenny Lewis has my back. I'd like to think somebody has hers. – John-Paul Shiver
From Joy'All, out June 9 via Capitol
---
Be Your Own Pet – "Hand Grenade"
I caught Be Your Own Pet live at SXSW about 15 years ago and the experience was nothing less than pure, giddy, reckless joy. I have a vague recollection of Thurston Moore watching from the sidelines (they released their debut on his Ecstatic Peace label), but everything outside of vocalist/firecracker Jemina Pearl's animated performance is a blur. So imagine my delight to hear their first new song in more than a decade, still as agitated and abrasive as ever. Though the members of the band were just teenagers when they began, the hold fast to a comparably intense energy, but with a subtler sense of harmony underscoring that confrontational urgency. So yeah, it rocks. – Jeff Terich
Out now via Third Man
---
Jayda G – "Blue Lights"
Canadian-born, Berlin-based producer Jayda G released one of our favorite songs of 2020, the intoxicating and fun house jam "Both Of Us." And now she's got another incredible single to share, "Blue Lights," the first from her upcoming album Guy. Yet where that anthem drew from vintage house, "Blue Lights" is more steeped in disco and synth-pop, a little more low key, but no less outstanding. It's a confident and richly layered foray into pop that has that makings of a nonstop summer jam all over it, if perhaps more of a balmy summer night than a drive to the beach. Jayda G is revealing even more of what she's capable of, and it suggests that there's so much more she has up her sleeve. – Jeff Terich
From Guy, out June 9 via Ninja Tune
---
GracieHorse – "Hollow Head"
GracieHorse's Wharf Cat debut is titled L.A. Shit, and it feels like a fitting, if blunt, name for the gorgeous but rough around the edges country rock that she kicks up on "Hollow Head"—an aching but ragged sound that you might have heard echoing through the canyon. Though she's by no means a newcomer, with a handful of self-released singles and EPs on Bandcamp and time spent fronting Fat Creeps, GracieHorse makes a spectacular re-introduction here, with a bittersweet melody and an arrangement rich in slide riffs. It's romantic and lonesome music that never goes out of style. – Jeff Terich
From L.A. Shit, out May 19 via Wharf Cat
---
Stuck – "The Punisher"
This song was technically released last week, but a ripper is still a ripper (and we didn't get around to putting together an Essential Tracks last week due to scheduling conflicts—forgive us!). But "The Punisher" is too good to let slip through the cracks. A wiry and weird noise rock track built on itchy, staccato guitar stabs, Stuck's new single really hits its stride with the introduction of a sickly spiral of saxophone, which provide a dizzying path toward its climactic coda. The energy never lets up, nor does the paranoia and vertigo, and it's a delightful descent into madness. – Jeff Terich
From Freak Frequency, out May 26 via Born Yesterday