8 Essential Noise Rock Albums You Might Have Missed in 2023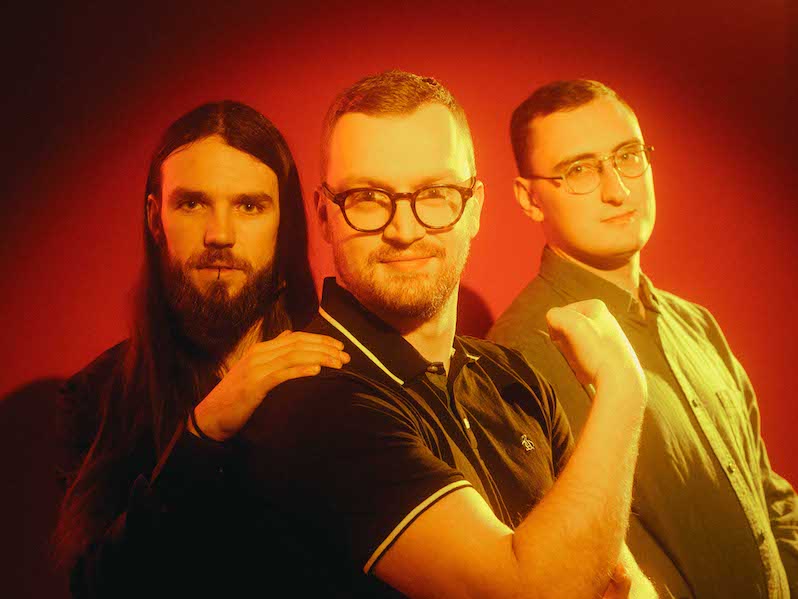 Adam Kelly
Just because we're in the depths of summer, that doesn't mean we have to exclusively listen to summery music. That's algorithmic propaganda. True heads know that all genres, all the time is the most rewarding way to consume music. Yes, sunny weather does pair nicely with a classic Stones Throw album or a Nigerian highlife compilation. But juxtaposition is fun. Pair an ambient black metal album with an afternoon walk by a lake and you might be surprised by how well it fits the vibe.
So, according to this (admittedly far-from-bulletproof) logic, we're looking back on eight under-appreciated 2023 releases from that most mean-spirited (and by proxy, least effervescently-sunkissed) of genres—noise rock. The style is in rude health as of late, with 2023 albums by the likes of Mandy, Indiana, BIG|BRAVE and Model/Actriz receiving respectable helpings of critical plaudits. In recent years, there seems to have been an increase in interest in dark and abrasive rock music, a phenomenon noted by legendary critic Robert Christgau. Wider culture in general has increasingly embraced its shadow side over the last decade or so (a grim prognosis of the state of the world), which seems to have dripped down to internet-based music consumption.
Because noise rock is as popular and malleable as it's ever been, there's a lot of music out there that falls under its wider umbrella. The sound has undergone myriad contortions since its genesis over 50 years ago, overlapping with post-punk, sludge metal and more nebulous tags like "experimental rock." This list digs through its mutations and journeys across the globe (from Winnipeg to Copenhagen!) in search of some of this year's more underappreciated releases. So without further ado, let's all put on our best rictus grins as we journey through this collection of mean, murky and ferociously alive albums.
---
EYES – Congratulations
Released: 3rd February
The stellar EYES hail from the beautiful city of Copenhagen, Denmark—not traditionally a hotbed of ugly noise rock. Congratulations is their third (and best) LP —a downtuned, dirty and thrillingly mean-spirited collection. EYES's approach fuses dissonant noise rock with punishing sludge metal and mathcore, which means these ten tracks will hit every button for fans of the heavier end of the noise spectrum. Recalling early-00's math metallers Engineer and Will Haven as much as more familiar noise rock merchants Unsane and Cherubs, groovy highlights like "Generation L" and "Tearjerker" are dark, enjoyably sardonic and extremely heavy.
---
Bruxa Maria – Build Yourself a Shrine and Pray
Released: January 27
Bruxa Maria are a gem of a band, if such a term can be applied to an ensemble that makes such abrasive music. Bruxa Maria are a proper cult band; a proudly-DIY mob who've garnered an old-school underground following in their UK homeland, as reiterated by Build Yourself A Shrine And Pray's absence from most streaming platforms. Instead, get yourself over to Bandcamp and grab a copy of this towering, effortlessly-awesome album. Its eight tracks (11 including bonuses) are dense, intimidating beasts, the kind that would be hypnotic if it weren't for the screeching banshee vocals of frontwoman G. Dread. Come pray at the savage shrine of Bruxa Maria.
---
Tunic – Wrong Dream
Released: April 28
To shamelessly quote myself, in my review of Tunic's Wrong Dream I described their sound as "a compellingly nasty blend of airless post-punk that's infused with noise rock ugliness and angular post-hardcore." Beyond these genre fusions, Wrong Dream is a commanding noise rock experience because of an intensely-claustrophobic production style. There's not an ounce of room afforded to the taut drums and raw guitar tones, which makes the hurtling momentum of "Under Glass" and collapsing structure of "Sounds Repeat" feel all the more pressure-cooked. The latest act to emerge from Winnipeg's fertile noise rock scene (see also KEN Mode and oddball nineties act Kittens), Tunic are the real deal.
---
Bo Gritz – Chroma
Released: June 9
In the realm of noise rock that channels stark post-punk, Bo Gritz's Chroma is an underheard banger released earlier this summer. The UK band employ harsh industrial textures and abrasive experimentation, recalling the previously mentioned, acclaimed 2023 albums by Model/Actriz and Mandy, Indiana. The current crop of post-punk bands is massively oversaturated, so it's great to see the emergence of this more challenging offshoot. Chroma is a bold and surprisingly-fun example, full of strange effects (the wild electronic noises on "Reflective Skin") and kinetic rhythms (the techno propulsion of "Liquid Crystal"). Fans of the aforementioned acts, as well as the likes of Gilla Band and DITZ, need to hear this one.
---
Intercourse – Halo Castration Institute
Released: May 15
A title like Halo Castration Institute gives you a good idea of what you're going to get from this feral album. Noise rock revels in confrontational subject matter and the latest by Connecticut's Intercourse vigorously continues this trend. While "Heemeyer's Hammer" is inspired by the bizarre true story of Martin Heemeyer's killdozer, this record is no cheap nihilist screed. Instead, Intercourse, via demented frontman Tarek Ahmed, use tracks like "George Soros Funded" and "My Own Personal 9/11" to take aim at the ugliest factions of America's culture war. Comparisons to similarly-conscious noise rockers Chat Pile are inevitable, but Intercourse possess plenty of their own visceral, frenzied energy.
---
Cosse – It Turns Pale
Released: February 10
This one's a bit of a left turn. Whereas the rest of the releases on this list are confrontational and transgressive, It Turns Pale is a refined, pensive and atmospheric release. Cosse are a French band who cite Sonic Youth and Slint as key influences. This goes some way to describing the tension-fueled structures and dissonant textures of their debut album. It's a hugely-compelling collection, packed with nervous energy ("Mind Facilities"), wonky heaviness ("Tangerine") and explosive fragility ("Evening"). Every track features odd detours and strange u-turns, keeping you on your toes as much as any of the more antagonistic bands featured here.
---
The Shits – You're A Mess
Released: April 14
Back on more familiar footing is the riotously-entertaining You're A Mess by The Shits. Hailing from Leeds, UK (home to one of the country's most vibrant music scenes), the five-piece make dirty noise punk which has been described by their PR as "an Amphetamine Reptile punk take on The Stooges". It's an apt description. The Shits' second full-length channels the evil scuzziness of the legendary Am Rep bands ("The Venus (After Hours)" is particularly nasty) as well as The Stooges' messy energy (the electrifying title track). Released on Rocket Recordings, who've also put out great albums this year by Pigs x7 and Smote, this is perhaps the most purely fun album featured on this list.
---
Jaaw – Supercluster
Released: May 26
We finish off with the debut release by Jaaw, another band of bruisers from the UK. Both the youngest band on the list and the first supergroup, the newly-formed group features an intriguing cast of musicians, including Andy Cairns of alt-metallers Therapy?, Wayne Adams of Petbrick and Adam Betts of the sadly defunct Three Trapped Tigers. Supercluster is a cold and vicious release, full of harsh noise ("Rot"), distorted vocals ("Reality Crash") and Godflesh-like riffs ("Bring Home The Motherlode, Barry"). Closing the record with a frenetic cover of Bjork's "Army Of One" is an inspired choice, capping off a delightfully-abrasive collection that is hopefully the first of many from Jaaw.
---
Treble is supported by its patrons. Become a member of our Patreon, get access to subscriber benefits, and help an independent media outlet continue delivering articles like these.