All Tomorrow Parties LA 2003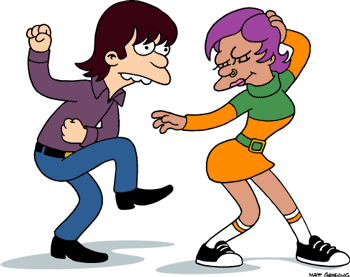 The rock festival, as we know it, is coming back. If you saw the lineup to the newly revamped Lollapalooza, you wouldn't think it was a good thing. But fear not, good music snobs, because there is a festival for you — All Tomorrow's Parties, an artist-curated weekend of music held in LA and the UK each year.
This year's festival was curated by Simpsons creator Matt Groening, a wise choice by festival organizers if you ask me. The festival was initially planned for a June date, but was postponed until the fall for several logistical reasons. Many artists had to cancel (i.e. Neko Case, Wire, Yo La Tengo), but despite a few notable absences, festivalgoers got so see one hell of a concert.
The most notable absence this year, however, was Elliott Smith, who was scheduled to play on Sunday, but died only a few weeks prior. Planners dedicated the event to him, and included some thoughtful words about him in the program. In his place was a tribute, played by Lou Barlow and members of Elliott's band.
The following are some of the best moments I saw at the festival. You totally wish you were there.

The Shins
Neo-Portlanders The Shins played a set of sunny pop songs on the outdoor stage, despite Saturday's gloomy weather. The foursome filled 45 minutes with choice selections from their latest album, Chutes Too Narrow, as well as some classics from their debut, Oh, Inverted World. That album's near-hit, "New Slang," was not included in their set, however. Keyboardist Marty Crandall emceed while they were on stage, informing us that the mothers of drummer Jesse Sandoval and guitarist David Hernandez were in attendance. No word on whether or not Marty's girlfriend, Elyse "America's Next Topmodel" Sewell, was there.
Spoon
After missing the Austin group the last two times they came to San Diego, I finally had the opportunity to see them rock the ship stage Saturday night. Britt Daniel, easily the tallest member of the band, spent little time on in-between song banter, opting for quicker transitions between songs. Among the highlights of their set were "Chicago at Night," "Telemon Bridge," "The Way We Get By," and set closer "The Fitted Shirt." Their high energy set lasted just over an hour, but was impressive enough to make me not feel so bad about missing Built to Spill.
Sonic Youth
Sonic Youth has been around longer than the majority of the bands at this year's ATP, but manage to stay fresh and interesting as years pass. Kim, Thurston, Lee, Jim and Steve played newer songs and old-school joints alike. It's still not exactly clear as to what Jim O'Rourke adds to the band, but the more people you can fit on the giant Park stage, the better. Regardless, their wall of feedback and distortion kept many attendees until the wee small hours of the night. Maybe noise never gets old.

Tribute to Elliott Smith
I want to preface by saying that Sebadoh's Bakesale was my first "indie" album, though Elliott Smith's either/or is my favorite recording of all time. So when it was announced that Lou Barlow was to lead a tribute to the late singer on Sunday, it brought things full circle, for me at least. Lou did a fantastic job in leading a band consisting of members of Elliott's band in seven covers of Smith's songs. Before they closed with "Happiness," the band was joined by two members of the Minders, who played "Hooray for Tuesday," one of Elliott's favorite songs, and one he covered at live shows.
Cat Power
I must admit, I was a little disappointed that Chan Marshall (a.k.a. Cat Power) didn't play more of her upbeat songs. But she and her band did enchant the audience with several slower compositions, many of which sounded more breathtaking live than on record. One particular highlight was a bluesy reading of "I Don't Blame You," which sounded almost nothing like the version heard on You Are Free. Three songs in, the fire alarm sounded, though nobody seemed to notice. Cat Power's rhythm guitarist commented, "that song was so hot, it set off the fire alarm."
Stooges
It's not exactly news that three-quarters of the Stooges have been performing together lately, but it's still pretty damn cool. Iggy Pop is still wiry and hyperactive as usual, swinging the mic stand around and humping whatever object he can straddle. Mike Watt filled in on bass, making it his second performance of the weekend (the other being a two-man Minutemen reunion). Pop, Watt and the Ashetons played several selections from their classic first two albums, including "Dirt," which Iggy dedicated to Elliott Smith.