Animal Collective : Merriweather Post Pavilion
It's typically bad form to declare an album the best of the year as early as January, but as of right now, dozens of critics and bloggers have already made that leap, and with half a month to go before February rolls around. Quite frankly, I'm biting my tongue and wringing my hands, though deep down I feel the urge to do the same. The source of mass gushing and almost obscene levels of praise is Animal Collective's Merriweather Post Pavilion, an album so highly anticipated that message boards were overflowing with pre-release buzz months before the album's release date. Even one of the members of Grizzly Bear posted a track on the band's website out of sheer excitement, though he later got reprimanded by the Web Sheriff.
There's an awfully good reason why Animal Collective has people talking, and practically turned the critical world upside down in one fell swoop. Merriweather Post Pavilion is a breathtaking album, rich in layered sonic textures and intricately crafted songs—arguably their best to date, and an outstanding achievement overall. While the band has gotten progressively more accessible in their approach, leaping from the folk strums of Sung Tongs to the psych-pop of Feels and Strawberry Jam, this album is another great leap forward for the band, amplifying their best qualities and softening their most abrasive edges, without abandoning their playful and experimental side.
With Merriweather Post Pavilion, Avey Tare, Panda Bear and Geologist (Deakin sat this one out) craft their most complex and ambitious album. And yet, paradoxically, it's the album of theirs that's most immediately rewarding. Still the work of a collaborative group, this album actually sounds closer to the loop-driven meditations of Panda Bear's Person Pitch than most of the band's previous efforts, albeit with more hooks and no tracks longer than six minutes. Yet, like on most AC discs, Avey Tare's voice is still the most prominent, as he helms seven of the album's 11 tracks. What's interesting about that, however, is that, in the direction the group has taken and the album's dreamier, hazy textures, the two singers sound more similar to one another than they ever have. Avey's singing sounds better than it ever has, and there isn't much of his characteristic yelping, while Panda Bear's vocals are practically perfect, and (forgive this now-redundant comparison) remarkably similar to those of Brian Wilson.
As of the time of this review, the band hasn't announced any singles from the album, though practically any of the songs here could qualify. "My Girls" is the early favorite, and by far the most dance-friendly, opening with a swirling "Peacebone"-like rhythm before erupting into a psychedelic dance anthem. It takes three solid minutes to get to the song's chorus, but once it does, the handclapping and beat banging takes it to another level altogether, with Panda Bear's humble chant "I don't want to seem like I care about material things" serving as a necessary mantra for the end of this broken decade. "Summertime Clothes" is another prime contender, buzzing and bouncing upon a feelgood vibe and a melody that won't abandon you anytime soon. It's soulful and fun, with summertime imagery of squeaking air conditioners and walls on fire, sure to make the unbearable dead of August a bit more tolerable. And closer "Brothersport," though the longest track here, ushers in a giddy mix of calypso and stunning layers of vocals.
Amidst some choice single potential for singles, there are plentiful highlights. In fact, the entire album sustains a high that lasts from beginning to end. "Also Frightened" is a slow and graceful waltz through gorgeous melodies and echo-treated effects. "Daily Routine" is a dramatic interplay between Panda Bear's voice and an unrelenting onslaught of synthesizer. "Bluish," a personal favorite, is easily one of the best tracks in the band's discography, both melodically deep and lyrically touching, Avey Tare's opening croons of "I'm getting lost in your curls" and "I like the way you squeeze my hand" the most beautifully innocent sentiments sung in a love song in an immeasurably long time. Even the relatively subdued "Guys Eyes" and "No More Runnin" are so sweetly crafted as to reveal new sonic discoveries upon repeat listens.
It's almost difficult to fathom that this is the same band (at least in part) that released the, at times, terrifying Here Comes The Indian and the acoustic guitar-driven Sung Tongs. Animal Collective, in all their many forms, never seem to slow their progression, leaping from one new exciting spot to another, uncovering a different and more intriguing aspect of their musical genetic makeup with each trip to the studio. I can't imagine the band (or anyone else before the decade runs out) topping an album this good, but then again, I probably said that the last time around.
Similar Albums:
Panda Bear – Person Pitch
El Guincho – Alegranza
Akron/Family – Love Is Simple
Video: Animal Collective – "My Girls"
Download at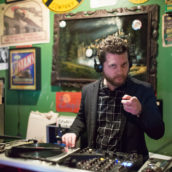 Jeff Terich
Jeff Terich is the founder and editor of Treble. He's been writing about music for 20 years and has been published at American Songwriter, Bandcamp Daily, Reverb, Spin, Stereogum, uDiscoverMusic, VinylMePlease and some others that he's forgetting right now. He's still not tired of it.