Pop is such an easy target, it's almost a waste of energy. Ryan Seacrest is yapping at me straight from my television, trying to convince me that the season finale of American Idol is the biggest event of the year. It's almost laughable how bad Top 40 is. And the funny thing is, it's been that way for a really long time. Thumb through the Billboard Hot 100 archives and see what people were requesting on local radio 10, 20, even 30 years ago. If you think Led Zeppelin were cranking out the hits, think again my friend. It was Captain & Tenille. It was The Starland Vocal Band. It was Phil Fucking Collins. And it…still…is. You see, pop is just an abbreviation for popular, and that, my friends, is what's popular. Pretty scary, isn't it?
But everything's pop, really, if you think about it. When you cut out the John Cages the Mike Pattons and the Merzbows, what you're left with is essentially a million different styles of music all derived from the same structures and scales. And we listen to it, we enjoy it, and we call it our own. But it's not "pop," you say? Oh, but it is. Wilco is pop. Radiohead is pop. Sonic Youth, My Bloody Valentine, Sigur Ros — all pop. They just all have a different take on it. But still, we call it "rock," "post-rock" or "indie," all equally meaningless terms, even though there are verses, choruses and bridges, just like any Whitney Houston song. But then there are artists like Annie, who are truly artists, making music that we can only truly call "pop."
Nope, Annie doesn't play no blues, but she doesn't play no rock and roll, either. She's a Norwegian pop diva, singing danceable singles of the sweetest variety. But here's the funny thing: all the same elements that can be heard in a Britney Spears song are present, make that prevalent, in Annie's music. Her debut album Anniemal is dance music, plain and simple, made up of the combined ingredients of beats, catchy melodies, soaring choruses, extreme quotability and a generous amount of electronic samples. Yet it's just so much better than Britney, I feel icky for even mentioning it. You can call me an elitist if you want, but Britney Spears is ass.
Meanwhile, Annie has finally made it to the United States with the domestic release of Anniemal, which was released in late Winter in the UK. But for once, this delay seems to have benefited us here in the Home of the Brave. It's summertime, and as the mercury rises and skin begins to emerge from our ever-encumbering wardrobe, we need a super-fun, super-catchy and altogether likeable album to join us in the beachside festivities. I'm certainly no club-hopping hedonist, myself, but even I can't help but gyrate and hop around geekily to the girl's dancefloor hits. There's nothing on American radio quite like "Chewing Gum," the first single to make waves abroad, making it even more apparent that this album came at exactly the right time. Under Richard X's rubberband programming, Annie gleefully chirps "Oh No/Oh No/You've got it all wrong/you think you're chocolate but you're chewing gum," comparing boys to a sticky, chewy wad of Wrigley's. And it's all so very carefree, if you'll excuse the pun.
The sound of "Chewing Gum" implies the pop of the future, while "Me Plus One" clearly suggests the new wave pop of the past, grooving like a Human League single, circa Dare. And the barking puppies at the end even recall the crickets in New Order's "Perfect Kiss." The whole thing is quite a production, straight down to the speak-and-spell chorus:
Mrs. B – Mrs. E- Mrs. A-U-T – Mrs. I – Mrs. – FUL
I'm gonna reach the top
I ain't ever gonna stop
And I'm sure gonna ring your bell
The song that's gotten the most attention up to this point is the ethereal, almost shoegazine single "Heartbeat," a pulsing, living organism of a song with Annie's most soaring, astral vocal performance. And the song that follows, "Helpless Fool For Love," is the most deliciously electronic (and analog), as vintage Rolands screech and bleep during the chorus. From there, Annie takes on a variety of styles, from R&B ("No Easy Love") to funk ("Happy Without You") to disco ("Come Together"). And thanks to the likes of Richard X and Röyksopp, each production is a crisp, clean masterpiece.
Anniemal is one of the best albums of 2005, and yeah, it's a "pop" album. But it's smart, streamlined, danceable pop from a talented and likeable heroine. I say heroine because she's got too much talent to be called a diva. And she's just not obnoxious enough (if even the slightest bit at all). Annie's music is something that everybody can relate to, merely because it speaks to the heart as much to the hips. It's not always a master's thesis on the human condition, but it's real, and that's what counts. We've already been wowed by M.I.A. and LCD Soundsystem this year. After hearing Anniemal, though, you'll need a forklift to pick your jaw up off the floor.
Similar albums:
Human League – Dare
Saint Etienne – Tiger Bay
Kylie Minogue – Kylie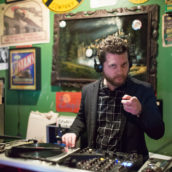 Jeff Terich
Jeff Terich is the founder and editor of Treble. He's been writing about music for 20 years and has been published at American Songwriter, Bandcamp Daily, Reverb, Spin, Stereogum, uDiscoverMusic, VinylMePlease and some others that he's forgetting right now. He's still not tired of it.