Aquiles Navarro & Tcheser Holmes : Heritage of the Invisible II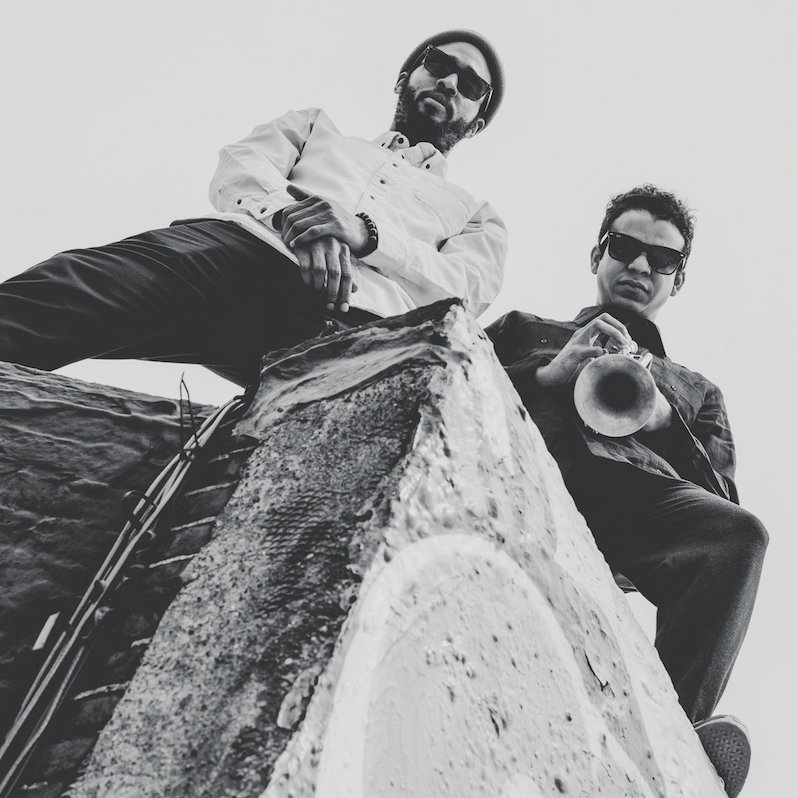 Aquiles Navarro and Tcheser Holmes, two longtime friends who see the world in a similar light, happen to be relentless arbiters of creative music scenes in New York. They make their art from a cultural and political disposition. Navarro, whose family migrated to Toronto from Panama during Manuel Noriega's reign, went back years later and studied with the Panamanian trumpeter Victor "Vitin" Paz of Fania All-Stars and Panamanian-American saxophonist Carlos Garnett, who played and recorded with Miles Davis on numerous sessions including 1972's On the Corner, as well as stints with Art Blakey's Jazz Messengers, Andrew Hill, Charles Mingus, Gary Bartz, and Pharoah Sanders. Holmes was given a djembe drum at the age of 4, along with a sweat-equity philosophy about his craft. He recollects "playing and viewing music purely as a source of celebration and achievement," and was raised by arts educators, his family instilling in him the tenet of the regiment. His mother, Cecelia Adams-Holmes, who founded and continuously operates the cultural arts program at Kamit Preparatory Institute in Brooklyn understood the power of mastery: "My Mom challenged me and made me take music seriously. And I always had a facility to go and practice."
Reaching the feel-good section of the room seems almost too easy for these musicians. Not to say they couldn't take it over, I know they could. These dudes are players. But they were raised differently. "In New York, I've been a working musician since day 1," Navarro stated in the press release for Heritage of the Invisible II. "Tcheser and I played all over the city, from Uptown to all over Brooklyn, often booking our own gigs." Which encompasses dance clubs, subway platforms, The Bowery Poetry Club, the Latin Jazz Big Band at the Nuyorican Poet's Cafe, and Roberto Roena y Su Apollo Sound in the Bronx. These two have range, chops and gravitas. Period. "We got familiar with a system where the rhythm is quantified," says Holmes. "But I feel like we always remained 'children' in terms of viewing music. Kobe said 'Be a Kid.' We never needed to validate the process."
There is a mini-snippet of a low-slung, get down, "interlude" from their debut Heritage of the Invisible II, which proves they could crush with that head-nod, bass-line swag, Phuture boogie shit. And these days, I need more of that in my life, for the earbud symphony, out walking these streets all masked-up, getting it done. But these community-minded, professional musicians know that folks, in large numbers, need the medicine. I'm talking OG-hardcore Cod Liver Oil steez. In the form of that hard attacking free-jazz blow your fucking head off directness. These dudes stay at the ready, keeping every fool on alert. Reminiscent to the way Ras G kept putting the struggle on blast with that "Afrikan Space Base" announcement over tinny speaker frequency, dead in the middle of your fave joint, so as much as you tried, it wasn't going ignored. The struggle always continues. That's how hard Heritage of the Invisible II, another dynamic post-apocalyptic free-jazz communique by this Afro-Caribbean duo, hits.
Navarro & Holmes, recording as this power free-jazz duo, at times feels like the dub version of their other unit—both musicians are members of Irreversible Entanglements—doubling down on the chaos, and infusing their own cultural heritage rhythmically, celebrating their own kinfolk. In the fall of 2019, they booked two after-hours sessions at Brooklyn's S1 Studios, layered samples and electronic elements from Juno 106 and Moog Grandmother synths over their acoustic improvisations and overdubbed contributions from vocalist and instrumentalist friends adding field recordings of themselves in conversation.
Most of the 10 songs here, clocking in just over 40 minutes total, function as a bombardment of the senses. From the noisy moon landing of "Initial Meditation," trolling hipster-jazz cats again, putting forward that heritage and message is the mission. That double-hopped dance stuff is not on this program here. Instead, get lit up with the energy music blast of "Plantains" where both musicians use those overdubs, those conversations between each other as a vocal introduction. While furious textures, pounding meter and trumpet squall travel on into time.
"Pueblo," the bosom and lifeblood of the record, is a celebration, and a quiet prayer of hope for the future. The drum- and bass-centric "A Night In NY" pounds out the heart of the city, stressing how all the parts, "every kind of people" create the whole. Navarro and Holmes pass the spotlight on "M.O.N.K (Most Only Never Knew)" to the solo improvisation of pianist/composer Nick Sanders and his barrelhouse stride piano skylark, reminding us of whence this Black art form, of the highest regard, came from.
"NAVARROHOLMES" is the big, loud, eight-minute, dominating centerpiece you need to tweet about. Navarro's trumpet skips and punctuates, constantly setting up an outline of attacking notes, who Holmes telepathically comprehends in real-time, then proceeds to feed these ghostly melodies with the percussive fervor and the chaos of a pissed off Art Blakey. They go in. Even the closer, "Remix by Madam Data," a boomtastic breakbeat warbler, by ada adhiyatma, a Philadelphia-based composer/electronic music producer who they'd met through a joint collaboration with Moor Mother, keeps the eclectic, community aesthetic, at full force.
---
Label: International Anthem
Year: 2020
---
Similar Albums:
John-Paul Shiver
John-Paul Shiver has been contributing to Treble since 2018. His work as an experienced music journalist and pop culture commentator has appeared in The Wire, 48 Hills, Resident Advisor, SF Weekly, Bandcamp Daily, PulpLab, AFROPUNK and Drowned In Sound.